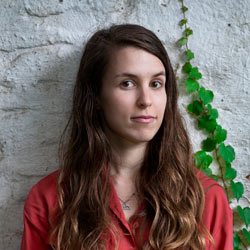 Sophia Takal loves movies. Loves making them and watching them. After the success of 2010's "Gabi On The Roof in July" which was directed by then boyfriend/current fiancé, Lawrence Michael Levine, the two collaborated on the new "Green". He acted & produced, she acted & directed.  A hit at this past season's SxSW, the film then was shown at 2011 BAMcinemaFest and a number of other screenings around the States and in Europe. She was among Filmmaker Magazine's 25 New Faces New Faces, and just this week was among Paste Magazine's 20 Best New FIlmmakers of 2011.
Sophia and Lawrence have become friends and so I must add that I while both "Gabi on The Roof in July" (which is screening with The Filmwax Film Series on January 18th) and "Green" stand on their merit, I am absolutely biased. Lawrence, who directed "Gabi" and who stars in "Green" also plays a central role in the upcoming "Richard's Wedding" (dir. Onur Tukel) in which I also have a minor role.
Adam Schartoff: "Green" is like an archetypal indie film. It's really compelling and completely non-commercial film making. How do you suppose it would go over at the multiplex?
Sophia Takal: I don't really know how anyone will react to this movie. I do feel like audiences must be tired of watching the same movie over and over again which is why it's getting harder and harder to get people into movie theaters. There's not that much stuff that feels new or challenging. I think if more films were put in front of them that were more challenging, they'd like them too. It's just a matter of exposure.
Schartoff: You made an intensely personal film. Who do you think will respond strongest to it?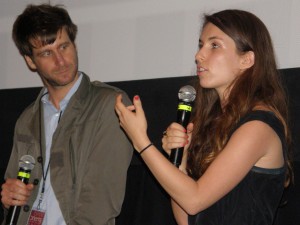 Takal: I think women identify pretty strongly with some of the themes. And I'm not just referring to the hipster women. I've had women come up to me at festivals, women in their 60s, who really understand the feelings behind the main character. So, that's been exciting that more women are identifying with the movie who are not just my age or a similar background.
Schartoff: Were you always aware that this was a film that women in particular were going to strongly respond?
Takal: I forget at what point I began to realize that we were giving a voice to something that lots of women had expressed but I don't know that I ever set out to do that. I think I wanted to explore something that other women around me were relating to. And from there I started thinking about my obligations to a larger audience. But it started off with just my own experience.
Schartoff: Do you think you achieved creating a message? A personal message?
Takal: I think so. That's actually one thing I feel really good about. I put it out there and didn't pretend these feelings didn't exist. With "Green", I think I made it okay for women to acknowledge that they have those feelings too. I think that's one of the great thing about film or art in general, exposing something personal and not feeling so alienated. In this case, exposing something in myself that other people don't necessarily want to acknowledge. Maybe those things are ugly or unattractive.
Schartoff: Are there films or filmmakers, or any artists for that matter, who you felt inspired by while making "Green"?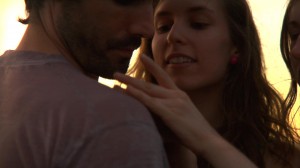 Takal: Stylistically, Larry (fiance actor/filmmaker Lawrence Michael Levine) introduced me to (Yasujirō) Ozu about a year before we shot "Green". I watched a lot of his films and I really liked the way they were shot. Also, John Cassavettes, which I guess a lot of filmmakers reference.
Schartoff: For good reason.
Takal: I think he's amazing
Schartoff: Are you referring to that vérité documentary-style approach he had? His work was so naturalistic and raw.
Takal: Yeah, exactly. He's also really intentional and purposeful, and didn't use improvisation they way that many people think he did. And he also showed flawed characters. After I watched "Green" I watched Altman's "Images".  The performances in "Green" are naturalistic but not necessarily in terms of the story. I also watched "3 Women".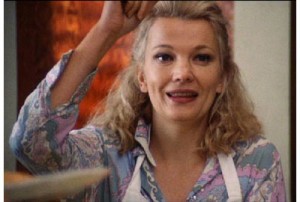 Schartoff: Getting back to Cassavettes for a moment, I'm reminded how in his film "A Women Under The Influence" Gena Rowland's portrayed a woman in which alcohol fuels her breakdown. But she was mentally ill which kept her feeling like she was isolated and lonely. She was a really intelligent woman. There's a little connection between her character and Kate's character. Kate's character became more psychologically isolated over the course of "Green".
Takal: I should also say that while I was inspired by a lot from films a lot of the film was purely the result of my imagination and a lot of talking with Lawrence and others on the set.
Schartoff: How did you come up with the sound design and the look of the film? It's plays such a central part in this film in particular.
Takal: The reason I chose Nandan (Rao, the DP) was because of his film "Bummer Summer". I also knew that Lawrence and Kate are amazing actors and I wouldn't have to cut a performance together. The look and style was also in response to having made "Gabi on the Roof in July" (directed by Levine) and wanting this film to move slower. I want "Green" to be slower and not so claustrophobic. "Gabi" was shot almost entirely in small apartments.
Schartoff: It sounds like you were also trying to be much more open to what was happening and to be in the moment, this time.
Takal: Yeah, we slowed down. Not working 15-hour hot days. If something wasn't working we would come back to the scene or perhaps set the scene in a different location. With "Green" I didn't feel like I had a deadline. I tried hard to fight that feeling.
Schartoff: Deadline in terms pf budget or or festival submissions?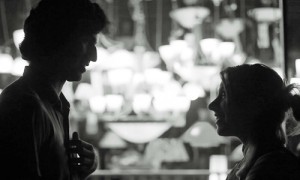 Takal: Yeah, I didn't feel I had to rush the shoot because I had to edit it to get it into SxSW. I didn't hear from SxSW for a long time. I assumed I hadn't gotten in. And I decided I wasn't going to rush for Tribeca. I felt it was going to happen when it was going to happen. Of course, then I did have to rush to get it in to SxSW. [laughter]
Schartoff: Because when you were finishing it deadlines were encroaching.
Takal: Yes.
Schartoff: Do you find that your choice of film projects is decided upon in response to the prior project. Or influenced by the former project?
Takal: I think so. I feel excited about the next movie and there's an urge to rush into it. But I want to be open to what happens while we are shooting. I know that Lawrence really wants to write a script. He's a really good writer. In "Gabi" there was a great deal of improvisation and ideas that people were bringing in. I think to work on something that is a result of Lawrence's own voice will be really cool.
Schartoff: What is the next project looking like?
Takal: Well, he has two scripts which he's working on. So it depends on how much money we can get.
Listen to Adam interview Sophia on Filmwax Radio (11/30/11).