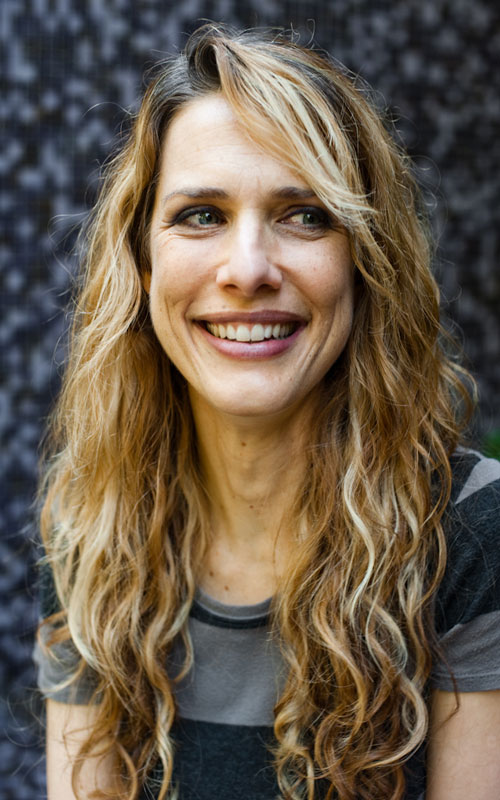 I've often been told I have a face made for radio.  It's an old joke but actually holds true in my case.  Lynn Shelton, on the other hand, probably belongs somewhere shy of an IMAX screen.  Warm, funny, easy on the eyes.  I had it all set that I was going to interview her on my radio show.  Frustratingly, that didn't quite work out timing-wise (for the moment) but I couldn't let the scheduled interview go to complete waste.
I was particularly interested in what life on a Lynn Shelton set was like.   Having seen all four of her feature films, and having long admired the humanity that comes off the screen, I was anxious to talk. Her characters are all written with warmth and wit; utterly believable.  There was estranged Eric (Basil Harris) & Dylan (Sean Nelson), trying to find common ground out in the woods in rural Washington in "My Effortless Brilliance".  "Humpday" reunites old friends married Ben (Mark Duplass) & unanchored  Andrew (Joshua Leonard), who agree to make an amateur man-on-man porno even though neither man is homosexual.  In her latest comedy, "Your Sister's Sister",  Jack (Duplass), who recently lost his brother must grapple with his romantic feelings for his widowed sister-in-law, Iris (Emily Blunt), in spite of a one night fling he had with her lesbian sister, Hannah (Rosemary DeWitt).  If it sounds complicated —and it is— the whole thing is written and performed so smoothly that you won't miss a step.
Filmwax: Congratulations on "Your Sister's Sister".  I saw it and really enjoyed it thoroughly.
Lynn Shelton: Oh great, thanks.
Filmwax:  What's your secret in creating an environment on the set in order to get the kinds of performances you do with "Humpday" and "Your Sister's Sister"?
Shelton: Um, well I try to have as few bodies as possible, and really, the most important thing is the right bodies. The right people. So I'm really incredibly careful about who I bring into the crew family and just as careful as I am in casting the cast.
Filmwax: Do you mean literally who you allow to be on the set?
Shelton: Yeah, yeah. I'm talking about the d.p. (director of photography) and the sound guy.  Every single person.  I've been an artist all my life, and I didn't come into my own as an artist until I discovered the collaboration of narrative filmmaking. And so, I've been using a lot of – I mean it was decades before I really figured out,  Like: "Oh, if you let go or let loose a little bit, open up your control freak nature and let other people into the process, like, wow! The things that can happen are pretty amazing."
And I've been thinking a lot about why that is, and I think that, at its best, collaboration pushes. What's great is when you have partners who are all pushing each other. They are all being the best that they can be. One of my collaborators recently told me that, he said: "You believed in me more than I believed in myself, and I've done better work because of it, and work I never would have done because of it."  And that is it in a nutshell. I think that if everybody believes in each other, more than they even believe in themselves, then they end up sort of raising the bar.  Everybody just ends up, you know, getting the best out of each other. In order to do that, you have to have an incredibly emotionally safe environment.  Making art is a very risky venture – you're putting a little piece of your soul out there for people to just like… you know, you're laying yourself bare when you're being creative.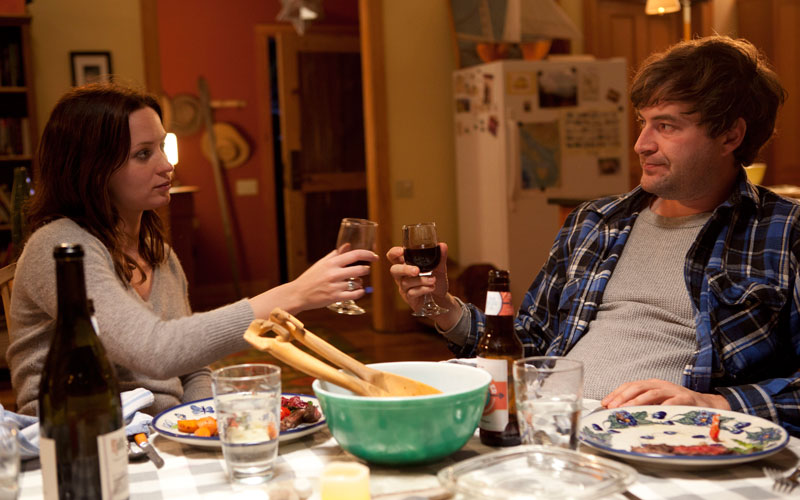 Filmwax: Your actors are allowed to be vulnerable.
Shelton: You're being really vulnerable. And so, in order to create an emotionally safe environment, you have to have true intimacy with everybody.  And in order to have true intimacy you have to have shared vulnerability and then you really have to be able to communicate openly and to make sure that people feel like they can communicate. If something isn't working well, then you need to be able to, you know, to do it. To be able and willing to actually talk about it. And so, you know, first of all you find people who can get along with each other, and who handle stress – it's a very stressful situation, making movies. You know, you're always putting out different fires. And so, people handle stress in different ways; some people lash out, and some people freak out, and some people have hissy fits, and [laughs] I tend not to work with those people because, even if it's just a flash of negativity, it still will cause this toxic strain in your life, you know, waiting for somebody to blow up, and everybody gets tense and so it's much better… you know, and everybody has an off day or an off moment, but as long as they can be jollied out of it, you know? And so there's a lot of humor, you know, that's really incredibly important for a movie, to have a sense of humor on set. And either you're a teller of terrible jokes or bad puns, or have the ability to laugh at them.
Filmwax: There's a culture that comes out of the chemistry of the people on the set.
Shelton: Yeah.
Filmwax: A culture of humor and of…
Shelton:  …positive energy.  And also of looking out for each other.   I want everybody to be engaged. I  don't work with people who really don't give a shit about the project [laughs]. And I invite them to make it their project, you know.  It's not just all me; they're coming to work for me but it's true collaboration.  Because good ideas can come from anywhere. There's a great story about Robert Altman that Tom Skerritt actually told me.
Filmwax: Who's that?
Shelton: Tom Skerritt, the actor.
Filmwax: No, no, I know Tom Skerritt. I was just talking about Robert Altman. It was a bad joke. And I'm a fan of Tom Skerritt as well.
Shelton:  Oh, okay, good.  So, Tom is telling me about the story of working on… it must have been "M*A*S*H" …and Altman's standing by the craft services table, and the craft services guy asks him like, "how's it going?" you know, "how's your day?" And Altman's like, "I don't know what to do about this scene." And the craft services guy like says some offhanded thing like, "well you could always do such and such", you know. And Bob's like, "that's a great idea". And I love that so much, because it's just like… you think about directors as being a fortress of one and the auteur –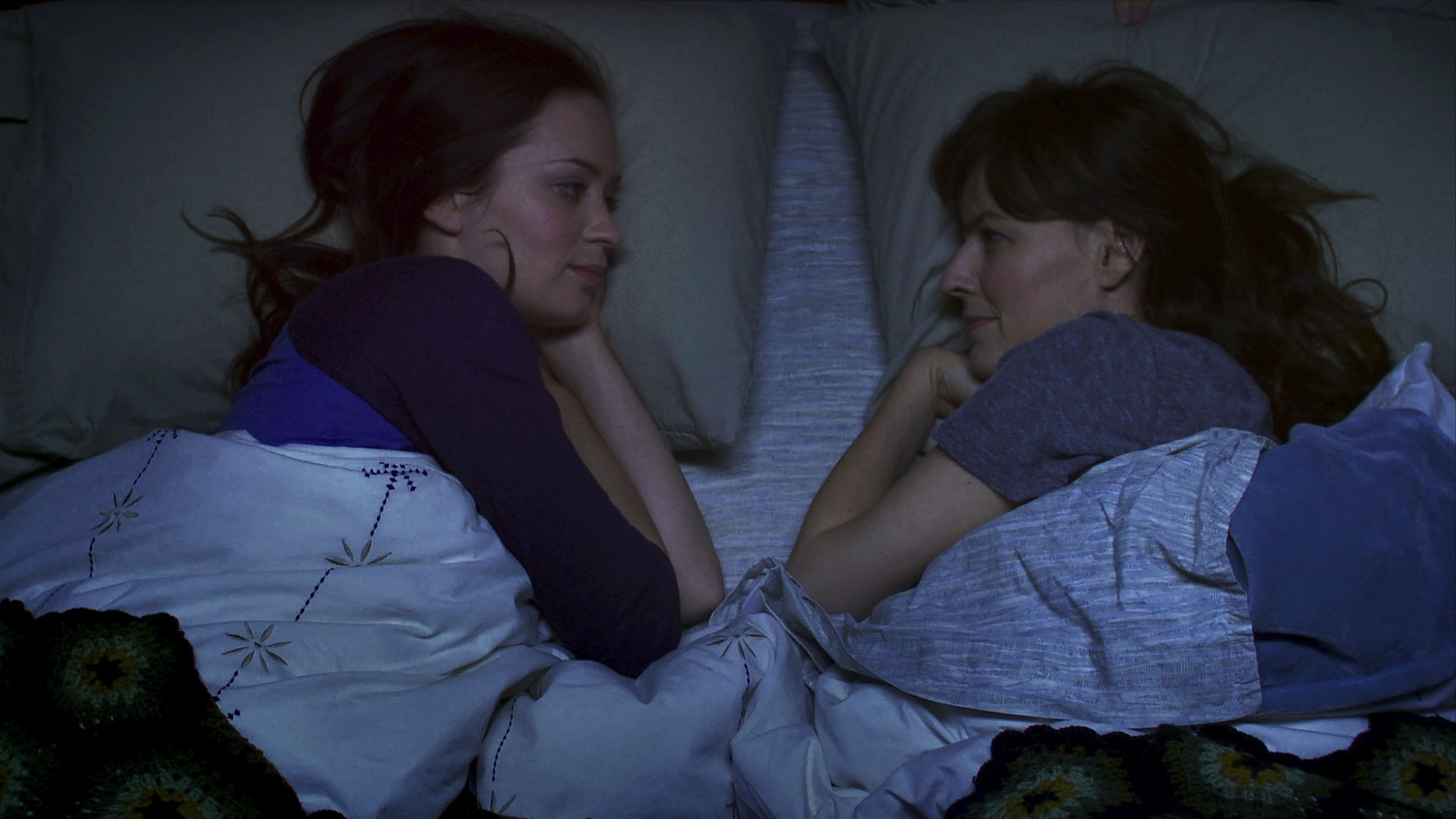 Filmwax: The John Ford guy.
Shelton: Like he's got all the answers.
Filmwax: Right.
Shelton:  Inspiration can come from anywhere. And if you're open to that, if you don't have such a huge ego that you're –
Filmwax: Where everybody has intellect and the capacity for inspiration.
Shelton: Yeah, it's about having a set where everybody has value, everybody's respected, and everybody feels like they're a part of this thing. And I've also been on sets where they are literally battles between departments, you know. And so the lighting and the art department are at war, and then the art department and sound are at war.  It's like everybody forgets that we're doing the same thing, we're all working towards the same goal.
My departments are always looking out for each other and, you know, doing something, and saying: "Is that okay for you Ben (Kasulke)? On my sets we're always making fun of credit whores, because they're trying to get their fingers in every department, you know. Like everybody's helping everybody else out, so if they're not doing anything, they're gonna run over and get an Apple Box for somebody, or whatever. And so, anyway, that sense of just mutual cooperation is really it.
Filmwax: So the result then is a movie that feels both kind of upbeat, on a certain level, like there's no sense of negativity and the movie has a positive vibe to it. But it also still has, uh, content and subtext, some depth to it.
Shelton: Yeah, I mean whatever the actors – the point is when the crew is happy, and they're creating this positive environment, and they know they've been told, as well, it's been beaten into them, that the focus of this film is gonna be the acting. You know?
Filmwax: Yeah.
Shelton: And it's all about creating an environment for them. Because you can also have a very happy crew that kind of treads all over the emotional safety, the bubble that the actors need to do their work. Because if it's a delicate scene, you know, they need to be aware of that, and there can't be the raunchy, dirty jokes, and the kind of, hilarious laughter has to be saved up for another time. You know, there has to be a sensitivity to that.
There's this sort of a tearful scene between Emily and Mark, you know, in the cabin late at night. That kind of scene. Or the sisters in bed scenes. Like there's all kinds of intimate, delicate scenes that, you know, my crew are really trained to be walking around on eggshells and like being really delicate and creating that space for the actors, so the actors feel… especially because I've involved them in this development process, so we've all been creating vulnerability, we've all been creating intimacy ourselves by sharing – over-sharing – you know, and telling personal stories, trying to figure out who these characters are together as a team, and what their relationship back stories are. And so all of this creates that trust and safety on set that actors are willing to risk everything – you know fall down on their faces, and completely failing, you know? Creating scenes where sometimes it feels like you're watching paint dry, you know telling jokes that fall flat. They're willing to do that because they know that I'm not going to let that stuff appear on screen.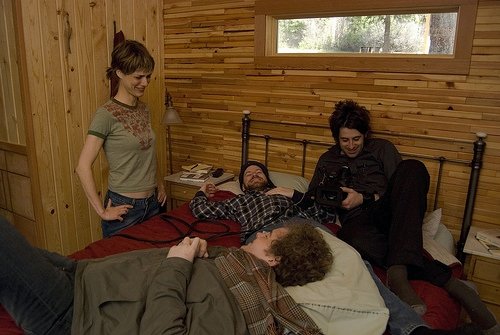 Filmwax: You're going to take care of them.
Shelton: I'm going to go through the images from all the tapes and then create this really cohesive whole. And so, between the crew creating that environment, and the trust that the actors have and need, that's really how you elicit those kinds of performances, I think. It's the strategy I've been employing, anyway.
Filmwax: And how much of a collaboration do you have with Ben Kasulke [the d.p.] on the set?
Shelton: I mean it's a total… it's a total collaboration. It's a constant back and forth, you know. Um, I love collaborating with the crew, I did it on the two shows that I worked on as well. I love really getting input from, and valuing, eliciting ideas and input from my d.p.s and…
Filmwax: When you say shows, are you referring to your stint directing "Mad Men"?
Shelton: "Mad Men" and "New Girl" were the two shows.
Filmwax: Oh right, and "New Girl".   I think it was the Filmmaker Magazine article about, you went in with a great amount of trepidation, television being such a different environment than you're accustomed.
Shelton: Yeah, I mean, when I first went down to "Mad Men" it was, I didn't know if my, you know I'd been up making movies in my own weird little way, so I didn't know if that skill set would translate to a, you know, multimillion dollar production. Sound stage, union crew, like… LA. I don't know. I'd just never worked under any of those circumstances. And it was, I mean it was fantastic. It was a great fit. There was no problem at all, and it was really wonderful, and it was really refreshing to work with a whole – see what it was like – to work with a whole different set of people. But I was just, you know, it was the same kind of feeling…
Filmwax: Were you under sort of the watch – were they kind of watching you and seeing how… or did you not get a sense of that?
Shelton: You know, I didn't get a sense of that at all.
Filmwax: That's nice.
Shelton: No, no. I mean, as much as anybody else might. The understanding is that Matt will show up, the creator will show up on set a couple of times, you know, during the week. And that was all he did, two or three times he showed up, and uh, I mean he's too busy to be watching, hovering over you anyway.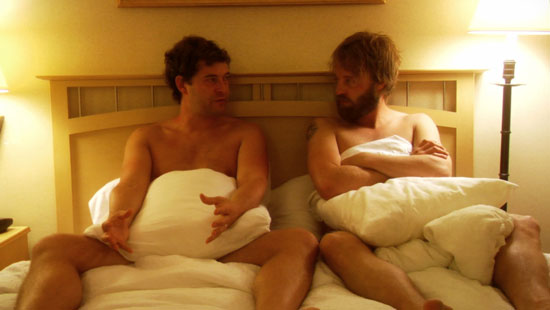 Filmwax: Micromanaging.
Shelton: But um, yeah, no, it was, I was on my own and it was, I mean yeah. I really love, as much as I love collaborating with the actors, I love collaborating with the DP as well. You know, just really figuring out what's the best approach for this scene visually, you know, how's it going to be lit – all that stuff, and then really letting them fly with it. And then, you know, usually what happens with Ben and I is that, again, this happened with the other two DPs as well, is that they'll set up a shot, and then I'll adjust it. And it's just the uh… sometimes we'll change lenses. And we'll just find it –
Filmwax: Sure, it's a little bit of a process, a journey that you share.
Shelton: Right, it's a process, yeah.
Filmwax: Yeah, and did that experience with "Mad Men" end up giving you more confidence?
Shelton: Yeah, I mean one of the things, it gave me a huge amount of confidence, I don't know if I could have done… [laughs] "Your Sister's Sister" was already really really tightly scheduled.  We had 14 days and I was already just like, [sighs] "Not enough time! Not enough time! Not enough time!"  And then we lost one of our actresses three days before the shoot started.
Filmwax: Yikes!
Shelton: And Rose (Rosemary DeWitt plays Hannah) came in and saved our butts.
Filmwax:  Oh, she was fantastic.
Shelton: I know, she was so great.   But the problem was that she was still on production on the set of "The United States of Tara".  And so, bless her producers, because they managed to figure out a way to squeeze things so that she could still do it.  But she still had to go and work.  So, we flew her back down to L.A. twice from this little remote island so that she could do both jobs. She never had a day off.  I don't think she ever slept!
Filmwax: Yeah, I read about that too.
Shelton: It was insane!
Filmwax: Yeah.
Shelton: But we also lost two days from the schedule, and so we only had 12 days to shoot this thing, not even. It ended up being 11 and a half days because they had to leave at like 1 in the afternoon instead of 5 one day, and I was just beside myself.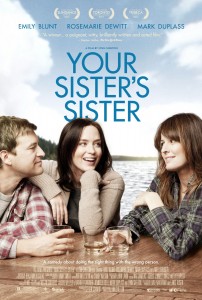 Filmwax: [laughs] I'm sure.
Shelton: I didn't sleep the whole time, I was really terrified.  You know, I had these perfect ingredients for a film, it could be really good, and if I can't get it in the can on time, I'm going to kill myself. But at "Mad Men", the crew had told me: "You're one of the fastest directors we've ever worked with," and I kept making my days because it's very unusual, I was extremely fast, very ambitious.  That was what I kept telling myself, "you've been externally validated as a very fast director. This is your m.o. You know what you need. You know when you have it. You know when to move on. You can do this."
Filmwax: Is it maybe that you're just not slow? I mean… why are you fast? It's called being on time by the way when you're making your schedule!
Shelton:  If you compare "Mad Men" to, say "The Sopranos", where, by the end of that show they had anywhere from 15 to 25 days to shoot an hour-long episode.  "Mad Men" had 7 days with one overlap day —and finally when I got there they officially had 8 days— I mean it's insanely ambitious what they try to do.  The quality they're trying to achieve, that they do achieve, and never with not enough time. Not enough, you know… and really, it's crazy. And all TV is like that to a certain extent.  But they're really pushing it extra hard because of that quality they want. They really have a high bar for quality. Um, and so they have to run long.  They just do.
The reason I didn't shoot that many takes, I think, is because I was an editor before I became a director.  So I'm not looking for the perfect take from beginning to end, I'm just clocking whether there are, you know, each section of the scene I have a couple of good variations within all of the takes, right? Somewhere in there, I've got the ingredients, and I can put it all together. Because you're going to be editing it! You don't need a perfect take, you know, and I don't spend a lot of time on the master because I'm not going to play the whole thing out in the master. I'm just going to do that using like, the beginning or the end.
Filmwax: Is there a perfect take? Or is it just a matter of finding the right balance, and a kind of best of –
Shelton: Well there's such thing as bad takes.
Filmwax: Sure, sure, right, but you know –
Shelton: …and unusable takes. But you're looking for the scene, you know?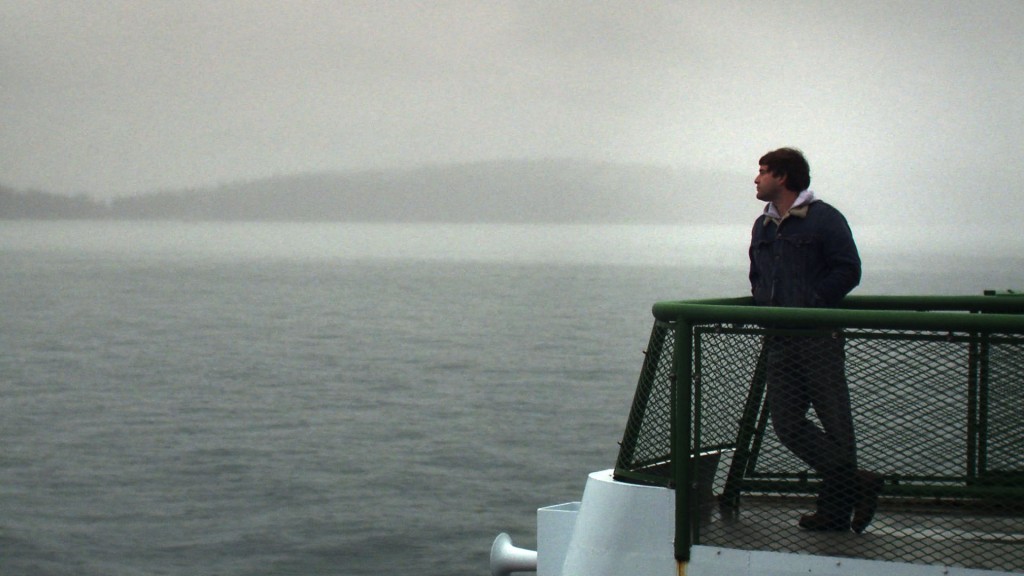 Filmwax: Right, I guess I'm thinking on one hand the camera might be doing exactly what you want but the performance is slightly not where you want it to be, then the next take you have the exact opposite where the performance is better but the camera technique might not be exactly the way.  You know, those types of things.
Shelton: Sure.
Filmwax: And so finally you just kind of have to —not settle— but you have to compromise.
Shelton: Yeah.
Filmwax: And I realize, as an editor, I guess that makes it a little easier when you know you've achieved that.
Shelton: And I'm not literally editing it in my head,  I'm just sort of clocking;  it's like a subconscious thing.  Like my editor, Nat (Sanders), used to say, "I can't believe you don't take notes or anything."  I'd be like: "No, it's just in my brain, you know?" And there's some part of my brain, you learn to trust the little voice that says to you, you're okay, you're good, move on.
Filmwax: Remarkable.
Shelton: And sometimes I'll do an extra take. Often, there will be like 3 takes and then I'll just get a 4th as like a safety, you know?
Filmwax: To make everybody else feel comfortable [laughs].
Shelton: Yeah! [Laughs] Exactly. Well the first time I tried to pull that off, I remember, I was like, I had it in 3 takes, I knew I did, and I was like: "Okay, moving on." And Jon Hamm was like: "What? Wait a minute." You know? And so then after that I learned to ask the actors, do you want another one, because, um, I knew I was good, but if they wanted another one, then we would do another one. Yeah. That was really funny, because they weren't used to it. They weren't used to moving so fast [laughs]. And some actors need more takes, they need to find, you know, find it. So it really depends on the circumstances, but um, in general.
Filmwax: I imagine Mark Duplass must is used to that pace. I mean, for 14, 12 days probably does not –
Shelton: Well, I mean, you know it's interesting. On the set of "The Do-Deca-Pentathlon", they spent a good four, five weeks on that shoot. So, I think they like to shoot more than I do.  My impression is they like to shoot a lot of footage. Because what he likes to do, he says, he says it, like, "shoot this, shoot that," you know? Because he wants every potential variation. And so for me, I actually am happier as an editor, I don't want you know, dozens and dozens and dozens of hours or takes of a single scene in variations; I just, I want like a few good options, you know, so I can get the thing cut and move on. And um, so, you know, we're actually really very different directors. The impression I get is that we are very different directors. Um, I have a bit on set with him, there was one scene in "Humpday" where I asked him to direct, um, a scene that Josh and I and Katrina were in that he wasn't in, and so I asked him if he would direct it, and it was kind of an eye-opener because it was just…
Filmwax: What –
Shelton: It was the dildo scene, where they're having a threesome, and it goes bad.
Filmwax: Oh yes. With the two girls.
Shelton: And I was one of them.
Filmwax: Of course you were.
Shelton: So I couldn't be –
Filmwax: Gotcha.
That's where Lynn stared into my eyes and her concentration trailed off.  We decided to travel to Europe together and to Hell with our respective careers.
"Your Sister's Sister" opens nationwide on Friday, June 15th.