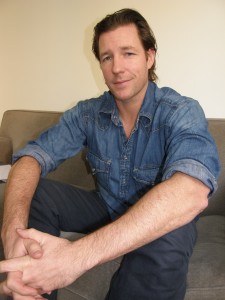 Described as something of a companion piece to his 2001 film, "Sidewalks of New York", Ed Burns' latest film, "Newlyweds", is a love story shot mockumentary style, about a couple, Buzzy and Katie (Ed Burns & Caitlin Fitzgerald) each in their second marriage.
Bent on keeping their new relationship free of drama, the newlyweds are tested when Buzzy's half-sister Linda arrives unannounced at their Tribeca condo. A whirligig of trouble, Linda (Kerry Bishé) upsets the balance, possibly for the better. Shot for a song around the streets of his Tribeca neighborhood, Ed Burns' latest film is the result of called-in favors, new favors promised and a minuscule budget. There is an air of spontaneity and light-heartedness around this comedy. It shows in the making. According to Burns, the same day they went and purchased their camera and equipment at B&H photo in Manhattan, they decided to begin shooting.
On Demand Weekly's Adam Schartoff sat with Ed to discuss "Newlyweds". A year had transpired since they last discussed his last film, "Nice Guy Johnny" and the state of VOD.
On Demand Weekly (ODW): We spoke about a year ago when "Nice Guy Johnny" went on VOD. You were very outspoken and excited about your new distribution strategy of bypassing theatrical. It's one year later, you've got a brand new movie called "Newlyweds" only days away from going on demand. How have your feelings evolved?
Ed Burns: Funny, Comcast is going to be releasing a press release soon, I heard, that says the viewership for independent film on demand has gone up 75% in the past 12 months.
ODW: All because of "Nice Guy Johnny"? That's remarkable.
Burns: [Laughs] I'd like to think we had some small part since I've been out there preaching the gospel. I never gave much thought to what kind of up-tick there'd be; I only know from my own viewing habits. I'm at home on the couch viewing movies on demand and on Apple TV. That's how I'm watching everything. Very rarely do I get to the theater.
Also, I don't think that "straight to DVD" has the stigma it once had. If you go to your on demand channels, you see really great titles with movie stars in them.
These are often movies that never showed up at your multiplex or art house unless maybe you live in a major city like New York, L.A., Chicago or San Francisco. I don't think anyone is looking at these titles thinking, "what the Hell is this?" It's more, "Do I like this actor?", "Do I like that filmmaker?" or "Does this seem interesting? I'll rent it tonight." It's changed the game.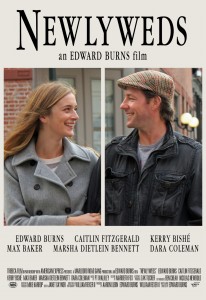 ODW: I agree. I don't think it's been a stigma for many years now.  Even back then there were lots of good titles, you just had to dig deeper through the morass. Now we're at a point where VOD is a lifeline for many unconventional filmmakers. I just saw the new Whit Stillman film, "Damsels in Distress". It's one of the least commercial films I've seen in years.
Burns: Is it having a theatrical release?
ODW: Probably in the exact way you described before: in New York and L.A. But it should really be on demand so his core following —which he certainly has— can find it wherever they may live. I hope Stillman pays attention to what you're doing. If he wants the freedom to continue making the kinds of movie he makes, theatrical will probably not serve him well much longer. Especially if he takes 13 years between films.
Burns: I agree with you, they're not going to show up to the theater. We've all changed our habits. I think filmmakers are adopting or recognizing the economic realities of our business. Have you seen the Polish Brothers new film? Those are the guys that made "Twin Falls Idaho". They have a new film called "For Lovers Only".  It's a black & white film inspired by the French New Wave; a love story they shot on a dime. I heard them on NPR talking about it and they said wanted to make this movie because they needed to make it.
ODW: They wanted to make the movie they wanted to make?
Burns: And no interference. They said they could not believe the kind of business they did on iTunes. Now they get to go back and make another one. I think you're gonna see a lot more filmmakers who agree that they need to change thing up a little bit.
ODW: So what are your feelings about reviews? It doesn't seem like the mainstream press has still figured out what to do about VOD. The online sites and blogs have the idea; On Demand Weekly, as well as the indieWires and HammerToNails have the idea.
Burns: The mainstream critics are not reviewing these films. We're going to experiment a bit with "Newlyweds".  We're releasing it theatrically for one week in Chicago and San Francisco. So, we'll get reviewed there. You know, it isn't really about making money. We basically just want to break even. We capped our spending at a very small 5-figure number. We just thought, every movie opens in New York and L.A. It's too competitive a marketplace. So, let's forget about that. We have really good connections in Chicago. Our producer is from Chicago. Do you listen to the podcast, Filmspotting, at all? They're from Chicago. They're great and they've started reviewing movies on demand.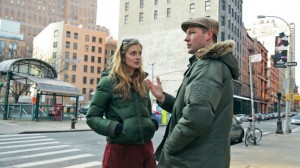 We also chose San Francisco because we wanted to set up some screenings for the high tech crowd at Twitter, Apple and Google/YouTube.
ODW: It's a good idea. These companies are always on the front of the curve while these conventional media outlets, like The New York Times —as fantastic as it is— but they are more entrenched in conventional ways. The last to make a change.
You can tell the culture around VOD has changed in the past year just in terms of your availability this time around as opposed to "Nice Guy Johnny". I just mean you are far more…
Burns: I am much more in demand, yes. With "Nice Guy Johnny" I had returned to the micro-budget, the 3-man crew, the way we released it. And then who do you talk to about releasing a movie this way? We did screenings for bloggers. It was new terrain and we had no idea what to expect. When we did "Purple Violets" we distributed it exclusively through iTunes. We were the first movie to do that. We didn't get a lot of press.
ODW: It was probably more covered by the business and tech press.
Burns: Yes, it was. I would say that about 75% of the journalists we spoke to said, "Are you crazy? No one is going to watch a movie on their computer let alone their phone. That was in '07. Here we are four years later, we see how dramatically that landscape changed. In 2 years from now, who knows how it will evolve?