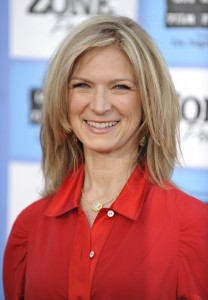 On Demand Weekly's VOD Spotlight highlights stories from the On Demand industry.  Adam Schartoff interviews Film Independent's Dawn Hudson about the upcoming Spirit Awards and how VOD is shaping the independent film world.
Film Independent has been around for the 30 years. For the past 20, its Executive Director has been Dawn Hudson. Hudson is clearly in love with her job and proud of what Film Independent provides. The organization was started by filmmakers to create a forum for sharing information with other filmmakers. There are hundreds of workshops and labs throughout the year, offering essential information to filmmakers on everything from how to get financing to what kind of lenses to use on your shoot.
In addition to that Film Independent also hosts the annual Los Angeles Film Festival and the Spirit Awards. According to Hudson, it's all in order to cultivate new original films and help them find an audience.
A southerner, Ms. Hudson has a down to earth and relaxed nature. She was delightful to chat with and completely unselfish with her time. Right after we got off the phone, she called back to apologize for getting my name wrong and to invite me to the Spirit Awards nominee brunch in Los Angeles.
Adam Schartoff: I was reading a little bit about you.  You're going on 20 years at Film Independent.
Dawn Hudson: I know! 2011 is my 20th year.
AS: What do you make of that?
DH: My career seems to have spanned the entire growth cycle of American independent film, starting in 1991.
ODW: You mean the cycle that started with "Sex, Lies & Videotape" and Spike Lee and…
DH: …and "Reservoir Dogs".  Then we go through "Pulp Fiction".  And throughout the 90s it grows and grows and grows. And I think it's continued to grow throughout the last decade but almost feeding off the frenzy of the 90s. There had been such an appetite for independent films. Then Netflix came along to make these films widely available. I think it was a struggle prior to Netflix for the mainstream audience to see these films. But with their success, it was proof positive that there was a large and diverse audience for original personal filmmaking.
ODW: VOD is another channel for that appetite, is it not?
DH: Before I started this career there was the decimation of the video production companies. They had all gone bankrupt. Companies like Helmdale, Vestron and Island Alive had been funding and distributing independent films. Movies like "One False Move" and "Gas, Food & Lodging" were funded for straight-to-video release except, guess what, they were really good films.
ODW: "Red Rock West" was another.
DH: Right. Then the DVD business began to take off. On the heels of that groundswell, some of the independent film studios like Miramax started getting some significant financing for their terrific films, more marketing dollars and got pushed out into the mainstream making the video distribution market obsolete. At some point, every business has to eventually see how far they can go and how much the market will bear.  Or just how many films they can put out into the world with a big marketing budget and a limited number of screens.
Eventually, that particular business starts to either mature or the business model stops working. And those latter companies fold. So, a lot of independent film companies folded and now we're into a new cycle.
ODW: Have you spent a lot of time thinking about what this new cycle is going to look like?
DH: Absolutely. Here at Film Independent we think of little else. We are concerned with that both in terms of our organization and in dealing with filmmakers. The first order of business is to continue supporting filmmakers so they can make the best possible films; that 's our bread and butter.
I believe if you make an excellent film, it's going to find its audience. Perhaps not easily but it will eventually find its way. And that filmmaker will find his or her way.
Was it you that wrote the piece on "Tiny Furniture"?
ODW: Yes, it takes you right back.
DH: You watch it and you know that Lena Dunham will find her way. We were screening "Tiny Furniture" at our film festival [the Los Angeles Film Festival] and at our filmmaker's retreat she was about to go star in the new Hal Hartley film. And she has the HBO series [laughs], you know. It's not like you can be talented and hide under a rock for very long.
So, first and foremost the thing is to support and nurture the artist. Then the next step is to help that artist find their audience, and we do that with our film festival and The Spirit Awards. We've selected 35 films over all that have been nominated for Spirit Awards. These are some  of this year's best independent films. Take a look. Check out these filmmakers.  You'll be seeing their work for years to come.
Fifteen years ago if you were a young filmmaker, you took your film to Sundance and you hoped to wrap up a 3-picture deal with one of the indie divisions. That model is no longer really there. As to what's coming in the future? What is that next model? It will be some combination of all these platforms. There's no question it will be about streaming, about video on demand, downloading on your computers and cell phones. I also believe we'll still be watching them in theaters too.
ODW: Would you agree that for independent filmmakers that VOD seems to still be the wild west?
DH: It really is. It reminds me of the early days of the internet. There are just so many opportunities and so many outlets. There's cable, there's Netflix and studio channels. Yes, it is the wild west. It's a good way to describe it.
ODW: Both Ed Burns and William H. Macy have been interviewed on this website about the state of independent film. These are two icons of the independent film world, right? And the words that keep coming back over and over are "the market is shrinking."
Fewer independent films are being made and distributed.  These filmmakers are finding it much harder to get their work seen. So it makes sense that a Burns or a Macy might be very big on VOD.
DH: They're saying that fewer independent films are being made and distributed using the studio model?
ODW: Yes, and that young filmmakers… I shouldn't even say young filmmakers when someone like John Sayles is having difficulty finding distribution. What they're saying is that the ability to get small character-driven films into theatrical distribution is a shrinking proposition.
I'd like to see more reporting during this period of flux we're in and how we now have the opportunity to redefine how films get seen. I am here in New York City talking to you in Los Angeles.  We have easy access to everything. But those folks in Wisconsin have to rely on iTunes, Netflix and VOD.
DH: Yes, so they have far more access to these films than they did ten years ago. There aren't fewer pictures being made. But there are probably fewer character films in general. Certainly there are fewer character films being distributed by studios.
"The Social Network" is almost an aberration. It's a unique film; it's one of the few character dramas that's being distributed by a studio.  "Inception", I would say, is incredibly independent in its conception and its originality. These are exceptions to the rule in terms of what the studios are releasing. Whereas before you got all the studio's independent divisions releasing six films a year. Those companies aren't around any more.  Lisa Cholodenko's third film, the incredible "The Kids Are All Right" found its way to the market place but the pipeline for all character-driven films is narrower. And that's true at every studio at every level.
I think there's a period of time when a new model is introduced where the pipeline is open and the market will bear a lot of films.  But there's just not that huge an audience for smaller independent films; there never was and there won't be. They're not meant to be mainstream films.
That's the beauty of independent films. The problem is, that since the early 90s they're been held to that standard. It's sort of like what I was saying before when the VHS distribution market was opening.  You couldn't make films fast enough to meet that demand.
ODW:  VOD faces a similar challenge, finding enough quality content.  This is especially difficult when theater owners are pushing up against VOD/DOD content being available too early on.
DH:  They can't meet the demand fast enough.  But you need to have those great marketing people come in to the Weinstein Company, the Fox Searchlight or the Sony Classics and show the way for a mainstream audience. On the other hand the real movie buffs who are searching for films like the ones we've got nominated for The Cassavettes Award like "Lbs".
ODW: That's Matthew Bonifacio's film with Carmine Famigilietti?
DH: Yes, I'm trying to remember if it got distribution. Did Truly Indie pick that up?
ODW: They did. LBS. is one of the ones that made it through that bottleneck we were describing and played in New York, Boston, DC and Minneapolis.
DH: So LBS. got distribution, it made it to the Spirit Awards, so people will find it. I don't think it's currently on VOD but perhaps after the award nominations! And now this is where Film Independent comes in. How to help audiences navigate this world of all these films and how they're going to find the films to connect to. And how does the filmmaker find the audience. That's the challenge we face.
ODW: And it's exciting at the same time.
DH: Of course! The wild west is always exciting.
ODW: Do you see VOD perhaps one day being a Spirit Award category?
DH: It is a great question. It is something we've talked about here. Currently, to be eligible for a Spirit Award nomination, you have to either been released theatrically during the nomination year or been in one of the major six film festivals. That's sort of our filter.
We don't require that you are released theatrically because that would be foolhardy. If you played in Toronto, Sundance, Los Angeles, Telluride, New York Film Festival or New Directors/New Films, you would qualify. All those festivals are in North America and they all have an international component to them. And that's not saying there aren't terrific films that don't make it to those festivals but most of them are in one of those festivals. It's a pretty good litmus.
Additionally, the movies have to be made under $20 million and be at least 70 minutes long. We review these rules every year. And ask ourselves does this criteria really capture the best of the best independent film in any given year.
So VOD is something we've thought about a lot. There are quality independent films that are going straight to VOD without going to one of these festivals. So far we don't feel like we've missed a lot but it's a real good question. There was a time when festival submissions weren't eligible, they had to be theatrical. But that ship has sailed. So we changed that criteria about ten years ago.
ODW: I could see how you'd have to be malleable.
DH: The process is similar but the eligibility needs to evolve along with how people watch independent film.
ODW: I recently became a member of Film Independent if just to get the screeners [dvds for evaluating nominees] so I wouldn't have to run to the theater every day.  Is there any plan to use VOD/DOD to avoid the expense of doing all those mailings?
DH: We have a plan where it only costs $3,0000 for filmmakers to participate and get their films into the mailing. No one can afford to do those big Academy mailings.  I mean nobody. I wish we could afford to underwrite that expense.  We have subsidized it for those filmmakers who can't afford the mailer program. Like ten people opt in. But someday we'll be on VOD and people can't download or stream these films for free.
ODW: Perhaps some business to business website with a secure login.
DH: The technology for protecting it right now for password protection is not there to make everybody comfortable but we will by next year, I bet.
ODW: That soon?
DH: I think so, don't you?  I think we can. I hope your membership will serve you well.
---
Article originally appeared: http://ondemandweekly.com/blog/article/vod_spotlight_on_film_independents_dawn_hudson