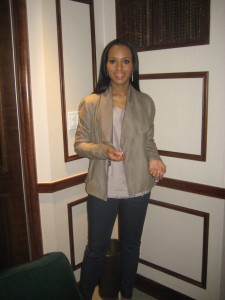 Kerry Washington has never been busier. The young actress is best known for her work in such diverse films as Ray, Lift and "The Last King of Scotland". Reviews were terrific for her work in Mother and Child earlier this year, and she recently wrapped on the Broadway production of David Mamet's Race while already shooting Tyler Perry's "For Colored Girls", opening on November 5. Also coming out in the next month is the Black Panther drama, "Night Catches Us".
Washington sat down with us to discuss her work in "For Colored Girls" and her gratitude to Perry for casting her in what she regards as a once-in-a-lifetime opportunity. She also spoke with great emotion about being able to work alongside the film's amazing ensemble of talented African-American actresses, all of whom seemed to recognize they were working on a very special project.
Tribeca: You've been busy doing some weighty films recently, some very dramatic stuff.
Kerry Washington: It's interesting, I'm in rehearsals right now for my next film, a comedy, and I'm just so grateful. I did Mother and Child, then I did "Night Catches Us", then I did the Mamet play—which is not light at all; it was very intense—and then I did "For Colored Girls". I am way overdue for a comedy!
Tribeca: When did you first become familiar with Ntozake Shange's seminal 1975 play For Colored Girls Who Have Considered Suicide When The Rainbow Is Enuf?
Kerry Washington: Towards the end of high school I came across the play. I was preparing monologues to audition for colleges. That's when I first came across the material.
Tribeca: When you read the play back then, did it speak to you in an immediate way, or was it perhaps a way of connecting back to past generations of women in the community?
Kerry Washington: It's the kind of text that at different points in one's life, different parts of the play resonate. So it's material I've called upon for years. I've had classes where other actresses have worked on it, I've seen a few productions of it over time, it's just one of those plays. If you're a well-rounded actor, at some point you're going to work on some Stoppard, you're going to work on some Tennessee Williams, Shakespeare. And if you're a woman of color, you're going to work on this play. It's part of the canon.
Tribeca: The play was so specific in dealing with women's sense of empowerment after a prolonged period of oppression. How do you think Tyler Perry kept the film adaptation relevant?
Kerry Washington: If people remember anything from the play, it's the Crystal and Beau Willie moment, because it's just so tragic, so profound. It's a statement about the human condition, but also frankly about society, that you can take this soldier just home from war not getting the help he needs in the 70s—that war being Viet Nam. And just replace the word Viet Nam with Iraq, and the same issues are alive and kicking.
The film deals with love, motherhood, rejection, self-acceptance, self-love. There are those larger experiences of the human condition that, of course, are going to be universal and will stand the test of time. But even some of the more delicate, intricate details of the specific aspects of these characters' lives are still relevant and alive and well.
Tribeca: Does it surprise you that "For Colored Girls" wasn't made years ago?
Kerry Washington: I was born into a world where this play was at The Public Theater. That's tremendous. That's a tremendous statement compared to the world my grandmother was born into. But it took me to get to my thirties before anybody could make a movie out of it. And that the person was a self-made man of color who identified with the story because of his relationship with his mother and the women in his life… It took someone in the community powerful enough to green light this project in order for it to get made. That took decades.
Tribeca: Tyler Perry has spoken about being offered the opportunity to do "For Colored Girls" a number of time before and declining. But more recently there seemed to be indications that he was ready, perhaps through his having been executive producer on Precious and through other recent appearances. Did you feel he had any trepidation?
Kerry Washington: Everyone on the set felt that it was all just meant to be.
Tribeca: When did you first hear about the project? How did the process of your getting the role of Kelly, the social worker, unfold?
Kerry Washington: I had actually heard a rumor that he was working on it, and I kind of cornered him at an event in New York [laughs]. I said, "I heard you're working on 'For Colored Girls', and if that's true, I would love to be part of it, in any capacity." It's such a tremendous piece. I knew it would just be this tremendous moment in history. I knew I had to be a part of that.
Tribeca: And how did that feel? Did you feel a responsibility in being part of it once you were cast? Any anxiety? As you said, it's this iconic work.
Kerry Washington: Absolutely. I think we all felt that pressure but in a good way. We felt like we are all a part of something bigger than us. We wanted to make sure we respected the legacy of Ntozake Shange's play.
Tribeca: Before, you said that you would've been grateful to participate in any capacity. Come on now, didn't you at any point have your heart set on a particular role? Maybe one of the other roles, having known the work for so many years?
Kerry Washington: No!
Tribeca: You can't talk about that, can you?
Kerry Washington: [Laughs] No, really, I was so blown away that I was going to be able to even do it. My timeline was so tight. The fact that the movie studio and the producers of the play [Mamet's Race on Broadway] agreed with each other, to let me have my last two weeks on the play. After my last Monday night on the play, I flew to Atlanta to shoot for a day and flew back for my Tuesday night performance of the play. So it was crazy that they would come together and allow me to do that… I was so blown away that I was able to participate in any way. I was just focused on how to do that well. It didn't help that the two characters were so completely different.
Tribeca: "Mother and Child" was a really wonderful movie. There's a real common thread between your role of Lucy in that film and that of Kelly in "For Colored Girls". Both characters have to grapple with being unable to conceive. A bit of a coincidence, wouldn't you agree?
Kerry Washington: That was sort of surreal. When Tyler asked me to do that, I thought, "Oh my gosh, okay."
Tribeca: Was there anything that sort of snuck up on you during the course of making "For Colored Girls"? Anything you didn't expect you would take from the experience?
Kerry Washington: I didn't know what it was going to be like to make a film with all these actresses. We all had different ways of working, of approaching the work. We all have different personalities, different relationships to the industry and very different histories. We're all so different. It was this massive ensemble. And it's not that I went into it expecting something bad or good, I just really wondered what this was going to be like. It turned out to be incredible. It was like we were running a marathon together.
You would come to work and some woman would pass you the baton. You would come in at lunch and Anika Noni Rose had been shooting all morning in the hospital. There'd be this hushed whisper on the set about the incredible work she had done. And you'd say, all right, I'll take that baton and I'll do all that I can to bring the same level of game after lunch. And then I'd talk to Anika three days later and she'd say, "When I got in that morning, all I heard about was this incredible work that Whoopi [Goldberg] and Thandie [Newton] had done the night before. And you realized that we were supporting each other, carrying each other, inspiring each other constantly.
Tribeca: So many people will assume that there would be clashes of ego or competitiveness on the set.
Kerry Washington: It wasn't a competitive environment. We all just knew that we were part of something bigger than us. And every time you heard about someone doing some incredible work, you'd want to honor them by doing your best work. It was really great.
Even in the moments when we were together on the set, we were just so supportive and respectful of each other. To have a moment on the set to be able say to Whoopi Goldberg or to Phylicia Rashad, "Your existence is part of the reason why I'm able to do what I do." Logistically, psychologically, spiritually—these women have inspired me. They're like lighthouses to me.
I remember being a teenager and seeing Kimberly Elise, Jada Pinkett, Queen Latifah and Vivica Fox, in Set It Off and thinking, "Look at this movie with four black women."
And now we're in this movie with ten of us. Who would've thought it was possible? But I know there was something about being a teenager and seeing Kimberly do that and thinking there's room for me. And thanks to Tyler, there's actually room for all of us.