[Article originally appeared: http://www.westviewnews.org/cms/index.php?option=com_content&view=article&id=814:film-forum-turns-40&catid=43:articles&Itemid=170]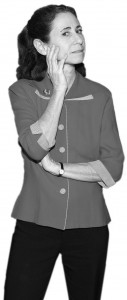 Film Forum is celebrating its 40th Anniversary this year. The milestone anniversary was topped off with a retrospective at MoMA earlier this winter called Karen Cooper Carte Blanche: 40 Years of Documentary. I had the good fortune of interviewing Ms. Cooper, who as of this year has been Director of the Film Forum for her 38th year.
Adam Schartoff: Prior to your tenure at the Film Forum, did you have a background in film?
Karen Cooper: No, not really. One class in film making (super-8) my senior year. I was at Smith. It was given at nearby Amherst College. Mainly I studied literature and theater. Spent my junior year in London: traveling and going to theater.
AS: So, what was your first role at the Film Forum all those 38 years ago?
Cooper: My first role at Film Forum was as Director! I met the co-founder, Peter Feinstein, in 1972 while working for a film monthly. He offered me the business, such as it was: $19,000/year budget, 50 folding chairs, screen the size of a bread box.
AS: How did he come to discover you, though? He read some of your articles and had an "ah hah moment"? It seems like quite a leap of faith to hand you the business as you describe it.
Cooper: We met when I came to see films at his screening room and became friendly. At this point, he already had one foot out the door. I don't think he was terribly concerned that I'd run things into the ground. It was running at ground level already.
AS: What was that transition like from a 50 seat operation to that nifty space on West Houston Street? At what period did that small operation become the enterprise it is today?
Cooper: Two interim spaces: from 1975-80 we moved downtown to what was then the Vandam Theater with 200 seats; from 1980-89 we were in a twin cinema I built out of a single-story garage space on Watts Street. It has been a long evolution. None of this would have been possible, by the way, without the financial support of the Ford Foundation. They have played a critical role throughout our history.
AS: Regarding the MoMA retrospective: how did that come about? Why documentaries and not narrative films?
Cooper: I approached my colleague, Larry Kardish, Senior Curator of Film, at MoMA. We agreed that a retrospective focusing on docs would be appropriate, as this is a genre I feel most strongly about. The process of selecting was easy: Film Forum has shown hundreds of great documentaries, long before the name Michael Moore was on anyone's lips. Documentaries struggle to make sense of the world in which we live. (Well, fiction does too, but in a different way.) Documentary filmmakers are often passionate about changing the world, rectifying an injustice, or discovering a new way to look at history–history from the eyes of the dispossessed rather than from the top down.
AS: As far as programming the retrospective, did you just whittle down a list and go for your favorites?
Cooper: For logistical reasons, we showed many films for which prints were already owned by the Modern. In some cases, more esoteric work was too difficult to track down. But I think the final list had a terrific mix of styles, subjects, approaches: popular titles like "Crumb" and "The War Room" and a number of recherché ones too, like "Terrorists in Retirement", "The Architecture of Doom", and "Reichsautobahn".
AS: It seems like, what with the advent of film blogs, daily box office tallies in the New York Times, the popularity of DVD audio commentary, etc. that the public has developed a real fascination with the inner workings of the movie industry. Would you agree with that assertion?
Cooper: Fascination with inner workings. . . hmmm, perhaps you have such a fascination. I'm not sure we can speak for the rest of the public. But I can assure you trends have little influence upon me . . . not in food, clothing, or movies. What is good, smart, innovative, thoughtful — if it was that in the mid-1970s, it will still be valuable today. There are, of course, parts of the world that are more actively involved in film making in the 21st century than 40 years ago (e.g. Romania, Argentina, South Korea).
AS: Thanks, Karen, for the interview. From what you told me, it sounds like your schedule is a bit hectic these days, so I appreciate your finding time for our little local newspaper. What are you up to in the coming weeks and months?
Cooper: Recently I've obtained a grant from the Robert Sterling Clark Foundation for both my co-programmer, Mike Maggiore, and I to go to festivals in Africa, Asia and Latin America. I am off to Singapore next month and Rio in September. He is going to Chile soon and perhaps Istanbul.
AS: That must be tremendously exciting, to witness the ever evolving cultural shifts right up close and personal, just in the context of movie making. Safe travels to you, and thanks again for the interview.