In a manner befitting the impressive combat acrobatics on display over the course of the weekend, even the Q&A session at the opening night screening of the seventh Old School Kung Fu Film Fest was a display of physical acumen. Where a simple raised hand would suffice, kung fu fans excitedly leapt from their seats, gesturing frantically for the opportunity to ask a question of martial arts legend Angela Mao. This display set the tone for a weekend full of fist-and-foot action mostly on 35 mm.
Mao was onhand to introduce her 1972 classic "Hapkido." With the help of a translator, Mao recounted her preparations for the film (also known as "Lady Kung Fu"), traveling to Korea to study the eponymous local martial art until she obtained a third degree black belt. This training coupled with acrobatic skill learned at the Peking Opera House prepared her for the role of Yu Ying, who opens a martial arts school in her native China with two partners. The nationalist tendencies of the era's kung fu films come into play when they're challenged by a rival Japanese school; a parallel narrative can be found in the same year's "Fist of Fury" with Bruce Lee, who Mao described as like a big brother when they worked together the following year on "Enter the Dragon."
Her most interesting collaboration in the film though is with martial artist Sammo Hung. Playing one of the other teachers at Mao's school, Hung's style melds particularly well in the film's opening scene where the two are joined by fellow instructor Carter Wong. Director Huang Feng's camera pans right to left as each of the three battles assailants in three separate training matches. During the Q&A Mao that her fluidity of movement looks so natural alongside Hung because the all-star actor and choreographer also received Peking Opera training. Due to similar training, the young martial artists' movements are impressively fluid as they dispatch attackers.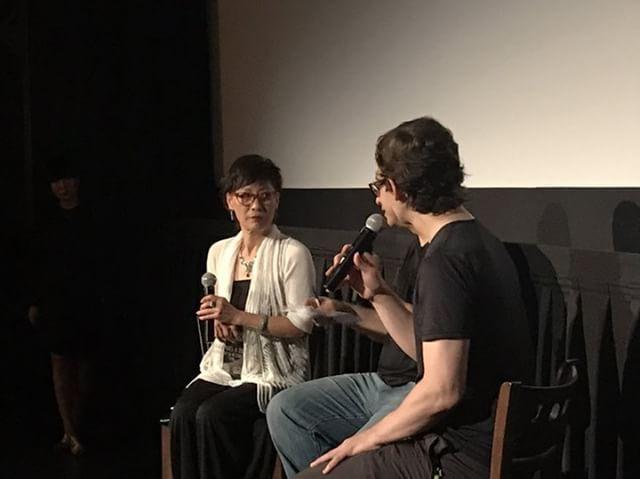 Mao hasn't acted in a film in almost 40 years but her days are currently occupied owning and operating two restaurants in Bayside, Queens. When an energetic audience member asked if she'd be returning for Saturday's screening of King Hu's "The Fate of Lee Khan," Mao answered that —while it would be great to see herself on the big screen again— she had to be at work at 9 am on Saturday morning. While Mao won't be present, attendees at any of the weekend's remaining screenings will surely be joined by other energetic, enthusiastic fans.
---
The Old School Kung Fu Film Festival takes place at the Metrograph Cinema in New York City, from August 18th — 20. For the full program, check out the Metrograph website.