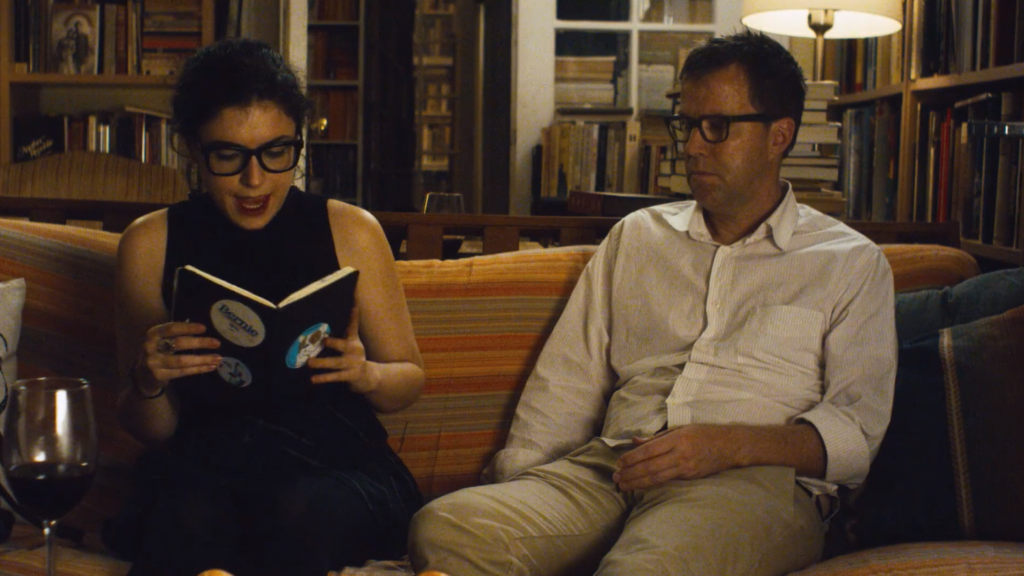 Ariel Kavoussi's expertly directed and very funny short film, "The Poet and the Professor," puts her in the class of talented indie filmmakers like Josephine Decker, Onur Tukel and Alex Ross Perry. You may remember Kavoussi from her memorable supporting role in Tukel's 2016 film "Cat Fight," as a petite art assistant (Ann Heche played her employer) with a distinctive squeaky voice. She directs and stars in this 21-minute film about an insecure young writer (also named Ariel) having simultaneous affairs with a poet (played by indie stalwart Kevin Corrigan) and a professor (director Bob Byington). The film premieres online February 4 on indiewire.com.
Both of Ariel's lovers are unappreciative and unenthusiastic; she seems to be stuck in a habit of unrewarding affairs with older, very flawed men. The poet is actually a chubby cinematographer living in his rich girlfriend's apartment who writes poetry in his down time. He walks around bare-chested all day, imploring Ariel to stay longer only to reject her when she wants more attention. The professor, who claims to be in an unloving marriage, is blasé and bored and sometimes wears a stained t-shirt. At one point early in the film has his student Ariel over to his apartment for wine and Glenn Gould music.  "Sex," he says, quoting from a book about ancient Greece, "was once considered a way of passing knowledge from one person to the next." Most of the humor in the story emerges from Ariel's creative attempts to navigate the alternating need and diffidence of her two lovers. "This clementine represents my feelings," she tells the professor after his first advance. Byington and Corrigan turn in fine performances in this three character comic study.
Kavoussi has the valuable talent of being both funny and brainy; her inspiration board on the film's Kickstarter page for the film includes the cult novel (later TV series) "I Love Dick," Jean Eustache's French New Wave masterpiece "The Mother and the Whore," Lena Dunham's "Tiny Furniture" and the books of Foucault and Bukowski; add to those influences the conversation-driven, intimate comedies of Woody Allen and Noah Baumbach. The film's technical aspects are excellent, especially the cinematography by Charlotte Hornsby. Valerie Steinberg, who has produced many shorts by female directors, produced the film.
Kavoussi is also part of the recent welcome tendency of female directors such as Dunham, Decker, Frankie Shaw and others to push the boundaries of representing sex on screen by filming explicit and deglamourized scenes often featuring their own bodies, some of which counter Hollywood stereotypes. The opening scene depicts what the porn industry calls a "money shot" as Ariel patiently accomodates her "poet." Someone should write an article about the history of such rare moments of filmed ejaculate in non-adult features and TV: Todd Solondz's 1998 "Happiness," a recent memorable episode of "SMILF," etc.
The short is divided into named chapters: "You Look Like Noam Chomsky," "Post-Modern Touching," etc. The final chapter, a fantasy ending showing Ariel's triumphic escape from bad relationships and literary success (a blurb from Jonathan Franzen on her first novel's cover!) seems a bit abrupt; the film was meant to be a study for a feature-length work. Whether she returns to expand on the characters and story of "The Poet and the Professor" or do something different, I look forward to more work by this talented young filmmaker and actor.
The Poet and the Professor (Dir. Ariel Kavoussi) – Preview from Ariel Kavoussi on Vimeo.