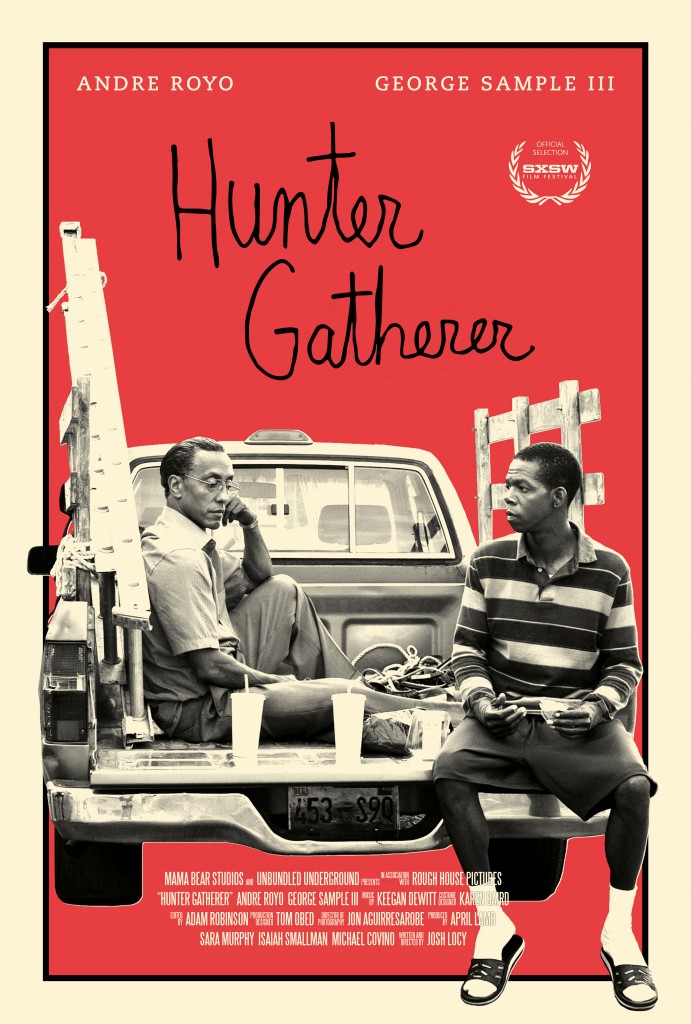 Something was in the air this year at South by Southwest. A number of people I hung out with complained that the films weren't as good as last year. I didn't have that experience. As many times as I promise myself I'll leave time for wildcard screenings (spontaneous choices), I always end up going with my planned selections. This year I reached about half the movies I intended to. That's not terribly surprising considering I also do a lot of podcasting at SxSW and this year I also attended a few panels and ran one myself. More on that in a bit; first the films. One of my favorite films which had its world premiere was "Hunter Gatherer", directed by Josh Locy and which stars Andre Royo, Bubbles on the HBO series The Wire. Royo, who won the Special Jury Award for his performance, is unforgettable as Ashley, a recently released ex-con who is ceaselessly hustling in his own benign way to make a few bucks. The movie opens with Ashley's elderly and cantankerous Mom  setting up a birthday party for him while he fruitlessly calls friends to invite them over. Even though he's middle aged there's something innocent, almost childish about him, despite his having served three years in the slammer (reasons which are never quite explained). What we do learn relatively quickly is that he harbors a deep love for the woman he was involved with before he went into prison and who has since moved on to another relationship. Ashley doesn't stop hustling and when he meets Jeremy (George Sample III), another innocent, the two make unlikely friends. None of Ashley's choices make much sense but as the film goes on we realize that he is a true survivor and has learnt to keep moving forward despite the obstacles (most of which are self imposed). There are aspects of "Hunter Gatherer" that have magical realism which makes sense for such an other worldly film as this one. I think the film will be playing at festivals here in NYC this summer, so keep an eye out for this one.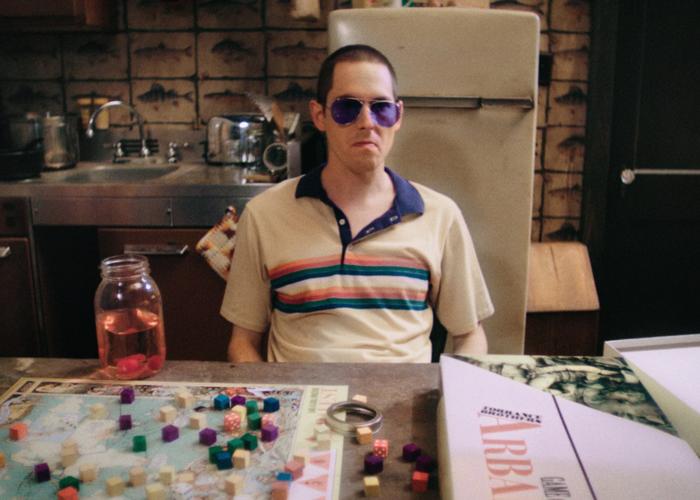 "The Arbalest" is another film which relies heavily on the fantastical. The first feature of filmmaker Adam Pinney, "The Arbalest" is mostly a four character set piece broken into two main parts (the term refers to a type of crossbow). The first chapter takes place in what appears to be during the Mad Men era of the 60s. A toy inventor named Foster Kalt (Mike Brune) attends a toy convention and meets a couple of investors named Sylvia and Paul played respectively by Tallie Medel & Matthew Stanton. Kalt, who has invented (or, better, ripped off) a couple of puzzle toys —poor Ernő Rubik must be turning in his grave— falls for Sylvia though she rejects his advances.
The second chapter takes place some years later in the 70s and Kalt is now a millionaire recluse living in a cabin in the woods, oddly enough just a short distance from Sylvia and her bruiser husband, John (Robert Walker Branchaud). Though still in love with the rejecting Sylvia, Kalt agrees to move far away if she and John will only join him for a game night at his cabin. What ensues is quite memorable. There's also something about a TV crew trying to do a story about Kalt in there.
The film is highly stylized and though it's sort of a period piece, the filmmakers relied quality of production value rather than quantity. There are no scenes with cars and that type of thing. It looks great and the soundtrack is outstanding, as is Brune's performance which seems to be partly inspired by Hunter Thompson (see inset). Also, one of my favorite actresses working today is Tallie Medel. She always delivers deeply nuanced performances, even in her blink-and-you'll-miss-her moment in another SxSW film, "Little Sister". I would guess that this film, too, will be around at summer festivals. The film won the SXSW Grand Jury Award.
The cult around Tony Robbins seems to have even swept documentary filmmaker Joe Berlinger up in all its fervor. The feeling at Austin's Paramount Theater felt more like I was at one of Robbins' seminars than at a SxSW premiere. The documentary, "Tony Robbins: I am Not Your Guru", only disproves its own title. Robbins couldn't feel any more like a guru than he does in Berlinger's no-warts-at-all of a film. There is nothing remotely critical of the motivational speaker/millionaire —Google puts his fortune at $485 million— in the 115 minute running time. To the film's credit, it is spectacularly entertaining and Berlinger was given 'unprecedented' first-time access to Robbins' week long "Date With Destiny" mammoth seminar. Attendance was at 2,500 at $5,000 per head; you do the math. It was clear that many attending had sunk their life savings into this trip.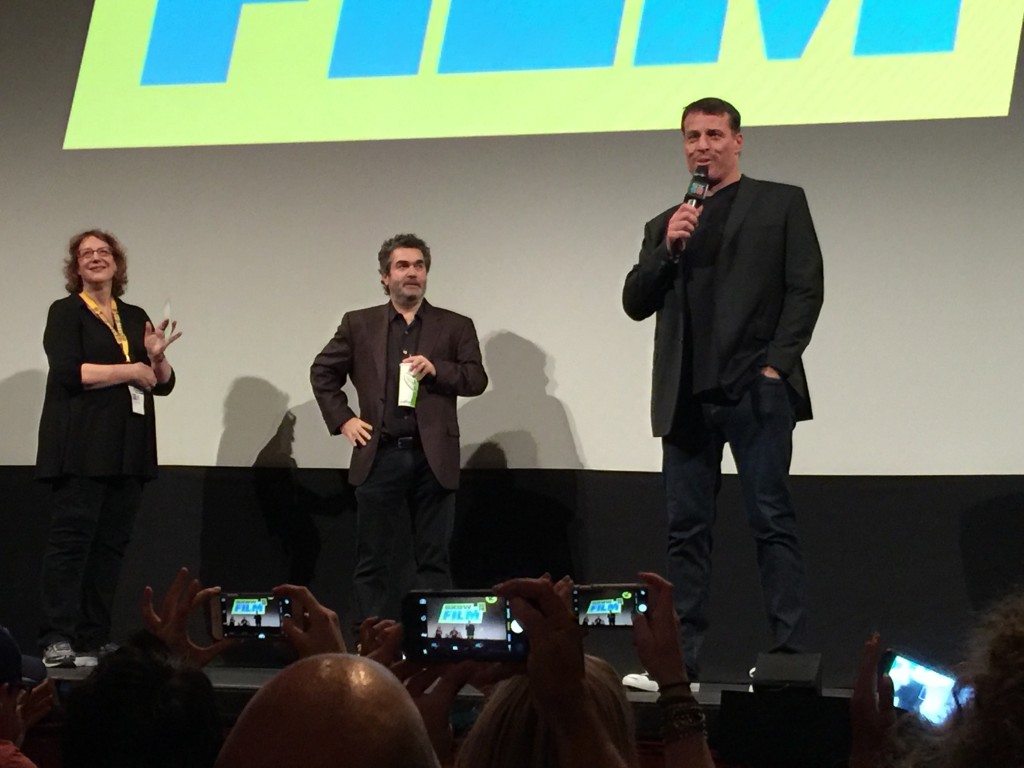 And I'm not even saying that Tony Robbins doesn't help some people.
The film is, for all intents and purposes, a way of proving that it does by showcasing a number of 'breakthroughs' whereby someone comes to terms with some emotional hurtle that is holding them back. Seemingly within minutes, Robbins is able to tease out what is at the core of the matter and then able to give them the tools to fix it. Like any of the other gurus out there: Oprah, Dr. Phil… pick your poison…  there's a heightened level of emotion that is being exploited. Just check out any of Oprah's 'giveaway' episodes on youtube where audience members are practically speaking in tongues by the end of the show. So, yes, the film is entertaining and goes by in flash, but it seemed as though between the movie itself and the way Berlinger couched it in his intro, that he too had drunk the Kool Aid. Berlinger is one of the more talented documentary filmmakers working today but I can't help but think that his best work was with the late Bruce Sinofsky who seemed to have added some yang to Joe's yin.  Joe has called "Tony Robbins: I Am Not Your Guru" his feel good movie after a series of downers (really? the Paradise Lost movies were downers?) but it feels like he's trying to position himself before the inevitable criticism is leveled at him: that this film feels like a commercial. Judge for yourself. It will be available for streaming on Netflix as of July 15th.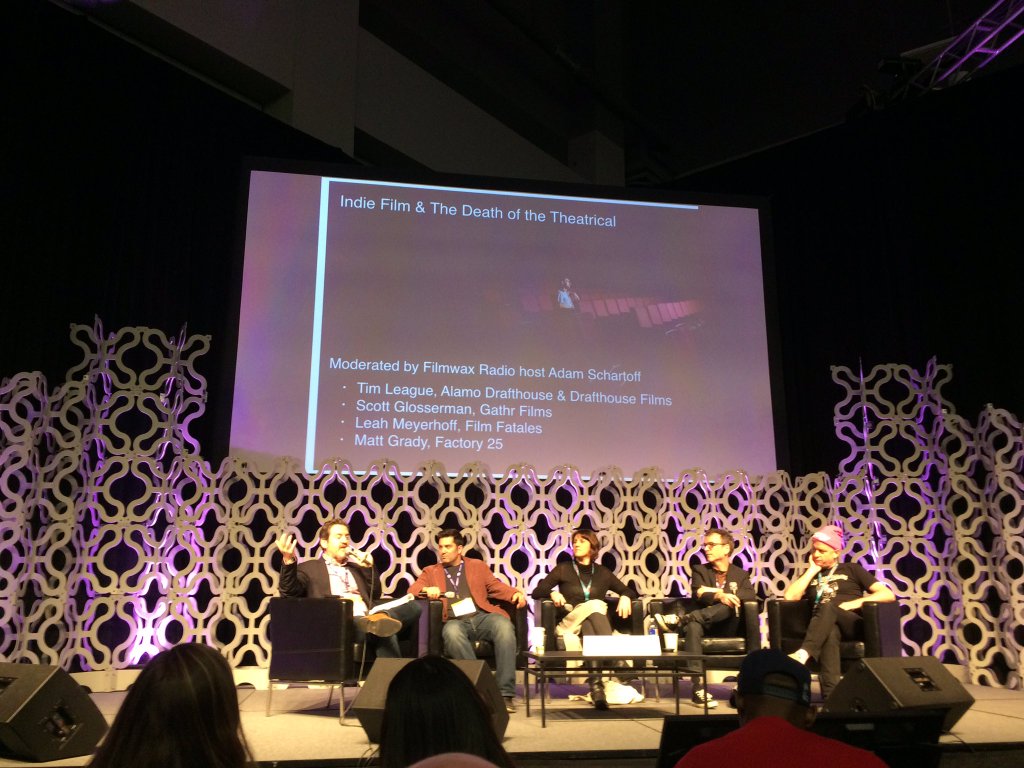 Lastly, the main reason I was at SxSW was so I could moderate my panel which was called Indie Film and the Death of Theatrical. The panel took place in the Convention's Center trade show exhibition area at their Next Stage. So even though this was technically part of SxSW Interactive, the topic was certainly one about film. Scott Glosserman, CEO of Gathr Films, Tim League, founder and CEO of Drafthouse Films and the Alamo Drafthouse theaters, Leah Meyerhoff, founder of Film Fatales and director of the indie hit "I Believe in Unicorns", and the ubiquitous indie stalwart, Matt Grady of Factory 25, all took part. The discussion was far more proactive than the panel's title suggests (it was supposed to be an attention-getter). We had a great turn out, filling up the joint, and I walked away feeling pretty optimistic. Not  just about doing a panel at SxSW but about the future of theatricals and indie films. There's a sense that two are conjoined regardless of the digital space. The event was audio captured for an upcoming podcast but, in the meantime, attendee Joseph Beyer (twitter: @cinejoe) storified the experience quite well.