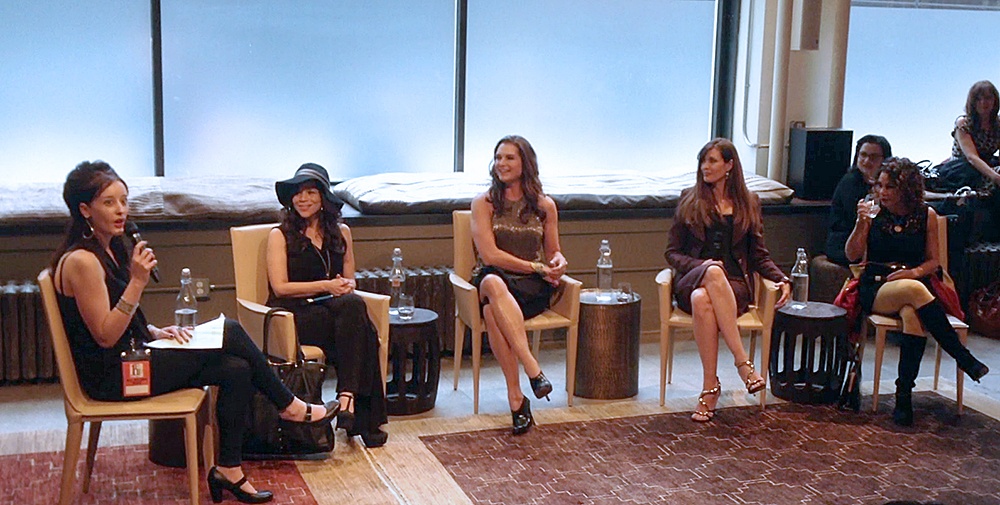 "When you get older the sex gets better," actress Rosie Perez observed yesterday in a discussion held at Manhattan's NeueHouse work collective space. However, she and three other female stars related, the same is not always true for a woman career in the film industry.
The second annual First Time Fest opened with a panel on "Women in Entertainment" featuring panelists Carol Alt, Rosie Perez, Daphne Rubin-Vega and Brooke Shields. Moderated by Village Voice writer Anna Merlan, the four women talked about the sexism, racism and agism still prevalent in Hollywood.
Model, actress and nutrition activist Carol Alt, who, at 53, "can't fit into sample sizes anymore," talked about the careful negotiations for her Playboy December 2008 issue shoot. No retouching was allowed for the cover and fold-out of the then 49 year-old, who calls herself "the Babe Ruth of modeling." (One thing I learned about her I didn't know before that we have in common: we were both in Army ROTC!)
Brooke Shields lamented the unfortunate reputation her protective mother got just trying to enforce regulations like the California Child Actor's Bill, also known as the Jackie Coogan Act. After finishing college Shields says she was horrified to find that four years at Princeton hurt instead of helped her career. Compare that with James Franco's hiatus at Columbia.
When Carol Alt admitted that modeling is still one of the few professions where women get paid more than the men, Rosie Perez joked that there is one more: porn. Asked if Broadway was less exploitative than Hollywood, Daphne Rubin-Vega, star of the original cast of Rent, said that at least "you can be old and fat on Broadway, but you can't be bad."
Legendary singer Tony Bennett made a surprise appearance at the end. Not such a big surprise since his daughter, Johanna Bennett, is a co-founder of the festival.
Ten films are being shown in competition for distribution by Cinema Libre. One, the documentary "Butter on the Latch", is directed by Filmwax Radio favorite Josephine Decker. It screens this Sunday at 9pm at the AMC Loews Village VII (66 3rd Ave in Manhattan), where all the competing films will screen.
The festival, which ends Monday evening, also features a retrospective of past first time films by filmmakers Michael Moore ("Roger and Me"), Albert Maysles ("Salesman"), James Toback ("Fingers"), Frederick Elms (DP for David Lynch's "Eraserhead), Kelly Reichardt ("River of Grass") and Julie Taymar ("Titus"). Taymar will be presented the "John Huston Award for Outstanding Achievement in Cinema" on Monday night. All of them (as well as the competing filmmakers) will be making appearances and giving talks during the festival. Go to firsttimefest.com for ticket information and a complete schedule.