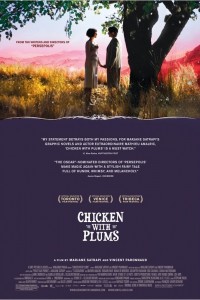 After his demanding wife smashes his beloved violin, gifted musician Nasser-Ali Khan decides it can not be replaced. No other violin will produce the beauty that has led to his stellar musical career or help him forget his unhappy marriage. After rejecting a number of conventional suicide methods, Khan announces that he will die in eight days, simply by laying down and giving up. Each day, memories from his past gradually tell the story of how his love of life diminished and the significance of this particular violin.
The old technique of deathbed flashbacks is enlivened here by a wealth of narrative devices (live action mixed with numerous styles of animation, theatrical re-enactments and multiple film stock simulations) as well as some Oscar-worthy art direction and sound editing. The setting will also be novel for most audiences: Tehran in 1958, a time when Iran was more westernized than it is now. "Chicken with Plums" is adapted from co-director Marjane Satrapi's graphic novel of the same name.  She and her co-director, Vincent Paronnaud —also a graphic novelist— made the acclaimed 2008 animated version of her graphic novel "Persepolis."
Shot in a Berlin studio, the film moves effortlessly from interior sets to exterior sets with backdrops to miniatures and even trompe l'oeil effects. Satrapi and Paronnaud's superb visual skills as cartoonists transfer beautifully to the screen. In one dazzling sequence a snowflake travels thousands of feet in the sky, finally landing in the mouth of Nasser-Ali's daughter. A humorous flash-forward detailing the tacky American future of his son is shot with a lurid reality TV palette. A scene in a courtyard where Nasser-Ali has tea with his future wife opens with a stunning crane shot traveling from the surrounding trees to the table below.
Nasser-Ali is played by versatile French actor Mathieu Amalric ("Munich"). Amalric displays a fine range here, from egocentric genius to lackadaisical parent to frightened mortal confronting the angel of death to socially awkward courtier of the one true love of his life, Irâne. A clock-maker's ravishing daughter, she's played by Golshifteh Farahani, a 29-year old Iranian actress who starred opposite Leonardo DiCaprio in "Body of Lies".  [By way of a footnote,  she has since been banned from returning to Iran after posing nude for a French magazine.] Maria de Medeiros, whom you may remember as Bruce Willis' girlfriend in "Pulp Fiction", plays his wife Faringuisse.  Ms. Medieiros is equally convincing as the stern breadwinner and Nasser-Ali's resentful unloved wife; her performance is the most affecting here. In smaller roles, Isabella Rossellini plays the mother who goads Nasser-Ali into his cheerless marriage and Chiara Mastroianni is the grown up version of his daughter.
Though "Chicken with Plums" succeeds visually as a fairy tale, it never quite registers in emotional or dramatic terms. Is it because Nasser-Ali's story is finally that of a somewhat foolish, selfish man whose death causes more pain to his survivors than himself? Meanwhile, though Olivier Bernet's original soundtrack is very good, the music Nasser-Ali plays on the violin his teacher gives him as a reward for finally capturing "the sigh of life" (and also as a substitute for Irâne) is actually unremarkable. (Satrapi says the uncle who inspired the story played the tar, a traditional Iranian percussion instrument.) This is a cautionary tale, not a tragedy–the joys of life are as fleeting as the smoke from the Lazare cigarettes Nasser-Ali's mother smokes in her own deathbed. (Opens August 17 in New York)