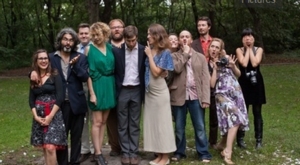 This weekend, "Richard's Wedding" has its world premiere at the Sarasota Film Festival.  The Inside, the Festival's website blog, posted this piece about our film:
INDEPENDENT VISIONS COMPETITION SPOTLIGHT: Exclusive interview with the Filmmakers and Cast of RICHARD'S WEDDING!
Watching "Richard's Wedding" is like going to a party and meeting a tight group of friends who instantly welcome you into their fold and make you feel like you've known them all your life. It is a film that delivers its themes through sparkling conversation and terrific acting. What follows, much like the film, is a fun whirlwind roundtable discussion with actor/writer/director Onur Tukel and actors Jennifer Prediger, Lawrence Michael Levine, Heddy Lahmann, and Adam Schartoff. "Richard's Wedding" plays Friday, April 20 @ 8:15 PM, Saturday, April 21 @ 5:00 PM, and Sunday, April 22 @ 5:45 PM. CLICK HERE TO BUY TICKETS NOW!
THE INSIDER: What inspired you to make this movie?
Onur Tukel (Writer/Director/"Tuna"): I love the dialogue-driven movies of Woody Allen, Richard Linklater, Noah Baumbach and Whit Stillman. I always wanted to make a New York ensemble movie. I moved to New York in October of 2010 to get inspired. I had been cast in a really great indie film called "Septien" by Michael Tully and was really inspired by Tully's process. He made that movie without any real fear of how it would be received. I remember him saying specifically, "I don't care if this movie gets distributed. I don't care if it gets into film festivals." And then he went and made a brilliant movie! It was incredibly inspiring. So Tully was hugely influential.
There are three specific movies that have inspired/informed "Richard's Wedding". One specific influence was the movie "Tape" by Richard Linklater which takes place in a hotel room in real time. The two male leads spend the first half of the movie talking about a character that doesn't show up until the second act. more…