BAMcinématek Announces Lineup for 3rd Season of Cinemafest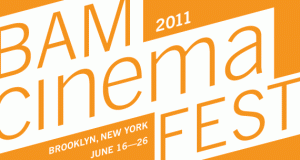 BAMcinématek announced its full slate for the 2011 season of Cinemafest (June 16-26) last week.  With Cinemafest, BAM is emerging as a major New York area destination for showcasing the best of independent film.  Among the lineup this year, which primarily focuses on American indies but with a few international films and a reparatory classic thrown in for good measure, are 19 New York premieres and 1 U.S. premiere.  "Not only has Brooklyn become a premiere venue for showcasing important works of global cinema, it's home to an active new wave of filmmakers," BAMcinématek's Program Director Florence Almonzini recently remarked.
Indeed, this year's lineup reflects that commitment by including such New York filmmakers' works as Azazel Jacobs' Terri, Alex Ross Perry's The Color Wheel, Michael Tully's Septien and Sophia Takal's Green, to name just a few.
The full narrative slate:
"Another Earth", directed by Mike Cahill
"The Catechism Cataclysm", directed by Todd Rohal
"The Color Wheel", directed by Alex Ross Perry
"Green", directed by Sophia Takal
"Jess + Moss", directed by Clay Jeter
"Letters from The Big Man", directed by Christopher Munch
"On The Ice", directed by Andrew Okpeaha MacLean
"Septien", directed by Michael Tully
"Stranger Things", directed by Eleanor Burke &  Ron Eyal
"Surrogate Valentine", directed by Dave Boyle
"Terri", directed by Azazel Jacobs
"Tournee (On Tour)", directed by Matthieu Almaric [closing night] "Weekend", directed by Andrew Haigh [opening night] "The Woods", directed by Mattew Lessner
The full documentary slate:
"The Ballad of Genesis & Lady Jane", directed by Marie Losier
"Dragonslayer", directed by Tristan Patterson
"Elevate", directed by Anne Buford
"If a Tree Falls: The Story of the Earth Liberation Front", directed by Marshall Curry
"Jamel Shabazz Street Photographer", directed by Charlie Ahearn
"Last Days Here", directed by Don Argott & Demian Fenton
"Magic Trip", directed by Alison Ellwood & Alex Gibney
"The Redemption of General Butt Naked", directed by Daniele Anastasion & Eric Strauss
"Senna", directed by Asif Kapadia
"Separado!", directed by Dylan Goch & Gruff Rhys
"Where Soldiers Come From", directed by Heather Courtney
Special Events:
"Whistle Down The Wind", directed by Bryan Forbes (UK, 1961)
Short Programs