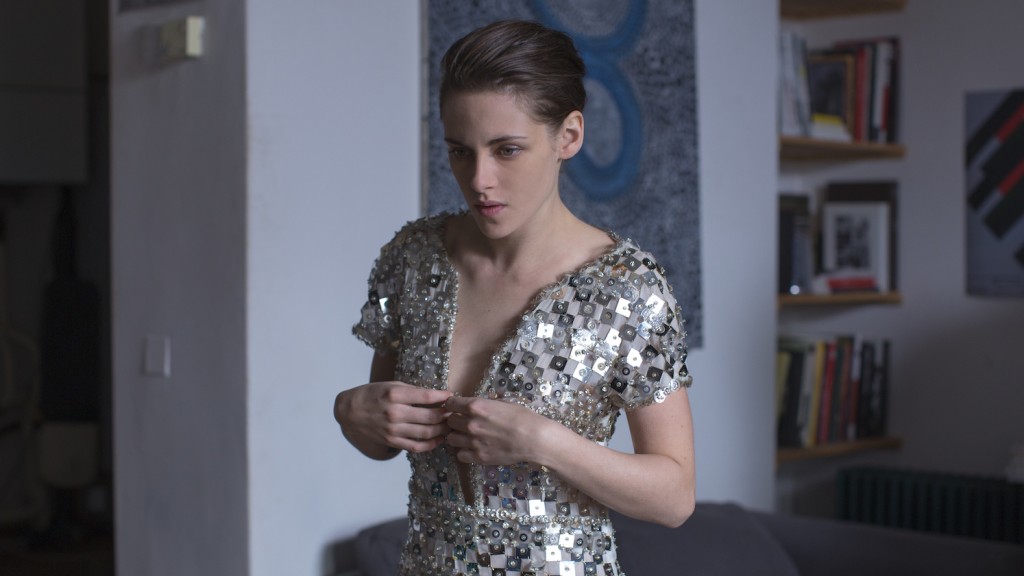 Kristen Stewart's characters in Olivier Assayas films tend to keep friends, family, and colleagues at a distance while doggedly pursuing an agenda. She continues this trend established in 2015's "The Clouds of Sils Maria" into their most recent collaboration "Personal Shopper". Another film in the former film critic's oeuvre making a statement about the way people produce and consume media, "Personal Shopper" attempts to use its bully pulpit to rail against the impulse to mediate experience but fails through its reliance on clumsily executed set pieces.
Stewart's Maureen and her twin Lewis are mediums, communicating with the dead. After her twin's passing, Maureen remains in Paris to attempt post-mortal contact. In the meantime, she works an unfulfilling job for a demanding boss (Nora von Waldstätten) as a fashion buyer. Like most Stewart characters, her inner conflict manifests itself through a twitchy restlessness tightly packed into the actress' small frame, which is gaunt, hunched, and wrapped in a leather jacket throughout most of the film. Stewart's performance perfectly portrays someone more comfortable exploring a land of spirits than making her way in the land of the living.
Assayas' camera displays a similar restraint. When Maureen first arrives at her brother's house, she tours its barren, dusky halls and passes bare furniture in spartan arrangements. After roaming the house for a bit, she steps outside to smoke a cigarette in the golden light of the outdoors, which breaks through the dark blues and blacks of the house's shady interior. However, the camera does not join her outside. It lurks in the interior, showing Maureen's smoking through the arch of a doorway. The director cleverly draws attention to our voyeurism by putting the audience in the position of a hovering spectral presence that moves with limits. The voyeuristic impulse is not judged as good or evil, but he shows how it can keep one from ever truly engaging with a situation. This camerawork provides an impactful visual means of setting the tone for a film often concerned with how we process the world around us.
The world of "Personal Shopper" processes information digitally. Much like Stewart's enigmatic assistant Valentine in "Clouds", Maureen is an ambitious woman on the go who consumes information in the most direct possible forms. She watches informational videos on her phone in train stations and restaurants. Long segments of the story are simply shots in which we can see the screen of Maureen's phone sharing these videos with the audience. Later when she researches her boss, the camera focuses on a computer monitor as news articles about her boss appear and scroll. Maureen's long-distance boyfriend Gary is also only seen on a computer screen, blurrily haranguing her about the futility of her search for her brother. Here Assayas shines a light on how Maureen uses technology to put her at a distance from a world that often makes her uncomfortable.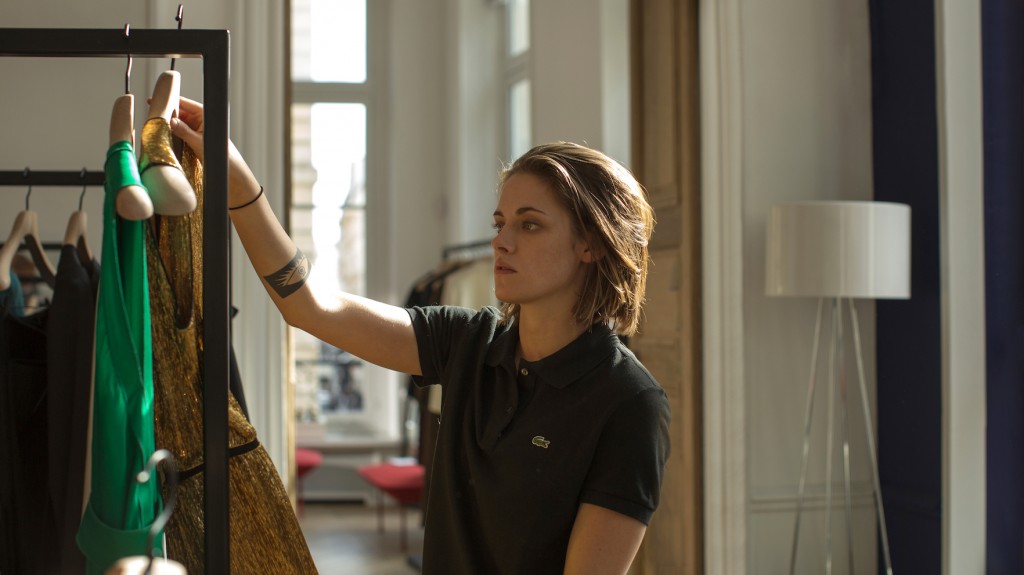 Midway through the film, Assayas tries to use Maureen's mediated communications to steer the narrative in the direction of a thriller, which marks the first place that "Personal Shopper" goes off the rails. Anonymous text messages nag Maureen as she travels through a train station. She suspects that the unknown texter could be Lewis attempting contact, and this mystery is agonizingly stretched across the final half of the film. Following a conversation composed entirely of texts like 'R u real?' is especially irritating when there does not appear to be an end to the inanity in sight. Hollow back-and-forth on the nature of the forbidden does this format no favors either. The gradual unraveling of Stewart's reserved demeanor is the only thing that makes these sequences tolerable, a testament to her skill. Walking a very fine line between tantalizing and turning off the audience, Assayas totters.
A sequence occurring in the midst of the textfest is the point at which the director falls. With some goading from her texting partner, Maureen tries on the skimpy bondagewear of her employer. The change of clothes is just another filter for experiencing the world, giving her a perspective that enables her to slink around her boss' apartment and eventually masturbate in her bed. If you think this sounds at all like the portion of Assayas' "Irma Vep" where actress Maggie Cheung tries on a catsuit and skulks around a hotel interfering in the lives of guests, you are correct. What was meant to playfully draw on the older film's unpredictability instead redirects the viewer's thoughts and attentions to one of the talented French director's better works. As Maureen chases her twin's ghost, Assayas likewise chases the ghosts of previous triumphs, which only serves to make the viewer want to watch those and consign "Personal Shopper" to the hinterlands of memory.
[Listen to Filmwax Radio host Adam Schartoff's
conversation with Olivier Assayas
following the director's NYFF premiere of "Clouds of Sils Maria".]
---
Jon Hogan lives in Astoria, Queens, and does things with film and comics. Those things include journalism, fundraising, and curation. Take a peek at the things he sees on Instagram.