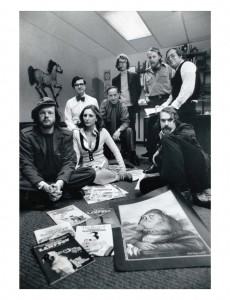 I remember the first time I encountered an issue of National Lampoon, sometime in the early 1970s in North Carolina, where I grew up. I noticed it in the news stand of a neighborhood drug store. Thumbing through it, I was amazed by the edgy cartoons and humor and in particular a racy story with a raunchy illustration. When I bought it, the uptight, middle-aged clerk gave it and me a scolding look. I feared, for a moment, that he would tell me it was for sale to adults only. Fortunately he didn't and it became the newest element (Mad magazine preceding it, Monty Python and Creem magazine soon to follow) of my introduction to the hip, irreverent culture I was eager to be immersed in.
"Drunk Stoned Brilliant Dead: The Story of the National Lampoon" (Magnolia Pictures, 2015) is a hilarious new documentary, directed by Douglas Tirola, about the ground-breaking, influential humor magazine published between 1970 and 1998. It's named after Lampoon contributor Rick Meyerowitz's 2010 book, a coffee table anthology of work from the publication, organized by contributer. The book is an excellent way to revisit some of the Lampoon's best art and writing, but it doesn't tell the complete history of the magazine.
Neither does the doc (it's only 92 minutes long), but it gives old fans enough to remember how much fun it was during the golden years (1970-1975) of Lampoon, and how it spread its empire into radio, television, books and movies. Young people who have never heard of the magazine (The Onion is probably the only contemporary equivalent, more or less) will be surprised to find out how so much of the humor and humorists they love today were informed by a publication founded by three Harvard students, Henry Beard, Doug Kenny, and Rob Hoffman. They had all written for the Harvard Lampoon, a college humor magazine whose future editors would include Conan O'Brien. Mademoiselle hired them to do an authorized spoof of their popular fashion magazine and the results were such a hit the trio decided to create a new humor publication. Publisher Matty Singer and others, including Chevy Chase, John Landis, Judd Apatow, Christopher Buckley, Tony Hendra, P.J. O'Rourke, Brian McConnachie, and Ivan Reitman, tell the story of Lampoon's evolution from scruffy outsider to comedy franchise that dominated the industry.
Nothing was sacred for the Lampoon. An article on how to write, attributed to Supreme Court Justice Thurgood Marshall so enraged him, one person recalls, he contacted the FBI to see what could be done about it. "Nothing, they said. There's this thing called freedom of speech…" The most infamous cover featured a gun pointing to a dog and the headline, "Buy This Magazine or We'll Kill This Dog." The doc excels at presenting a huge amount of material, including animations rendered after the style of Lampoon artwork. Only the sad, tragic end of editor Doug Kenny dampens the tone of this expert accounting of a golden age in American humor.
In the late '80s the Lampoon began to fade in quality and success, in part because Hollywood kept stealing its most talented writers, and the growing Christian Right coerced advertisers to leave the magazine. The doc ends there and doesn't talk about the complicated history of the magazine's last ten years, when it was the victim of a hostile takeover (actor Tim Matheson, who is interviewed, was part of it), then bought again mainly for the rights to the franchise name for movies, and published bi-monthly and only once a year in its final years.
There are other gaps, too. I wish they had asked Henry Beard to comment on why, after he got his share of a promised buyout, he stood on a desk and told his coworkers, "I hated every minute of it. Fuck all of you!" But there is only so much you can put in a tightly edited, laugh-out-loud hour-and-a-half film. One of the publication's most famous covers (indeed, one of the most famous magazine covers of all time) featured a gun pointing to a dog's head with the headline, "Buy this magazine or we'll kill this dog." They won't have to [make such threats | receate the stunt] to get people to see this very funny, revealing film and sometimes poignant film. And, as you would expect, there is a surprise after the credits—stay for it.