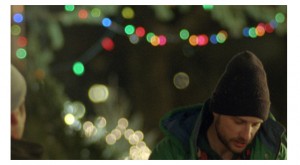 Arriving soon after the Oscars, in the first two weeks of Spring, the 44th edition of the "New Directors/New Films" series remains an excellent way for New York film lovers to warm up to a fresh year of film discoveries. Co-curated by the Museum of Modern Art and the Film Society of Lincoln Center, the series of 26 international features and 16 short films is ripe with debuts, as well as new titles by promising directors. As always, the selection amounts to a expertly-informed survey of audacious world cinema today: five of the feature films are from the U.S., six from France, two from Argentina, and one each from the UK, Italy, Colombia, South Korea, China, India, Japan, Russia, Ukraine, Austria, Israel, Jordan, Belgium/Netherlands and Hungary.
The opening night film, a sensation at this year's Sundance Festival, "The Diary of a Teenage Girl", is based on Phoebe Gloeckner's much-loved semi-autobiographical graphic novel about her sexual awakening in 1970s San Francisco. British actress Bel Powley delivers a remarkable performance as Minnie Goetz, an aspiring cartoonist/illustrator whose debaucheries start by sleeping with her mother's boyfriend (Alexander Skarsgård). Writer/Director Marielle Heller, who previously adapted the book for the stage, is a perfect match for Gloeckner's story. Never moralistic, the film is tender, funny and wise, with great period locations and gorgeous animations that perfectly adumbrate the narrative. Kristen Wiig gives a standout performance as Minnie's free-spirited mother.
Recent indie sensation Rick Alverson ("The Comedy") closes the festival with "Entertainment." Gregg Turkington (a.k.a. Neil Hamburger) plays a painfully unfunny standup comedian whose dismal tour of venues in the Mojave Desert also serves to get him closer to his estranged daughter. The cast includes John C. Reilly, Michael Cera, Amy Seimetz, Dean Stockwell, and co-writer Tim Heidecker (who starred in "The Comedy.")
Other standouts in the series include: "Christmas, Again," a comedy starring indie favorite Kentucker Audley as a Christmas-tree vendor in Greenpoint; "K," a Mongolian adaptation of Kafka's novel "The Castle"; "Listen To Me Marlon," a documentary about Marlon Brando structured around newly available audio recordings of the great actor; "White God," a Hungarian feature about rescued dogs who finally get their day; and "Tired Moonlight," a bittersweet portrait of the small town of Kalispell, Montana. The film features "Girls" star Alex Karpovsky.
The "New Directors/New Films" series runs from March 18-29. Tickets are on sale now. For more information go to newdirectors.org.