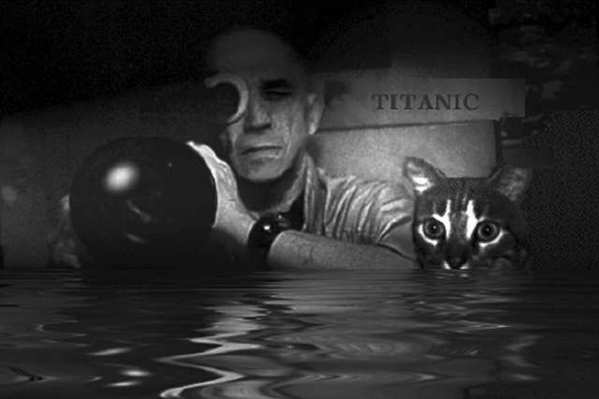 Available this May from the SundanceNow Doc Club, an online documentary subscription service programmed by Thom Powers, is "Chris Marker and His Legacy," a series of films either by, about or influenced by the prolific French filmmaker. Many admirers know Marker, who died in 2012 at the age of 91, for his haunting 1962 short "La Jetée," a sci-fi story composed almost entirely of still photographs. (It would later be adapted into the Terry Gilliam-directed feature "12 Monkeys".) But documentary was his principal genre and he made dozens of them over his long career. Many of them took the form of personal essays and his much-loved 1982 doc "Sans Soleil" is considered a masterpiece of the sub-genre. That film is available in an excellent edition from the Criterion Collection, but most of his films are difficult to find.
The five Marker films in the Docs Club series display his wide range of interests. He was a political activist, and in "Sixth Side of the Pentagon", co-directed with François Reichenbach, he captured the 1967 anti-war protests that Norman Mailer wrote about in his "Armies of the Night." For the political Marker, I also recommend "A Grin Without a Cat," a fascinating portrait of the rise and decline of new left politics in the '60s and '70s, available on DVD from Icarus Films.
Marker excelled at portraits of artists and the creative process. He filmed Akira Kurosawa shooting "Ran" and Andrei Tarkovsky fans will want to check out "One Day in the Life of Andrei Arsenevich," his portrait of the great Russian director at work on his last film, "The Sacrifice."
He was an animal lover (especially of cats) and the series offers two examples: "Bestiary" is a collection of five shorts about animals, and "Case of the Grinning Cat" documents his 2001 search for the creator of mysterious yellow grinning cat drawings which began showing up on the sides of buildings in Paris.
Many of Marker's most celebrated films are marvels of unexpected connections made between what appear at first to be unrelated observations. "Remembrance of Things to Come" is a portrait of French photographer Denise Bellon (mother of co-director Yannick Bellon) that uses her work to comment on the history of surrealism and many other topics between 1935 and 1955. When it was released in 2003, Elvis Mitchell of the New York TImes called it "the most unforgettable film of any length you will see this year."
Jem Cohen's "Museum Hours" and Dan Geva's "Description of a Memory" (both released in 2012) are being shown as examples of works heavily influenced by Marker's unique explorations of art and memory. Geva, an Israeli filmmaker, comments on how Israel has changed since Marker's own 1960 portrait of the country, "Description of a Struggle." Cohen's film portrays the friendship that develops between a security guard in his 60's who works at Vienna's Kunsthistorisches Museum and a visiting Canadian woman. The New York TImes' A. O. Scott called it a "quietly amazing, sneakily sublime" film.
Marker hated to be photographed, somehow even arranging for a publicly displayed photo of himself to be altered so his features were unrecognizable. "To Chris Marker, An Unsent Letter," is Emiko Omori's 2013 portrait of the secretive artist. Omori, who once worked as a cinematographer for Marker, interviews a variety of Marker friends and colleagues including film critic David Thomson, film programmers Tom Luddy and Peter Scarlet and "12 Monkeys" screenwriters Janet and David Peoples. It isn't the essential Marker bio-doc —that one is still to come— but it's a sensitive and joyful celebration of a filmmaker who inspired (and continues to inspire) rapturous devotion amongst a select and growing audience.
The series was curated by Thom Powers.