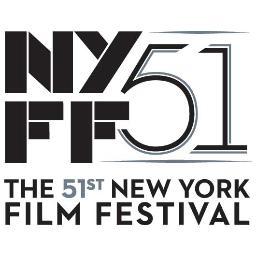 The upcoming 51st New York Film Festival is the first in a quarter-century not helmed by programmer Richard Peňa, who retired last year, replaced by Film Comment critic Kent Jones. Is there any obvious shift in direction? Peňa is credited with taking a largely Eurocentric festival and making it more international, introducing the world to little known filmmakers from other continents, including the third world.
Looking at the 36 main slate films by country, there are 11 from the U.S., eight from France, four from the UK, three Japanese features and then a single film each from: the Czech Republic, Romania, Chile, the Palestinian Territories, Egypt, China, South Korea, Cambodia, the Philippines, and Taiwan. (That's two films from Eastern Europe, two from the Middle East and eight Asian films. And only one Spanish language entry–Chile's Gloria.)
So, geographically diverse, but still with plenty of films from France and the U.S. (including some from large studios). Twelve of the main slate titles screened at this year's Cannes Festival, always a major source for NYFF entries. And at least ten of them are screening at the Toronto Film Festival just weeks before they come to New York. Is the New York festival losing its bidding power? It's no secret that Toronto–also more of an industry event than the NYFF–has eclipsed New York as the fall film festival event. Indeed, only three NYFF films (all U.S. titles) are making their world premieres this year: Captain Phillips, The Secret Life of Walter Mitty and Her. In defense of the New York event one needs to point out that it is part of a year-round presentation of intelligently-curated films, not a once-a-year competition.
Other facts: Norte, The End of History (from the Philippines) is the longest at 250 minutes and France's Jealousy is the shortest (only 77 minutes). There is one animated feature (Japanese master Hayao Miyazaki's The Wind Rises), four documentaries and no films in 3D.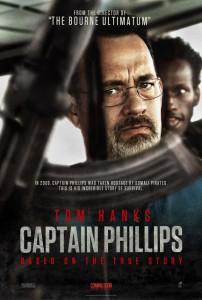 Two of the U.S. films feature big stars in treacherous situations on small boats. J.C. Chandor (who received high praise for 2011's Margin Call) directs Robert Redford in All Is Lost, about a ying to keep his boat afloat after a collision in the Indian Ocean. Elsewhere in that same body of water, Tom Hanks plays the titular Captain Phillips, based on the true story of a 2009 cargo ship hijacked by Somali pirates. Paul Greengrass (United 93) directs.
Two American docs bound for PBS portray different aspects of education in America today. Brooklyn filmmakers Joe Brewster and Michèle Stephenson follow their son's progress at Manhattan's prestigious Dalton school in American Promise. And veteran documentary director Frederic Wiseman delivers a four-hour portrait of UC-Berkeley called At Berkeley. Is the campus still–as Ronald Reagan once called it–"a haven for communist sympathizers, protesters and sex deviants?"
Spike Jonze returns to his love of all things meta–but without frequent collaborator Charlie Kauffman this time–with Her, a science fiction tale of a professional love letter writer (Joaquin Phoenix) who falls in love with a new computer operating system. The computer is voiced by Scarlett Johansson–a definite improvement over Siri! Phoenix is also the lead in The Immigrant, a period drama set in 1920s Manhattan, directed by James Gray. French actress Marion Cotillard co-stars as a Polish immigrant who finds work in a burlesque theater.
The Cohen Brothers explore the West Village folk scene of the early 1960s with Inside Llewyn Davis. Loosely based on folk singer Dave Von Ronk's posthumous memoir, it stars Oscar Isaac, Carey Mulligan, and Justin Timberlake and Cohen Brothers regular John Goodman who plays a folk music-hating jazz musician. T-Bone Burnett (O Brother, Where Art Thou?) produced the soundtrack.
Director and writer Alexander Payne returns to his native state in Nebraska. Veteran actor Bruce Dern and Will Forte (ex-SNL cast member) play a father and son who travel from Montana to Nebraska to collect some prize money that may not really exist. Dern won the Best Actor award at Cannes for the film, which was shot in black and white.
Ben Stiller directs and stars in a remake of Danny Kaye's 1947 version of James Thurber's short story The Secret Life of Walter Mitty. About a mild-mannered Manhattan office worker's extravagant fantasies, it also stars Sean Penn and Kristin Wiig. Jim Jarmusch joins the current craze for vampires with Only Lovers Left Alive, starring Tilda Swinton and Tom Hiddleston as a couple watching the centuries go by.
And Cormac McCarthy's dark, violent novel Child of God is adapted for the screen by James Franco. Scott Haze plays Lester Ballard, a Tennessee man who descends into increasingly more depraved states of mind, eventually becoming a cave-dwelling necrophile. Sorry if I spoiled it for you.
From England comes Alan Partridge, based on an inept radio and TV commentator of the same name invented by Steve Coogan for BBC radio. It's directed by Declan Lowney, who previously helmed the hilarious British TV series Little Britain. And Joseph Fiennes directs and stars as Charles Dickens in The Invisible Woman, about the writer's secret affair with a young actress.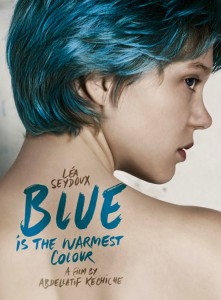 As usual, there is no shortage of French fare this year. One of the most anticipated is Abdellatif Kechiche's Blue Is The Warmest Color, the sensation of this year's Cannes Festival. Based on a graphic novel about a teenage lesbian romance, the three-hour film's long, explicit sex scenes were scandalous to some and the novelist herself criticized them, calling them "unconvincing." But the two lead actresses' performances were widely praised and the film won the Palm d'Or. (And I would give the film's poster the award for most creative typography.)
Catherine Breillat used her own experience filming her provocative 2001 film Fat Girl as the subject of her later film Sex is Comedy. In Abuse of Weakness, she uses her own life as film material again, this time telling the story of her ill-fated association with notorious swindler (and one-time Mickey Rourke housemate) Christophe Rocancourt, who took advantage of her following her 2004 stroke, stealing hundred of thousands of euros from her. Isabelle Huppert plays Breillat.
Philippe Garrel (Regular Lovers) once again casts his son Louis Garrel as the lead in his latest romance, Jealousy. He's paired with Anna Mouglalis, who has portrayed Coco Chanel and Juliette Gréco in previous films. Louis plays an impoverished actor trying to boost the acting career of his girlfriend. Garrel works again with legendary cinematographer Willy Kurant, who has shot films for Orson Welles and Jean-Luc Godard. Soundtrack by John Cale.
Arnaud Desplechin (A Christmas Tale) re-teams with Mathieu Amalric (Quantum of Solace, Munich) in Jimmy P: Psychotherapy of a Plains Indian. Amalric plays George Devereux, a pioneer in the field of ethnopsychoanalysis, whose field work with Mohave Indians in the 1930s changed his thinking about the methodology of his field. Benicio del Toro plays Jimmy Picard, a Blackfoot Indian he treated after World War II. (The fact that Kent Jones co-wrote the screenplay probably won't raise any eyebrows–Jimmy P. was in competition for this year's Palm d'Or.)
Claude Lanzmann, whose great documentary about the Holocaust, Shoah, got the Criterion DVD treatment this year, returns with The Last of the Unjust, a three-and-a-half-hour investigation of Nazi collaborator Benjamin Murmelstein, appointed by Adolph Eichmann to be the last Jewish Elder of the Theresienstadt, a concentration camp disguised as a "model ghetto."
A gay man vacationing at a lakefront holiday spot tries to not let on he knows his lover is a serial killer in Alain Guiraudie's Stranger By The Lake. The Un Certain Regarde winner at this year's Cannes contains some hardcore sex scenes.
Other notable main slate features include Romanian director Corneliu Porumboiu's film-about-film narrative When Evening Falls on Bucharest, Or Metabolism; Jehane Noujaim updates her documentary portrait of Tahrir Square during the Arab Spring and beyond, The Square; young Chinese director Jia Zhangke enters the crime genre with A Touch of Sin (Best Screenplay, Cannes), a story of contemporary Chinese workers pushed to the brink of murder; and the always interesting South Korean Hong Sang-soo's latest is Nobody's Daughter Haewon.
Besides the main slate, there's the U.S. premiere of Shame director Steve McQueen's 12 Years A Slave (starring Chiwetel Ejiofor and Michael Fassbender), special tributes to Cate Blanchett and Ralph Fiennes, "How Democracy Works Now" (a series of documentaries capturing the political process in America today), two other selections of docs, revivals (including two Nicholas Ray films), and "Convergence," a series of presentations about "the intersection of technology and storytelling."
The festival also includes the 17th Edition of "Views From the Avant-Garde", a huge showcase of experimental films, this year curated by Mark McElhatten. Highlights include Costa da Morte, the first feature by Spanish filmmaker Lois Patiño, new works by Portugal's Sandro Aguilar and restored films by Chris Marker, Max Ophuls and Miguel Gomes.
The New York Film Festival begins September 27 and runs through October 13. Ticket sales for the general public begin September 8. Go to Filmlinc.com for details.
Herbert Gambill is a writer living in Brooklyn, NY. Originally from North Carolina, he has worked as a film projectionist for Dino de Laurentiis, a film critic for the late Spectator Magazine (Raleigh, NC) and most recently as a web developer for HBO for thirteen years. He's currently working on screenplays, a crime novel and rehabilitating two semi-feral cats.