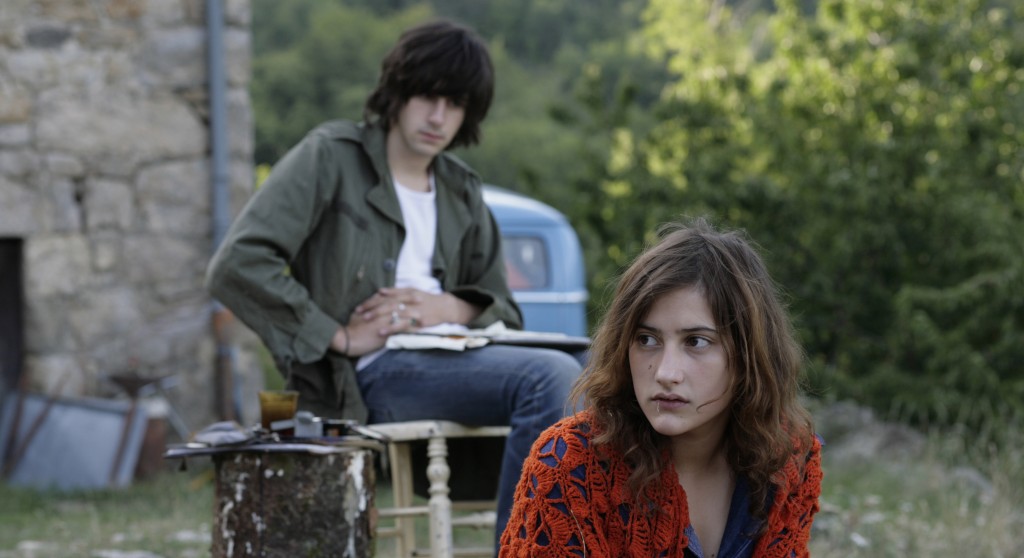 A scene about one-third of the way into French director Olivier Assayas' wonderful new film "Something in the Air" brings up a question that was central to film criticism and theory during the time in which the film is set, the early 1970s. It also amounts to something of an embedded self-criticism by the filmmaker. There is a screening of agitprop films for a group of young French and Italian revolutionaries. During a Q&A session someone remarks that the film shown may have political content but its form is not political; it's simply a conventional document of political struggle.
The filmmaker, in the film's defense, is that he doesn't make films for "aesthetes," he makes them for workers. Assayas can't make the same excuse, of course; it's unlikely his new film —or his last, the terrific made-for-French-TV mini-series "Carlos"— will be shown at any factories soon. But the simple binary of political film/film made politically has subsequently been shown to be insufficient to evaluate the political agency —or effectiveness— of a film.
The original title of the film, "Apres Mai (After May)", is more fitting. The film follows high school student Gilles (Clément Métayer) and his friends as they participate in revolutionary activities a few years after the General Strike of May 1968. Gilles is dating an alluring poet named Laure (Carole Combes). She leaves for England and he becomes involved with a fellow revolutionary Christine (Lola Créton). While spraying graffitti on their high school they and their friend Alain (Félix Armand) cause a serious injury on a security guard and must flee to Italy to avoid arrest.
There they work with a group of activist filmmakers. Alain falls for a beautiful red-haired American (India Salvor Menuez). Gilles eventually leaves Christine to return to art school in France and discovers that Laure has become a serious drug addict. His brief tragic reunion with her is perhaps the film's most lyrical sequence. Gilles' screenwriter father urges him to give up his political activity and work with him in the film industry, eventually leading to a hilariously gaudy stint at England's Pinewood movie studios.
The film has the same expert evocation of the look, fashion and music of the early 70s that made "Carlos" so visually striking. The young cast are all dazzling and, except for Créton, are newcomers to film. 19-year-old India Salvor Menuez is especially memorable as a sexually-forward, fearless hippie girl. (Menuez is also a fashion stylist and a member of a New York-based art collective called "Luck You." Look for my interview with her here soon.)
Though Assayas is hesitant to describe the film as autobiographical, it is somewhat based on a period in his life addressed in his short 2005 memoir "A Post-May Adolescence: Letter to Alice Debord" (recently translated into English). Assayas says it was his interest in Guy Debord's work that helped him to move forward as a filmmaker. And speaking of Debord, are these post-May students any different than the students critiqued by the Situationists in their 1966 essay "On the Poverty of Student Life?" They complained that students should reject their special status as student radicals, observing that "Any new youth revolt is presented as merely the eternal revolt of youth that recurs with each generation, only to fade away 'when young people become engaged in the serious business of production…'"
"Something in the Air" doesn't get released in the U.S. until March and I'll be very interested to see what people who took part in Occupy Wall Street think of it. What will American audiences make of a film about high school-aged students risking jail time by taking part in radical and sometimes violent political protests in a time when we've seen even passive resistance by college students and other adults met with pepper spray and batons? Imagine U.S. students wearing helmets and carrying bats to fight a line of police like students do in an early scene of this film?
• • •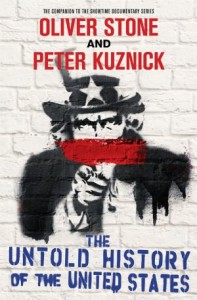 If you are a history buff like me, Oliver Stone's Untold History of the United States (a ten-part documentary series made for Showtime) will be one of the highlights of the fall television season. Stone and co-author Peter Kuznick, a history professor at American University, spent four years telling what Stone calls "…the side of history we didn't learn in school. Upsetting to some, but profound for those who think for themselves, from the outset I've looked at this project as a legacy to my children and a way to understand the times I've lived though."
Even those who are suspicious of Stone's biases and tolerance for conspiracy theories have to admit, the man knows how to make history interesting. I only got to see the first episode and there were no obvious fallacies presented, but I'll still be interested to hear what other historians say once the show is televised. Two interesting threads from the first episode (on World War II): it was really the Soviet, not the American army, that contributed most heavily to the defeat of the German army. And FDR's vice-president Henry Wallace was a fascinating person, a favorite of labor unions and champion of desegregation and anti-imperialism who was shut out of the 1944 ticket for some very disturbing reasons.
This leads to some "what-if" speculation: "What if Henry Wallace had succeeded FDR after his death instead of Truman? Would the cold war have been avoided? Would the Vietnam War have never happened?" The facts, footage and narration (spoken by Stone himself) are thrown at us very quickly. You may, like me, want to get the companion volume and take notes. The series premieres on Showtime at 8:00pm on Monday, November 12.
• • •
In brief: Christian Petzold's "Barbara" tells the story of a doctor in East Germany balancing her own desire to defect with her duty to her patients. It has a strong performance by Petzold regular Nina Hoss… "Hyde Park on the Hudson" has fine performances by Bill Murray as FDR, Olivia Williams as Eleanor Roosevelt and Laura Linney as FDR's cousin/paramour, beautiful sets and photography, but the script is silly pop history… The most original film I saw at NYFF is also the most controversial–"Leviathan." I'll be writing about it later… One film I regret missing is Leos Carax's love-it-or-hate-it "Holy Motors" but fortunately it opens this week at the Film Forum.