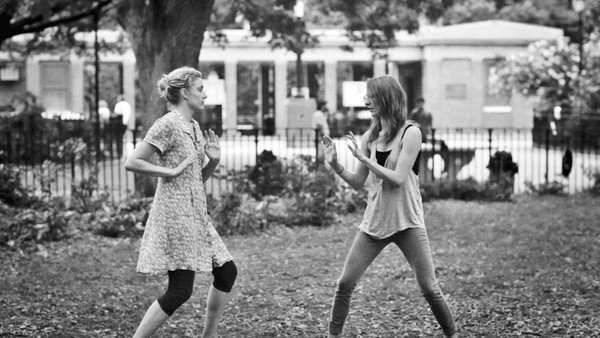 Over the next few weeks I'll be blogging about the 50th New York Film Festival, based on press screenings and films seen during the actual festival (September 28-March 14). In addition to the 33 main slate films, this year's festival features many interesting sidebars, including a rich selection of episodes from the French TV series "Cinéastes de notre temps." There are also gala tributes to Nicole Kidman (accompanied by the premiere of her new film "The Paperboy") and to Richard Pena, who is leaving after 25 years as the head of the festival.
• • •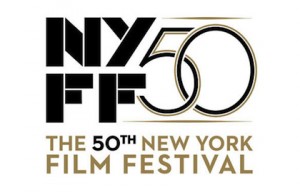 Noah Baumbach's exhilarating new film "Frances Ha", co-written with and starring Greta Gerwig, is stylistically a love letter to the cinema of early Truffaut and Godard and even '70s Woody Allen. The story is ultimately about a deep friendship between two women (played by Gerwig and Mickey Sumner) in their late twenties —actually a rare subject for an American film— as Gerwig pointed out herself during the Q&A immediately following a recent press screening. Gerwig plays the titular character Frances (you don't learn why it's called "Frances Ha" until the end), a 27-year-old dancer in New York whose financially poor, but emotionally rich life is turned upside down when her best friend and roommate Sophie (Sumner) moves out of their apartment and in with her yuppie boyfriend. A search for work and cheaper lodging follows; she moves in with two hipster guys (one played by Adam Driver, best known as Lena Dunham's inattentive lover in "Girls"), flies home for a Christmas trip to Sacramento (Gerwig's real birthplace), takes a ruinously spontaneous two-day trip to Paris, and endures a stint as a dorm counselor at Barnard College.
The film is shot in gorgeous black and white by Sam Levy, and composed of shots edited so tightly you feel you're getting a three-hour movie in its 86-minute running time. This limber, elliptical editing by Jennifer Lame punches you, making it hard to think or speculate about the film as you're watching (the way we often do during quiet moments in a film)–you can only react. Despite the new wave influence on the film there are no "Breathless"-style jump cuts; instead shots begin and end abruptly, without padding; narrative threads dissolve. When, while working at Barnard College, Frances sees a young coed crying outside her room, she joins her and then Baumbach cuts to a future scene. No bonding conversation with the coed; the scenes just accrete, showing us the emotional texture of her life. Sequences are sometimes prefaced by titles indicating Frances' new mailing address. Maybe the famous opening sequence of "Jules and Jim" influenced this whirlwind strategy but here it goes on for an entire film, and to glorious effect. (I don't think I've ever seen a film I wanted so badly to re-watch after it ended.)
The dialogue is delivered very quickly–there are rarely pauses between lines. (And following the method Woody Allen is famous for, actors were only given script pages for the scenes they were in.)  The language is playful and biting, full of inside jokes, droll pop culture references ("I was in Paris when Serge Gainsbourg died"), coded speech and keywords. "Undatable!" Frances' roommate Ben (Michael Zegen) declares every time he makes a wry observation about her boy-scaring idiosyncrasies. At dinner with a new roommate (Mimi Gummer) and her married friends, Frances flabbergasts them with her goofy, tangential longueurs. Another time she delivers a hilarious example (the first I've ever seen in a film) of the adolescent practice of making first name references to friends amongst people who obviously wouldn't know to whom you are referring. Much of this we've already seen in any number of bad hipster tie-ins (and one good one, the HBO show "Girls"), and usually it is irksome and has no shelf-life, but here it is effervescent. And you don't have time to roll your eyes even if you wanted to.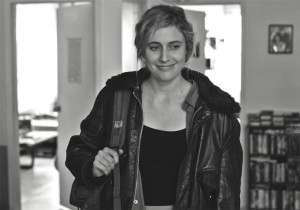 After acting in a series of micro-budget features, Gerwig had a breakthrough role in Baumbach's brilliant previous film, "Greenberg." This film ought to make her a star and an icon amongst college-aged viewers. In Whit Stillman's delightful comedy "Damsels in Distress" this year she played a coed who tried to cure depression by (among other things) teaching tap dancing. Her character here is a dancer who is not quite good enough to stay in the company of her choice, but whose love of spontaneous, expressive movement transports the film, especially in one running sequence set to David Bowie's song "Modern Love." (Baumbach admits that he lifted this from the Leos Carax film "Mauvais Sang.") Mickey Sumner (daughter of musician Sting, by the way) is also terrific as her bespectacled bosom buddy.
P.S. The Truffaut connection is evidenced also by the use of many selections from Georges Delerue soundtracks originally used in Truffaut films. The soundtrack also features songs by Dean Wareham and Britta Phillips, both of whom also have cameo roles in the film. IFC is distributing the feature but no release date has been set.
• • •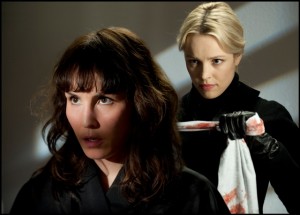 Brian De Palma, wearing his trademark khaki jacket, was also in the audience at the "Frances Ha" press screening. (Baumbach is a huge De Palma fan and will be interviewing him for an HBO Dialogue session at the festival on October 7.) Unfortunately, he didn't make it to the press conference for his own new feature, "Passion". Too bad, because lots of questions were in the air. So many that I'm going to wait until I see it again next week before I review it. It's very entertaining, visually fascinating and something of a return to form (although I'm hesitant to use that phrase after seeing the funny explanation of it in Sophia Takal's recent film "Green").
• • •
How often do you see articles about avant-garde American films in mainstream publications? That's why I recommend reading Akiva Gottlieb's review of films from the last Whitney Biennial that's in the 8 October issue of "The Nation." And in the same issue, a review of a biography of American experimentalist Bruce Conner… The current issue of "Film Comment" (September/October 2012) includes an excellent history of the 50 year-old New York Film Festival… I was one of the people who saw Michael Cimino's "Heaven's Gate" in a theater in 1980 and shook my head in disbelief at how self-indulgent it was. But I'm willing to give it another chance when Criterion releases a remastered blu-ray of it this November. The new DCP version will also be shown at the New York Film festival on October 5… Don't miss the BAM screening of Onur Tukel's "Richard's Wedding," Monday, September 24.  Full disclosure: my brother, Randy Gambill, is in it!)… I saw two great micro-budget features that were part of last week's La Di Da Film Festival in Tribeca: Amy Seimetz's "Sun Don't Shine" and Stephen Gurewitz's "Marvin, Seth and Stanley." I'll write more about them at a later time. Also: More on De Palma's "Passion," Christian Petzold's "Barbara," "Room 237" (the documentary on wild theories about Kubrick's "The Shining"), and more.