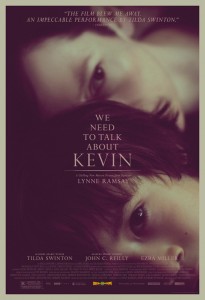 In Lynne Ramsay's "We Need to Talk About Kevin", Tilda Swinton plays Eva, a shell-shocked woman absent of the maternal gene.  For that deficiency she is punished —imprisoned really— in a relationship with her psychopathic son, Kevin.  The two end up in a bizarre symbiotic relationship which eludes her emotionally deficient husband Franklin (John C. Reilly).  Franklin lives in a state of denial, both Kevin's loving son performance while also explaining away his antisocial behavior as childishness (toddler Kevin: Rock Duerr; pre-pubescent Kevin: Jesper Newell) or hormonal (teenage Kevin: Ezra Miller).  His warmth toward his Dad is part of a larger act all staged to torture his mother.
The film skips around in time from Eva's single days as a journalist through the present day, the latter period which takes place following a tragedy which leaves her as the town pariah.  Tilda Swinton looks likes she is caught in the headlights when she isn't looking hungry for her son's approval.  Their relationship is that of nemeses and any connectivity they share is the within that context.
The Oscilloscope package comes with a Blu-ray disc and a DVD.  Among the bonus material is a featurette with cast & crew interviews.  While it's worth watching, the price of admission is the feature itself, full of amazing performances that won't disappoint.  It's great to Have Lynne Ramsay back directing.  With "Kevin", Movern" & "Ratcatcher", Ramsay is three for three.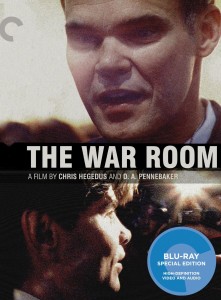 The Criterion Collection is now distributing the… the… political campaign documentary.  I remember seeing D.A. Pennebaker & Chris Hegedus's seminal documentary, "The War Room" when it fist opened back in 1993 in a small art house in the Adams Morgan neighborhood in D.C.  Bill Clinton was already the president and times felt hopeful after 12 years of failed Republican leadership in the White House.   It's probably the film that made me a doc-junkie.  Meeting Pennebaker (Penne to his friends; I call him Mr. Pennebaker) many years later was like a guitar player meeting Keith Richards.
While this film is definitely about campaigning and the candidate, it's primarily the story of two stars on the rise, campaign director James Carville & communications director George Stephanpoulos.  No matter how many times I've watched this movie, I'm simply blown away by what they accomplished literally against all odds.  That scene where Carville ("The Ragin' Cajun") thanks his staff the night before Election Day 1992, still chokes me up.  And Pennebaker & Hegedus made docs cool and popular (okay, with the help of that guy from Flint).
The standout bonus featurette in this package is the documentary "Return to The War Room" when Pennebaker & Hegedus (who also directed this sequel) go back to interview many of the original cast.   It's the perfect movie to watch over as another presidential election cycle is upon us.