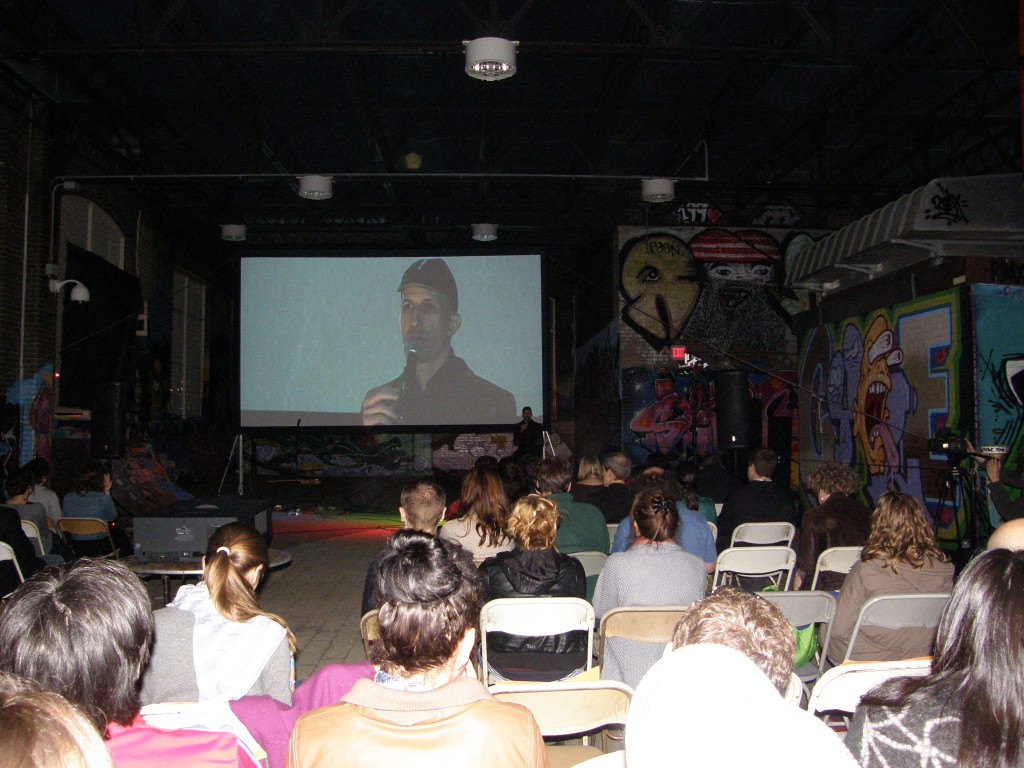 Friday, May 13, 2011
Every season Rooftop Films starts off with an evening of shorts.  Last night, the opening of the 15th season, was no different.  An enthusiastic film-loving crowd filled up mostly every folding chair on what's called the Open Road Rooftop above New Design High School in the L.E.S. The slate of short films –dubbed This is What We Mean by Short Films— defied genres as described by Rooftop Founder and Artistic Director Mark Elijah Rosenberg aptly described them.
Among the evening's slate of 9 shorts films a few of the stand outs included Olivier Treiner's "The Piano Tuner" where a performance shy pianist fakes blindness and takes up tuning pianos to his misfortune; artist Blu's "Big Bang Big Boom" is another result of one of the most innovative animators working today; Carter Smith's "Yearbook" is a creepy retro tale of a high school's STD epidemic gone horribly awry; and Brooklyn's own Emily Carmichael's "Ledo and Ix Battle Monsters" a pixel-tastic animated piece which was supported by the Rooftop Filmmakers' Fund.
The evening got rolling with a musical performance by  instrumentalist Dustin Wong with his uniquely contagious trippy guitar loops. Despite the pyrotechnics, his music is undeniably contagious.  It was a great way to get the outdoor festival vibe going. By the time anyone reads this blog post, the second night will have already concluded with the screening of Zachary Raines' "Freeloader". The series sports some 45 evenings through the crux of the summer.  The series continues to expand as evidenced by the opening night being presented by Rooftop Films, IFC and New York Magazine.  What hasn't decreased is this series' commitment to unconventional films in non-traditional venues.  The full summer schedule may be found here.