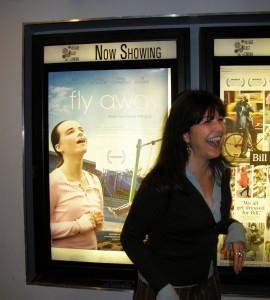 Janet Grillo, the writer/director/producer of "Fly Away" insists that her new film is not about a case of autism but, rather, about a young person who has autism.  In other words the film is not about a diagnosis but about a person with a diagnosis.  This might seem like a case of semantics to some but at the screening I attended last night, Ms. Grillo —whose own son is autistic— articulated the distinction with clarity and thoughtfulness.  The film, while flawed, to its credit is not didactic and completely lacks that "movie of the week" laziness to which so many other films dealing with disease or disorders fall prey.  "Fly Away" is generally well acted and quite watchable, probably a result of its strong direction and its two competent leading actresses.
One of those actresses is 16 year old Ashley Rickards who plays Mandy, a pubescent and autistic teenager, and who might be known for her work on the TV series "One Tree Hill".  Her performance is uncanny and it was clear during the post-screening Q&A that many audience members assumed that Ms. Rickard was autistic as well. The fact that she didn't "play" symptoms but a fully developed character is one of the reasons her performance is so affecting.  Also in the film are Beth Broderick as Mandy's mom, Jeanne; a very good Greg Germann as a neighbor and budding love interest for Jeanne; and the always welcome Reno as Mandy's school principal. Scattered among the audience were a number of people who lives are touched by autism, something that will probably be common at other screenings of Ms. Grillo's moving film.
The sad irony is that the recent spike in diagnosed cases over the past decade or so might mean even larger audiences for the film.