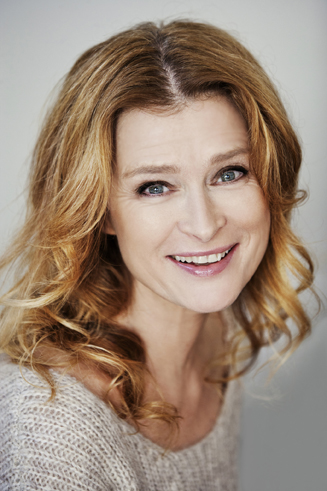 The star of the Stieg Larsson's Millennium Trilogy ("Girl With the Dragon Tattoo, etc.) discusses making her latest film, "Limbo", currently part of Eurocinema's First Annual Scandinavian On Demand Film Festival
filmwax: I saw "Limbo".  It was very good.  Quite different from the work you're better known for here in the States, referring to the Stieg Larsson series.  Is "Limbo" more representative, would you say, of the work you do?
Lena Endre: I work mainly in theater, for the Automatik Theater.  I've done an awful lot of movies, perhaps the best known is "Faithless" which was written by Ingmar Bergman and which Liv Ullman directed.
filmwax: That really put you on the map.
Endre: Yes.  And it was funny shooting "Limbo" in Port of Spain, because the director, Maria Sødahl, she used to live there as a child.  It was about her childhood as she remembered it in the 60's: the expat families, no roots, kind of terrible existence.
filmwax: You mean the constant moving?
Endre: Yes, like the life of a diplomat, where one has to move all the time.
filmwax: Sort of like an actor, would you say, especially a European actor?  Exposure for a European actor means working around the globe, does it not?
Endre: [Whispers] I'd rather stay home.

filmwax:  Well, precisely.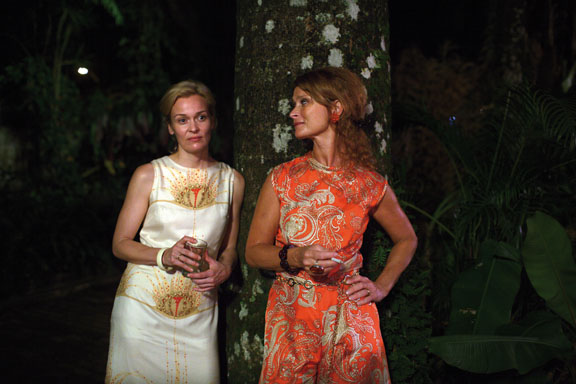 Endre
:  Well, I never really went away from Sweden to work, in fact.  I always thought I worked with the best people in the world right in Stockholm.  I worked with Ingmar Bergman in the theater for 15 years.
filmwax: In the States, it's lesser known what a major theater director Bergman.  Here he was known as a film director obviously.
Endre: Yes, that's where he started and where he was working constantly.  He would make films in the summer and do theater in the winter.
filmwax:  Unless I'm mistaken, John Cassavettes had a similar approach.  I believe that, at least early on, he had a theater company and he would fund it by making his films, or perhaps other people's films.  Not sure how much money his films could have made.
Endre:  They must have.  In Europe he was so big.  I think the same thing is true with Woody Allen these days.
filmwax: Are his films hugely popular in Europe?
Endre: Oh, my, yes. And you can never catch up to them because he's making one a year.  Constantly working.  Most people don't go to movies that often, so if you're going to see a movie once a year, you don't pick Woody Allen every year.  I suppose you could…
filmwax: Would you like to work with him?
Endre:  Of course. But I'm not a famous name, not here in the U.S.
filmwax:  Although he did work with Max Von Sydow in "Hannah and Her Sisters".  Back in those days Allen was especially impressed with Bergman's work and the Swedish aesthetic.  And speaking of Swedish imports, how did you come to be cast in "Limbo"?
Endre:  I make quite a lot of movies in Norway.  Many of us work throughout Scandinavia. In Norway, they have Swedish TV, so the director was familiar with my work.
filmwax:  So you were tapped for the role?  And what did you make of the character when you first read the script?
Endre:  It's very different than me.  I'm a homebody.  This woman, Charlotte, had no children, she led this kind of life with absolutely no roots or purpose.  No ambitions.
filmwax:  She was unhappy about it.  She did want to settle in Trinidad.
Endre: For Charlotte, it's the end of a long life of traveling around.  She hopes and thinks that this will be it.  She's building up this home in anticipation that this is the end of that kind of life style.
filmwax:  And a social network.
Endre: Yes, a social network for five years.  And she expects them to retire there.  And then he has to move again, and she just can't take it.  Of course, there are other black holes in her soul too that ends up consuming her.  It all hits home when she sees this other family mirroring her family. Through them she sees what her life could have been.
filmwax: Then there's no more pretending, or ignoring what's missing from her life.
Endre:  Right.  She saw this young couple that might stay on the island with their children, and perhaps Charlotte felt she could adopt or be part of their life.  And that she could finally be useful.
filmwax:  What was the process like of finding this character? Finding her humanity?
Endre:  We actually had a great time there. Bryan Brown and I arrived in Trinidad around the same time (Brown plays Endre's husband, Daniel) so we had some time to prepare together.   We lived in the hotel like a family, so we had a lot of time to talk about the characters.  Also, Maria is a very ambitious director, so we were rehearsing every night.
filmwax:  That must have given you both an opportunity to create some chemistry.
Endre:  Oh, yes. We were almost like a married couple.  We were living together the whole time.  Stuck in this place.  What else can you do? [laughs]  You work, that's it.  We had a car, so Bryan and I went out.  Dinners at night, and except for sharing a bedroom, we spent the entire time there as a couple.
filmwax:  You were convincing as a couple.  How was Bryan to work with?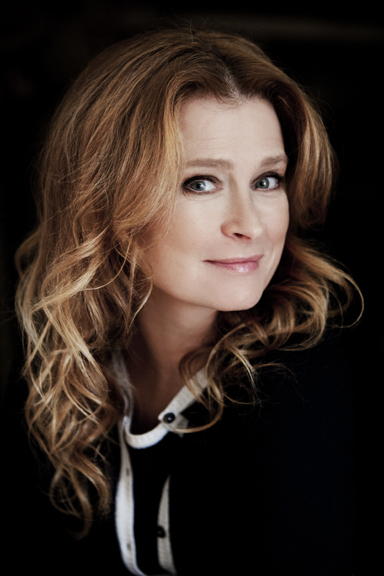 Endre
:  Beautiful, a very funny guy. We had a lot of fun.  And in the film we were such a boring couple.  Our characters' dialogue died out years ago.
filmwax: Though Daniel also had a certain joie de vivre.  The character was spontaneous and had a goofy side.  He could be childlike.
Endre: True but the couple had gotten quiet over time and had stopped communicating.
filmwax:  Somewhat Bergmanesque, wouldn't you say?
Endre:  Yes.  A little like that!  Yet, it was terrible when he finally confesses to her that he knew about Charlotte's affair back when they were in Iran.  There's love there but there's a gap between them.
filmwax:  Perhaps this is an American perspective, but I thought he had also overlooked her transgression with forgiveness.  He forgave her flaws.  But perhaps what she was looking for was passion from Daniel and got it elsewhere.
Endre: Yes, exactly.  You know, it was like she was picking a fight with him to get some sort of reaction, to see if he loved her.  But who knows what he was up to.   But that scene where she finds out he knew about her affair, it holds a lot.
filmwax:  I found that Charlotte and Daniel was a more complex couple than the younger couple.
Endre: They could have kept on living in Trinidad and ended up dying there if they had stayed.  I don't think Charlotte was well.  It wasn't this one event that causes her downfall.
filmwax: Clearly it was the last straw for her.
Endre:  Absolutely.  Who knows, maybe she's been planning this for years.   You never know.
filmwax:  You should know, if anyone does.  [laughs]  Charlotte's in a very dark place.
Endre: Yes, it's a dark place to go, as an actress, and I've played a couple of characters like that.  Ibsen's Hedda Gabler for one.
filmwax:  "Limbo" is part of the Scandinavian On Demand Film Festival.  What's your take with the increasing number of movies premiering on demand?  Many of these films are character-driven ones not unlike "Limbo".  Audiences can rent the movie by clicking a button at home.
Endre: Yes, and they can turn it off and get something to eat.  Then put it on again.
filmwax:  Hopefully.
Endre:  Hopefully.  What can I say?  Most people have these big flat screens at home.  It's like stepping into the cinema.  Like you, I watch a lot of films, and I'd rather do that at home with my big screen, without being disturbed by other people having their meal in my ear.  That's what it's like today.  Did no one eat for the last two weeks?
filmwax:  Even in Stockholm?
Endre:  Yes, I hate that. People are so used to sitting at home now doing whatever they want while they watch a movie, this is the result.
filmwax:  And the theaters rely on this.  It's a big source of their revenue.  But to be on a big screen in front of a real audience, there's nothing like that.  Your feelings become so much stronger when there are a lot of people watching together.  It's a collective thing. Also, of course, you can concentrate only on the story.
Endre:  I don't know where this is going.  So many people are worried about cinemas closing down.  It's not true. You can't even find a ticket most of the time.  The cinema is full everywhere every night.