Crosby Street Hotel, Soho, NYC
Sunday, April 17, 2011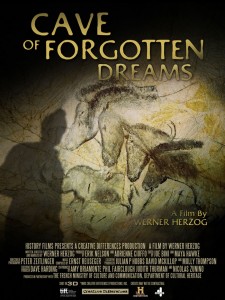 In his latest film, "The Cave of Forgotten Dreams", Werner Herzog has made his most stunning documentary yet, in 3D no less. And this man has made some amazing documentaries.  If anyone hasn't seen these other favorites: "Grizzly Man" (2005), "My Best Fiend" (1999) or "Little Dieter Needs to Fly" (1998), don't rent them… buy them!  Herzog has been accused for being something of a showboat filmmaker; that he's more interested in showing off, more interested in creating spectacle, than he is in telling human stories.  I don't know about that.  I can see some strain of legitimate criticism in there, I suppose.  Even if it is the case that some of his narrative films have leaned toward the grandiose, many of his documentaries have shined with humanity.  "Dieter" is one of the most touching and evocative examples, and one of the best docs I've ever seen. It tells the story of German-born Dieter Dengler, a fighter pilot for the U.S. Air Force who was shot down over Laos during the Viet Nam war.  He was captured and tortured for years before his eventual rescue.  Dengler's story is better known from the fiction film version of his story, "Rescue Dawn" (2006) starring Christian Bale in the role of Dengler. That movie was directed by none other than Herzog himself who felt compelled to tell Dengler's story a second time.  For me, regardless of how well the more recent film was made, it's the documentary that won my heart. Likewise, after making some five classic films with actor Klaus Kinski, Herzog directed "My Best Fiend" (a nice play on words) about his deceased leading man and former roommate. While best known for "Fitzcarraldo" and the remarkable "making of" documentary, "Burden of Dreams" directed by the great Les Blank, Kinski does some incredible work in films like "Aguirre: The Wrath of God" and "Nosferatu The Vampyre" to name just two.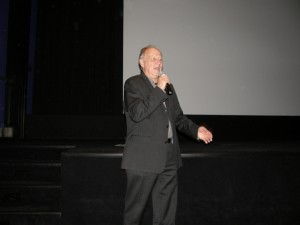 Inspired by a Judith Thurman article for The New Yorker, "The Cave of Forgotten Dreams" is about the Chauvet-Pont-d'Arc Cave located in southern France.  Discovered in 1994, the cave's walls are covered with hundreds of animal paintings, its floors scattered with artifacts and remains going back to Neanderthal Man.  Because the cave entrance was sealed by a landslide that occurred tens of thousands of years ago, most everything is in pristine condition. On the walls, which are best captured in 3D because of it's "bulges and contours" as Herzog describes them.  The master director had to go through a vigorous approval process to get access to the cave, and even then, it was quite limited.  Exposure to the elements must be severely limited otherwise the air has a deleterious effect.
I recently attended an advance screening hosted by the Archaeological Institute of America and got to finally see the film.  It's stunning, perhaps just a touch murky because of those dang glasses.  I've heard that the 3D technology is evolving very quickly and we won't be needing glasses too much longer.  That's great news for the more finicky film goers as well as those who already wear glasses.  It should be noted that regardless of how solemn "Cave of Forgotten Dreams"'s subject matter is, it's full of both poignant and funny moments as well.  The film which has already been a Sundance Selects favorite and opened the first season of DOC NYC last year, opens at The IFC Center on April 29th.