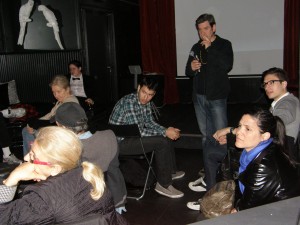 We had a wonderful turn-out for the first filmwax night of short films.  The back room at The Fifth Estate was pretty packed by the time we got started with the animated short, The Mouse That Soared directed by Kyle Bell.  Following that came Mike Cerda's Craving, Elliot Fu's Tiptoe, Danielle Katvan's Laundry, Kasia Kowalczyk's The Bread Squeezer & Kaz Phillips' megafauna.  Not all the filmmakers were physically present at The Fifth Estate last night. Mr. Bell lives in Portland, Oregon but had given his blessing to show the funny animated short about a mouse who is brought up by birds. Ms. Katvan who lives on the West Coast was also not able to be present but that was solved by a microphone and my iPhone.  After showing her three minute plus short about a blossoming romance that takes place in the imagination of a guy at a laundromat, I called Danielle up for a live audio chat.  It was a lot of fun and the audience seemed to appreciate the spontaneity of it.  Also, Ms. Katvan's parents, Manhattanites, were in the audience to represent.
The evening began to build a bit around the time of the final two shorts which were more narratively somewhat more dense. Kasia's short, The Bread Squeezer, the evening's longest bit, is a comedy about the life of an orphaned man who learns how to replace his need to squeeze loaves of Yummy Tummy bread with a real living "squeeze" instead.  It's a very sweet film and stars Kasia's husband, Tal Harris.  Both Tal and Kasis are long time friends of filmwax. The same may be said of Mike Cerda who has been at every event thus far (last night was the 4th) who has been also default event photographer as well.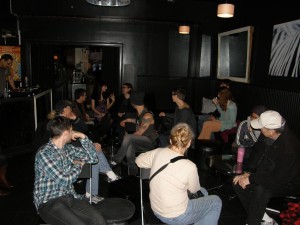 The final short was something of a last minute scheduling addition, megafauna, a more tonally serious film.  Directed by Kaz Phillips, megafauna concerns a couple who are going through a difficult phase in their relationship and have decided  to video tape their thoughts on love and relationships. The idea doesn't work out so well; the male character not begin quite very open to the process and expressing his cynicism. A walk-out leads to a tragic turn of events. In another film this unfortunate turn might have seemed contrived but due to Ms. Phillips earnest, mature approach, the film –14 minutes in length– is poetically and emotionally effective.
After the film, the filmmakers, which also includes Kaz's husband, Dan Safer; Kasia's husband, Tal, Tiptoe's editor, Gary Marino, among others,  hung out at the bar and continued the conversation for another hour or more.
The next night of shorts which is as yet unscheduled, will likely consist of winners from Shooting People's film of the month contest.