Fort Greene, Brooklyn, Wednesday, March 23, 2011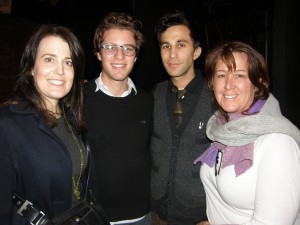 Safe inside from the thundering hailstorm this past Wednesday night, a panel of documentary filmmakers gathered in Fort Greene, Brooklyn, to discuss those ethical boundaries within which they must constantly navigate. The event, CROSSING THE LINE? A Conversation on Ethics and Documentary Film, hosted by The New York Film & Video Council comprised of Albert Maysles ("Grey Gardens"), Tia Lessin ("Trouble The Water"),  Stephanie Wang-Breal ("Wo Ai Ni/I Love You, Mommy"), Ariel Shulman and Henry Joost ("Catfish"), and was moderated by POV's Yance Ford.
In addition to Ms. Ford's thoughtful and provocative questions, audience members from the packed house were encouraged to participate as well. When do you turn the camera off? Do you ever pay a subject for participating in your documentary?  Is it ever appropriate to use a hidden camera?  Should hybrid films —a combination of the real and narrative— be categorized as legitimate documentaries? The answers were hardly predictable.  The consensus was that ethical decisions were generally personal decisions, often made on the fly and rarely cut and dry. With the recent surge of films like "Catfish", "Exit Through The Gift Shop" and "I'm Still Here", the issue of authenticity in documentaries has been a hot topic of late.  Scads of articles have been published on the subject, many proposing different solutions including some sort of code of ethics.  After each filmmaker shared specific examples of having wrestled with ethical dilemmas, in the end, the consensus among Wednesday evening's panelists was that ethics had to be self-policed.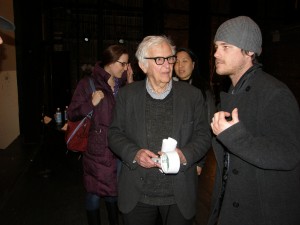 To put some perspective on things, Maysles, considered the granddaddy of documentary makers, read out loud portions of the New York Times review from his 1970 seminal Rolling Stones concert film, "Gimme Shelter", which included the spontaneous killing of an audience member by a Hells Angels security guard. Vincent Canby, then the Times movie reviewer, criticized the Maysles Brothers, Albert and David, for having exploited the moment by including it in their film.  A few years later, Walter Goodman, also writing for the Times, condemned "Grey Gardens" for exploiting its two subjects. Mr. Maysles, ably illustrated that the evening's panel was discussing issues now that documentary makers been grappling with for decades.
After the event concluded, filmmakers and audience members headed to a neighborhood bar to continue the discussion over beer and karaoke.
The New York Film/Video Council, is New York's oldest continuously operating non-profit serving the independent film, video and electronic arts community for over 70 years.