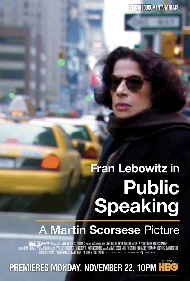 Directed by Martin Scorsese
Produced by Graydon Carter, Fran Lebowitz, Scorsese, Margaret Bodde
Released by Rialto Pictures
USA. 82 min. Not Rated
Martin Scorsese seems to be in a compellingly productive stage in his career. In the past year or so since the release of Shutter Island, he has followed up with A Letter to Elia, the pilot episode of the HBO series Boardwalk Empire, and now a bio-doc, Public Speaking, a generous portrait of literary personality Fran Lebowitz.
Most of the film takes place at Lebowitz's table at the Waverly Inn, a Greenwich Village restaurant she frequents and one in which her likeness is included among other literati on the wall's mural—not bad for an expelled high school student (she would later get her GED). In addition to the restaurant, we also follow her to a number of lecture dates where she's clearly in her milieu. As she readily admits, she loves to talk and have others listen. There's also a smattering of archive footage from her early days in New York, a city she describes as not yet a boring city for the wealthy. She compares the experience of running into a friend in Times Square today like the terror of bumping into someone you knew at a gay bar in the '70s; you're embarrassed by what that might mean to your reputation.
Fran Lebowitz was born in 1950. She grew up in Morristown, NJ, and in 1970 moved to Manhattan at the tender age of 20. As she describes it, she barely stepped off the bus before she was hired by Andy Warhol to write for Interview magazine. It was then on to a stint at Mademoiselle and the publication of two subsequent collections of essays, Metropolitan Life and Social Studies, that would lead her to a modicum of fame.
Ms. Lebowitz is known to have quoted the line, "You're only as good as your last haircut." With her signature tailored sports jackets, starched white shirts, and thick dark hair parted down the center, she makes a striking figure. When you see her in person, you don't have to remember that she's someone famous. She carries the confidence of someone who owns the pavement on which she walks. She owns a 1978 Checker cab, but, convinced that it's really a bomb on wheels, she refuses to fill the gas tank. She says the term "car bomb" is redundant. These observations, peppered throughout, keep director Scorsese—seen just barely off camera—and its viewers in stitches.
Ms. Lebowitz may often joke about how she loves to talk publicly and how she's always correct in her opinions, yet she manages never to come off as a narcissist. Other than some career benchmarks and one or two references to her sexuality, she doesn't dwell on her biography all that much. Additionally, because the director is not trying to dredge up any scandals from her past—the closest was an offhand joke she once made about Jewish women, a group to which she belongs, at a political rally—his subject comes off as utterly likable. It doesn't hurt that she's self-deprecating either, calling herself the laziest writer on the planet.
In the end, what comes across in Public Speaking (which aired on HBO last year) is a writer who's passionate about quality, good taste, and, most of all, the written word. Lebowitz is and always has been a voracious lover of books. Under a different director, the subject could easily have come off as a vain blowhard whose expiration date for relevance has long passed. What results, however, under the loving care of Mr. Scorsese is a snapshot of a funny and unforgettable New York icon.
---
Article originally appeared: http://film-forward.com/publicspeaking.html