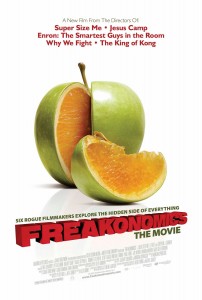 Based on the book by Steven D. Levitt and Stephen J. Dubner
Directed by Alex Gibney, Rachel Grady & Heidi Ewing, Seth Gordon, Eugene Jarecki & Morgan Spurlock
Executive Producer: Seth Gordon
Magnolia Pictures
93 minutes. USA.
[Article originally appeared:  http://ondemandweekly.com/blog/article/freakonomics_-_on_demand]
When one thinks back on the omnibus movie format, such classics as "New York Stories" or "Coffee & Cigarettes" will usually come to mind. Well, now the documentary form gets the treatment with "Freakonomics".  The outcome is a fairly enjoyable albeit slick treatment, not so surprising considering the blue chip doc directors involved. Anyone who read the best selling non-fiction book from which the movie is adapted, and which includes its two co-authors, rogue economist Steven D. Levitt and the journalist Stephen J. Dubner, braiding together its five segments (directed by the film's executive producer, Seth Gordon) will be in familiar terrain.
This reviewer had the opportunity to listen to the audio book on a cross-country trip some years ago and, as a result, felt a sense of déjà-vu watching the documentary. This is probably the result of Gordon's loyalty to the book, a wise thing considering what a phenomena it has become. Doubtless, the viewer will feel they are in quite capable hands.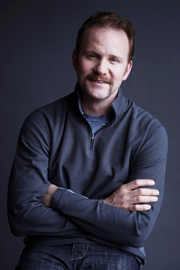 Morgan Spurlock (Super Size Me) covers the first chapter called A Roshanda By Any Other Name. He carefully, and successfully, manages to navigate the class and race-sensitive issue of whether names can impact a person's future.
Next up, Oscar-winner Alex Gibney ("Taxi to the Dark Side") gets the meatiest segment with Pure Corruption. Drawing a correlation between Wall Street corruption and the seedy underbelly of the sumo wrestling culture in Japan, Gibney's chapter is quite watchable.
Eugene Jarecki ("The Trials of Henry Kissinger") falls somewhat short with It's (Not Always) Wonderful Life. The segment, despite the arresting topic of crime reduction among urban centers, doesn't ever quite get off the ground. As in Spurlock's segment, the race issue is sensitively dealt with considering its theory that the decline is a direct result of legalized abortion in the 70's. Yet, the segment never quite transcends.
Likewise, Rachel Grady and Heidi Ewing's segment, Can a 9th Grader Be Bribed, is the most frustrating because it feels at once contrived and too superficial. At stake are two young inner city middle school kids whose futures are in the balance. You get the feeling that the filmmakers, who did a much better job with their feature length Jesus Camp, had too large and too serious a topic to cut down to their allotted 20 minutes.
In the end, you will walk out of the theater feeling you've been given a fairly superficial course in socio-economics but not challenged enough to know what questions to follow up with, accept perhaps wondering what happened to Michael Moore's segment.