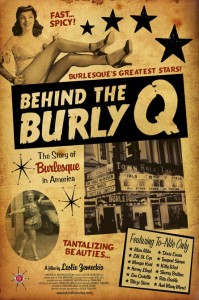 Directed by Leslie Zemeckis
Produced by Sheri Hellard, Jackie Levine & Zemeckis
Edited by Evan Finn
Released by First Run Features
USA. 98 min. Not Rated
[Article originally appeareed: http://film-forward.com/burlyq.html]
The main problem with Leslie Zemeckis's history of burlesque is that it doesn't reveal enough. It's obvious from the impressive group of ex-dancers who have been gathered that the subject is of great significance to the filmmaker, but, unfortunately, the story just doesn't…er…take off. Considering the film's participants include such scantily clad luminaries as Sunny Dare, Tempest Storm, and Blaze Starr, it comes as something of a disappointment that the banter remain so tame. Many of the ex-dancers have understandably settled into geriatric complacency, but their memories don't lift the film to a more memorable level.
Burlesque was at its most popular in New York between the wars. It's noted that during the Great Depression a man could do back breaking work for only nickels a day, but on the way home, he could stop at a burlesque show, plop down his dime, and for a couple of hours, he could forget his troubles. Burlesque was not just about solely women stripping. Comics, singers, and novelty acts were commonly showcased. Some shows were actually considered family entertainment. But by and large, burlesque was pushed to the margins and probably became popular because there was no porn to be downloaded at the time.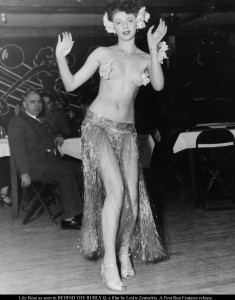 Misplaced among all the talking heads (most of which are still topped by impressively teased quaffs) is Alan Alda, at one point reminiscing about an episode of M*A*S*H where his father, Robert Alda, made a guest appearance. While it is also revealed through an earlier anecdote that the senior Alda was a tit singer (how exactly would that read on the old resume?) in Burlesque houses prior to his going to Hollywood, Alan Alda's inclusion in Burly is ill-placed and unnecessary, despite a couple of colorful yarns. It seems as though the producers found a bona fide celebrity with some loose connection to burlesque and took advantage of it.
The majority of the film, however, is interesting enough, and any fan of burlesque will no doubt find it thoroughly enjoyable. Sadly, after the interviews are over and just before the credits roll, we see a tally of all the dancers who have passed in the short time since the film was completed in 2009. "Behind the Burly Q" was made with obvious affection and just in the nick of time.