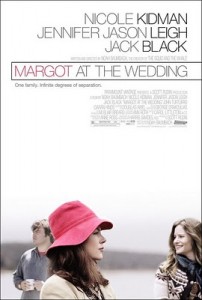 Written & directed by Noah Baumbach
Produced by Scott Rudin
Director of Photography Harris Savides
Edited by Carol Littleton
Released by Paramount Vantage
USA. 92 min, Rated R
Cast:  Nicole Kidman, Jennifer Jason Leigh, Jack Black, Zane Pais, Ciarán Hinds & John Turturro
[Article originally appeared on The Rabbi Report]
For fans of Eric Rohmer's films, mixed feelings might be the result of Noah Baumbach's new movie, the anticipated follow-up to 2005's "The Squid and the Whale". Even its title, "Margot at the Wedding", is obviously a nod to Rohmer's "My Night at Maud's", "Claire's Knee", and "Pauline at the Beach", as is too much of the film's aesthetic. Indeed, the name Pauline also happens to belong to Margot's sister, played by Baumbach's real-life wife, Jennifer Jason Leigh.
The entire action takes place at the seaside childhood home of Pauline and Margot, where Pauline and Malcolm (Jack Black) currently live and are about to exchange nuptials. Margot (Nicole Kidman), a New York writer, has returned after an extended period of estrangement from her sister. Also currently at odds with her husband (John Turturro in a brief but welcome turn), she arrives with their son, Claude (Zane Pais), a sensitive adolescent with a keen mommy worship complex. One can easily recognize the habits of children who grow up around unpredictable parents, like the constant eye contact to check in and the need to take care of the unstable parent. And Margot is as unstable as you get.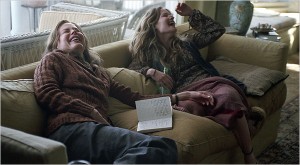 Fresh off a new novel, Pauline has also come back home to give a bookstore reading. A local writer, who also happens to be a former boyfriend, Dick (Ciarán Hinds), ambushes her during the Q and A portion of the store appearance with personal questions about the novel's similarities to her own upbringing. It appears at this point that Margot's high-strung behavior is heading towards a full nervous breakdown, and here is where Margot runs into trouble. Forgiving the fact that the movie feels derivative and that none of the characters – other than the children – are particularly likeable, there is not enough grist in what backstory we are given for us to feel patient with all of Margot's angst. We know she never felt loved or appreciated enough. We know she feels incredibly competitive with Pauline. We know that she and her sister suffered some level of abuse in their childhood, which has led her to have angry feelings towards males (including the one she gave birth to), but there is never a quiet enough moment where we get to see how all the pieces fit together.
While "Squid" dealt with a similarly dysfunctional family, we were privy to the build-up to the family's breakdown. The characters in that story are flawed as well, but they are also compassionate, jealous, and, at times, just plain horny. They seem more fully realized. Other than Jack Black's shtick, which feels misplaced in this movie, "Margot" lacks the humor and warmth of the former film, and that is unfortunate because there are the bones of a terrific movie here.
While doing press for "Squid", Baumbach was put off by all the media's conjecturing about his own childhood upbringing. With "Margot", it feels as though he is lashing back, intentionally keeping Margot opaque, and not letting us see what makes her tick. The French New Wave filmmakers that Baumbach seems to be so impressed by were criticized (here in the U.S.) for intellectualizing too much and not getting down to action. Of course, what we were left with in the majority of cases were richly dimensional characters with lives of their own. One hopes that Noah Baumbach's next effort will marry both the heart and mind.