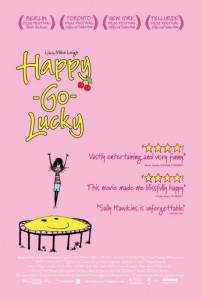 Written & directed by Mike Leigh
Produced by Simon Channing-Williams
Cinematography by 
Dick Pope
Edited by Jim Clark
Music by Gary Yershon
Cast: Sally Hawkins, Eddie Marsan, Alexis Zegerman & Samuel Roukin
U.K., 2008, 118 minutes
[Article originally appeared: http://www.rabbireport.com/archives/2008/10/nyff-08–review.htm]
Mike Leigh is one of my all-time favorite filmmakers and I recently had the pleasure of making his acquaintance. I mentioned in a brief conversation just prior to a press conference for the 2008 New York Film Festival screening of "Happy-Go-Lucky", that I had been obsessively watching his BBC television plays from the 1970s ("Abigail's Party", "Nuts in May"). While he expressed his appreciation, he also expressed some rancor. He was very frustrated with the quality of those tele-plays we have over here, complaining that they were unauthorized and of terrible quality. Attempting to be as upbeat as possible, I exhorted how the impact of the dramas shown through and, really, who cared about the quality. He thanked me tersely, and I could tell that he was somewhat less impressed. When moments later I asked if I could take a quick photo of him and his star, Sally Hawkins, they politely looked my way and I could hear him mutter to her, "he writes for a web site."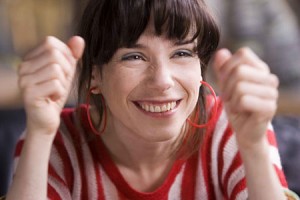 You'd be hard pressed to find any character in the movies today quite so happy or go-lucky as Poppy, as played by the irrepressible Sally Hawkins ("Vera Drake", "The Painted Veil"). Constant movement is integral to Poppy's nature and as the film opens, we observe her breezing about London on her bicycle, waving and smiling at passers-by. They are all off camera and, frankly, who they are and whether they are returning her waves is beside the point. It's clear from the get-go that Poppy is a ray of sunshine, nonplussed by the stoic book clerk she meets in the film's first scene. "We didn't even get a chance to say goodbye" is her reaction moments later when she discovers her bike and sole means of transportation, has been pilfered. But that's okay because she was meaning to learn to drive anyhow. Poppy's glass is always half full regardless of how much life she gulps down.
To describe Poppy as simply bright and bouncy is not sufficient. Leigh is clearly attempting to do more here, perhaps to counter the harshness or indifference in today's society. While so many young folks are plugged into Blackberrys and iPods, Poppy means to connect. Whether it's to a bully in the grade school where she teaches, a homeless bear of a man she encounters in a dark alley (more on that momentarily) or, most complex of all, her driving instructor, Poppy wants to break though. With Scott, her driving instructor, this is put to the test. As played by Eddie Marsan, Scott is as raging and resentful as any character from Mike Leigh's trove of mean spirited bastards. And there have been a few. David Thewlis' Johnny from "Naked" (1993) immediately comes to mind.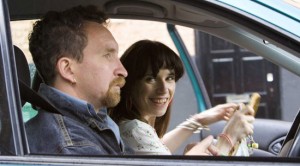 Since being on the go is so integral to Poppy's character, a good amount of the film is spent following her through her week which includes going to the disco and partying into the wee hours of the morning with her sister and best mates, one of which, Zoe (a brassy Alexis Zegerman), is also her housemate. We also get to see her at the gym where she injures her back on the trampoline (of course), a visit to a chiropractor is an opportunity for many innuendos, a couple of very funny scenes in a Flamenco dance class with an unforgettable performance by Karina Fernandez as a dance teacher who can't keep her personal life off the dance floor, and of course the driving lessons. These scenes start off as comic bits but evolve into something far more substantial as the two antithetical personalities try to navigate their way through winding London streets. Poppy is a threat to Scott in every conceivable way. The more he becomes attracted to her, the more furious he becomes with her. Marsan's performance, amongst Leigh's finest and complex, is that of a rattling furnace, steam shooting out the sides, knobs rattling. Their final confrontation will take the smile off your face and put a lump in your throat.
Somewhere in the center of the film, Poppy meets a homeless man (Stanley Townsend) in a back alley during a walk home late one night. Why she takes such a risk is never made clear and the scene feels somewhat contrived at first. The man is a bear and could snap Poppy like a twig if he chose to. He rants unintelligibly save for a few moments when he looks deep into her eyes and half mumbles, "you know? You know?" She pauses, smiles and says, "yeah". The scene is risky. It half works and half doesn't. As someone who is generally successful at connecting, perhaps seeing someone on the margins who has failed to, she sees a kindred spirit. And while Poppy's constant banter sometimes seems like defensiveness, she doesn't make any pretenses about it. When a social worker (Samuel Roukin) is assigned to her trouble student, he immediately falls under Poppy's goofy charm. You get the feeling that he understands where she is coming from, accepts it and is, in fact all the more touched by her.
"Happy-Go-Lucky" was shot in Cinemascope by Dick Pope, Leigh's longtime cinematographer. The film looks lovely and the new technique makes many of the outdoor scenes bright and colorful, in a way not seen before in a Mike Leigh film. The only times it seemed out of place were the scenes in the car where the scale just seemed too big. (Small potatoes.) That plus a lush score by Gary Yershon, you've got the feel good movie of the fall. The film ends much like it starts, with Poppy in movement. This time she's sharing a rowboat in Hyde Park with her pal Zoe. Sure, she could be driving around London if she wanted, but really, what could be better than just floating lazily along under the light of the sun?