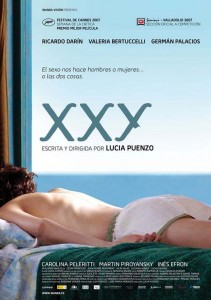 Directed by Lucía Puenzo
Executive Producer: Fernando Sirianni
Produced by José Maria Morales & Luis Puenzo
Associate Producer: Fabienne Vonier
Cinematography by Natasha Braier
Edited by Hugo Primero & Alex Zito
Music by Andrés Goldstein & Daniel Tarrab
Argentina, 2007, 86 minutes
"XXY" is the often moving story of an Argentine family's struggle in raising their intersexual teenager; the term hermaphrodite is no longer the appropriate argot. Alex (Inés Efron) has been raised as a girl for most her fifteen years but at the point where the story begins, she is moving away from that identity. Her refusal to take her myriad medications and her recent acting out is cause for much concern by her parents. The three live in a small town on the Uruguayan coast having fled from Buenos Aires years earlier. The father, Kraken, played by the wonderful Argentine star, Ricardo Darín, works saving tortoises from the nets of local fishermen and the film is filled with fine symbolic nuances like the fact that the only way to determine a tortoise's sex is by removing its shell.
Both Kraken and his wife Suli (Valeria Bertuccelli) have worked very hard at keeping their daughter's circumstances discrete, something easier to do in their remote home. However, with Alex's budding sexuality becoming harder to suppress, so too is her secret. It is at this point where the story of "XXY" begins, when Kraken and Suli receive visitors into their home.
The father of that family, Ramiro (Germán Palacios) is a plastic surgeon and wants to operate on Alex completing her gender assignment. However, Ramiro still remains an unevenly conceived character and some of his behavior late into the picture doesn't make much sense. Not only that, with Alex's parents still being so unsure about how they feel, it is puzzling as to why they would invite the family into their home in the first place. Another problem is Ramiro's relationship with his son, a sexually confused teenager. That character Álvaro (Martín Piroyansky) is another of the film's wonderful roles and it is a joy watching him discovering his own sexual identity through his relationship with Alex. The relationships in this film, at times both simple and complex at once, are "XXY"'s greatest strength. The movie has a poetic beauty to it, reminding me of other recent character-based films like "The Diving Bell and The Butterfly" and "Away From Her". At film's center is Alex and the choice she must come to terms with. Making difficult choices is an essential part of growing up; in Alex's case doing nothing at all might be the hardest choice of all.