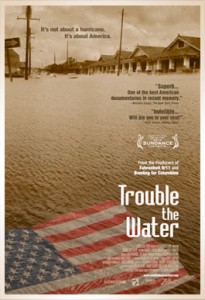 Directed by Tia Lessin & Carl Deal
Executive Producers: Danny Glover, Joslyn Barnes, Todd Olson & David Alcaro
Produced by Tia Lessin & Carl Deal
Cinematography by PJ Raval, Nadia Hallgren & Kimberly Roberts
Edited by T. Woody Richman (additional editing by Mary Lampson)
Music by Davidge/Del Naja, Black Kold Madina
U.S., 2007, 94 minutes
"Trouble the Water" is simply the best Katrina documentary I've seen to date. No disrespect to Spike Lee's "When The Levees Broke" or the other noble works that have come out since the disaster (Axe in the Attic and Katrina Diary to name just two) but this movie hits every note just right. Lessin and Deal went down to New Orleans just five days after Katrina hit with no clear idea of what they were going to find. To their good fortune —and ours— they happened to meet Kimberly Roberts and her husband, Scott, a recently homeless couple at the Superdome. Prior to Katrina, the two had been living a very difficult existence in the impoverished Ninth Ward by selling drugs, something they touch upon in a one of the film's more moving moments. The disaster, as tragic as it was, ended up affording them the opportunity to learn more about themselves than they would have otherwise; one lesson being that they were living miserable lives and were grateful to make a change.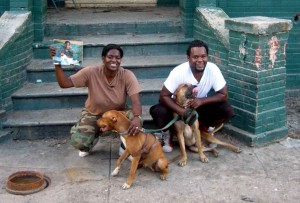 Adding to that life-changing revelation is the fact that Kimberly, who had gotten hold of a video camera not long before the hurricane hit, ended up filming portions of her experience. Those clips, are both horrific and funny and much of it ended up incorporated into "Trouble the Water". Hearing Kimberly's remarks over her often manic camera work is another of the film's amazing aspects. Her anxiety is palpable as the water rises inch by inch, engulfing their home. Though her regional dialect is at times hard to understand, the spiritual change she goes through over the ensuing days and weeks is very clear. As she and Scott confront the enormity of their situation, rather than lie down and give up, they rise above their circumstances.
They invite a few lucky strangers to ride with them in a truck they managed to acquire and as they drive out of New Orleans we are left with the image of those desperate folks who were not so fortunate. Lessin and Deal don't try and paint a rosy rise-up-from-the-ashes type of picture either. Watching the documentary, we are once again faced with how FEMA and the rest of the U.S. government chose to turn its back on so many desperate Americans.
Kimberly Roberts' personal way of fighting her depression was through writing rap songs, an effective means of emotional survival. The culminating moment of the film is when she spontaneously performs a recent rap. Looking straight into the camera, she explodes on screen, full of anger, love and fear. The moment builds into an astonishing and rare moment film-goers live to see. The co-directors must have been euphoric when they looked at what they shot, knowing they had just earned the price of admission. At the screening I attended, the room erupted in cheers and applause afterward; and why not after all? Her story symbolizes the best of the American spirit, that of optimism and altruism, values that are utterly missing from this nation's leadership.