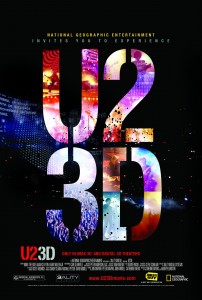 Directed by Catherine Owens & Mark Pellington
Produced by Jon Shapiro, Peter Shapiro, John Modell & Owens
Director of photography, Tom Krueger
Director of 3-D photography, Peter Anderson
Edited by Olivier Wicki
Music by U2
Released by National Geographic Entertainment/3ality Digital
USA. 85 min. Rated G
With Bono, the Edge, Adam Clayton & Larry Mullen, Jr.
Article originally appeared: http://www.film-forward.com/u23d.html
It's clear from the opening strains of the U2 song Vertigo, performed live from River Plate Stadium in Buenos Aires, that you are in for something cinematically explosive. Trust me when I say that the technology used in this very special concert film, shot in digital 3D, is like nothing you've encountered in your years of either movie watching or concert-going. To go one step further, the film is simply better than most live concerts I've been to. As cliché as it might sound, you really do feel like you are in the first few rows, both from a visual stand point as well as an aural one. And as anyone who has been to a live concert knows, especially of the arena or stadium variety, being in the first 10 rows is a completely different experience than sitting anywhere else. The natural energy between performer and audience member happens within that realm. Watching "U2 3D" you have that same visceral experience. No more cheap seats for this reviewer!
Other benefits: no one is stepping on your feet, blowing smoke in your face, or forcing you to stand for 95 minutes. Details are so vivid that you have to practically restrain yourself from reaching for the microphone you feel is a couple of feet in front of you. (Just for the record: Argentine women are quite beautiful, and their men aren't hard to look at either.) And as far as the live concert experience goes, all the requisites are there. Goose bumps are raised, heart rates increased, and an irrepressible smile will spread across your face. If the Dolby sound weren't as loud as it was, I'm sure audience participation might have been heard.
As a performing entity, the band is perfect for this type of technology. The musical and the visual textures pair nicely thanks to the film's three dimensionality. U2's songs are huge and sweeping, and in "U2 3D" you get 14 of them for your money, plus an acoustic ballad that plays over the closing credits. And there are many credits indeed. As simple and straightforward as the concert may seem, you are experiencing the result of hundreds of people's work. The good news is that the effort has paid off. If audiences are willing to wear those silly glasses, they will have a very rewarding time indeed. And getting out of the parking lot will be a breeze.