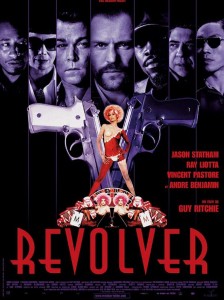 Written & directed by Guy Ritchie
Adapted by Luc Besson
Produced by Besson & Virginie Silla
Director of Photography: Tim Maurice Jones
Edited by James Herbert, Ian Differ & Romesh Aluwihare
Music by Nathaniel Mechaly
Released by Samuel Goldwyn Films/Destination Films
UK/France. 115 min. Rated R
With Jason Statham, Ray Liotta, Vincent Pastore, Andre Benjamin, Mark Strong, Terrance Maynard & Francesca Annis
Has the director or "Lock, Stock and Two Smoking Barrels" and "Snatch" gone and made a metaphysical treatise? It appears so. Whether this was necessarily the right career move after making "Swept Away" remains to be seen, but you can hardly accuse Guy Ritchie for not taking chances. And as farfetched and bizarre as the movie is, "Revolver" actually left something of an impression on this viewer. Not since Ingmar Bergman's "Seventh Seal" has chess been used so instrumentally as a metaphor, but whether Ritchie's fan base will really go for it is another question.
It's almost as though David Lynch or David Cronenberg got their hands on the movie. Yet according to Ritchie, he has long been fascinated by the idea of making a film along these lines. If his premise at times feels overcrowded with issues both philosophical and psychological, thankfully, in the end things works out well enough. No doubt Ritchie will receive criticism that the movie promotes the Kabalah religion which he and his wife, Madonna, practice, but it wouldn't be deserved. (At worst, the movie is a bit pretentious.)
After getting out of jail, con man Jake Green (regular Ritchie actor Jason Stratham, desperately in need of a shave) pursues his revenge on the man who was responsible for putting him there – wealthy gangster and casino owner Dorothy Macha, played by Ray Liotta, who spends much of the film in various stages of undress. The actor, to his credit, hasn't looked this trim since his days as the coke-addled Henry Hill in "Goodfellas". No doubt his dark thick hair, perfectly white teeth, diet, and workout regiment work quite well for a character that spends much of his time in a tanning room. Liotta is a fine actor but, like so many attracted to the crime genre, prone to overacting ("Say hello to my little friend!").
To save his own skin, Macha attempts to have Jake eliminated, but Jake is saved by two oddball self-described loan sharks, Avi (Andre Benjamin of OutKast) and Zack (Vincent Pastore of Big Pussy fame). From the start, these two characters come off as otherworldly, as does most of the action that transpires. Ultimately, the plot points, which are as intricate as, say, a game of chess, are beside the point. The main issues the movie addresses are philosophical, like how the human ego will go to any lengths to protect its own perceived truths – deep stuff for the action/thriller cr.