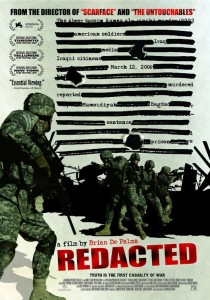 Written & directed by Brian De Palma
Produced by Jason Kliot, Simone Urdl, Joana Vicente & Jennifer Weiss
Director of Photography Jonathon Cliff
Edited by Bill Pankow
Released by Magnolia Pictures
Country of Origin: Canada/USA. 90 min. Rated R
Cast:  Patrick Carroll, Rob Devaney, Izzy Diaz, Mike Figueroa, Ty Jones, Kel O'Neill, Daniel Stewart Sherman, Bridget Barkan & Zahra Kareem Alzubaidi
Coming out of Brian De Palma's new film "Redacted", I felt I had been somewhat assaulted. It was like Robert De Niro had come up from behind me with a baseball bat and just whacked the crap out my noggin. It's not that the movie lacks impact; it's just that there wasn't a moment of its 90-minute running time where I wasn't reminded how significant the film was supposed to be. Truthfully, it's a movie with a very ambitious agenda, and I give it credit for that.
The story follows a group of soldiers on a tour of duty in Iraq. De Palma effectively conveys just how mundane, just how overwhelmingly tedious the experience of modern day soldiering can be, and how volatile that boredom can become. But what is especially unique about Redacted is the telling of its story, which is done through a series of different cameras, each an observer or witness – a soldier's video diary, a French documentary crew, a barrack's surveillance camera, and various video IM chat logs. Pieced together in chronological order, they tell a grizzly story indeed.
One might wonder why De Palma chose to tell his story through the filter of the camera lens as opposed to one of his characters. Then again voyeurism is hardly a new topic for this director. He has told stories of characters disconnectedly watching crimes a number of times over his long career – the movie sound man Jack Terry from "Blow Out" (1981), the snooping neighbor in "Sisters" (1973), or the love-obsessed actor in "Body Double" (1984). Redacted uses just technology and the disembodied camera to tell its story, shot by new De Palma cinematographer, Jonathon Cliff, and cut by the director's longtime editor, Bill Pankow.
After the disturbing story of "Redacted"'s central crime unfolds and the psychological aftermath takes its toll on the soldiers involved, De Palma ends the film with a montage of actual images from the war. They are all of Iraqi civilians who were maimed or killed by American fire. The shots are gruesome and not for the faint of heart. That montage and the film's story, both highly critical of U.S. policy, will undoubtedly be a cause of much controversy. After "Snake Eyes" (1998) and "Femme Fatale" (2002), it's good to see this director still full of the old piss and vinegar. I just wish he would lead his audience to the water and not force their heads underneath.