A brief conversation with the filmmaker Irene Taylor Brodsky regarding her latest documentary feature, "Moonlight Sonata: Deafness in Three Movements" which is going to have a special IDA-hosted screening this evening, Thursday, October 10th, 7:30 PM at the Village East in NYC. The register here. Following the screening Filmwax Radio host Adam Schartoff will moderate a Q&A with the filmmaker. SYNOPSIS: director Irene Taylor Brodsky once again turns the camera on her deaf parents and, now, her 11-year-old deaf son Jonas, who has cochlear implants and is discovering a profound world of hearing and music. As Jonas learns the first movement of Beethoven's iconic sonata on the piano, his grandparents, deaf for nearly 80 years, watch with deepening awe what time and technology have bestowed their grandson.
Next up, a conversation with the Korean actor Song Kang-ho who has collaborated with the international star director Bong Joon-ho on many occasions including in "Memories of Murder", "The Host", "Snowpiercer", and now their latest masterpiece "Parasite" which opens in NYC & LA tomorrow, Friday, October 11 and then wider on the 18th. SYNOPSIS: Meet the Park Family: the picture of aspirational wealth. And the Kim Family, rich in street smarts but not much else. Be it chance or fate, these two houses are brought together and the Kims sense a golden opportunity. Masterminded by college-aged Ki-woo, the Kim children expediently install themselves as tutor and art therapist, to the Parks. Soon, a symbiotic relationship forms between the two families. But when a parasitic interloper threatens the Kims' newfound comfort, a savage, an underhanded battle for dominance breaks out, threatening to destroy the fragile ecosystem between the Kims and the Parks.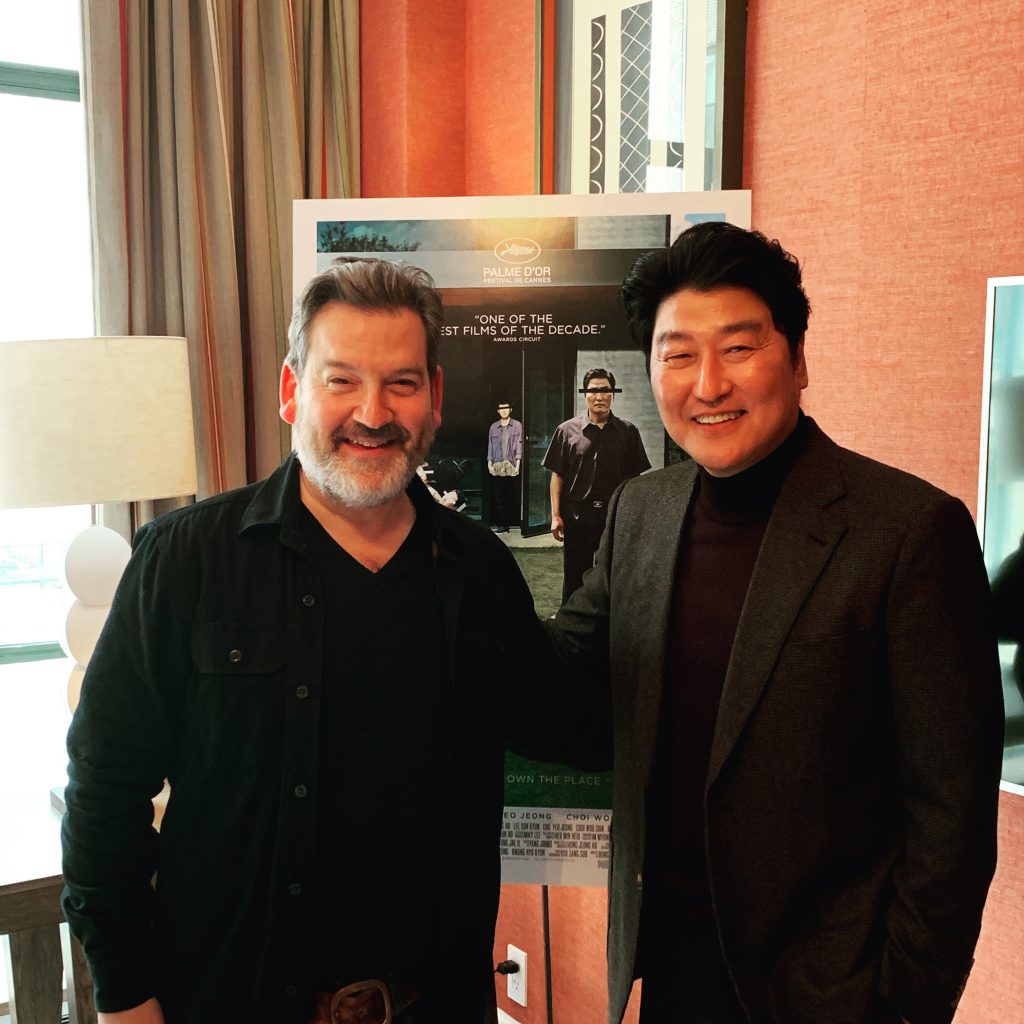 Lastly, the Scottish legendary director Bill Forsyth ("Comfort & Joy", "Local Hero") makes a special appearance to discuss his career and new projects on the horizon, including one with the host of this podcast. Forsyth was visiting NYC (we met at the offices of the distributor Film Movement) where he just finished a week-long theatrical of his 1982 classic "Gregory's Girl" in a new print at Film Forum. He was also lauded this past week at the Museum of the Moving Image with a retrospective of his other work.