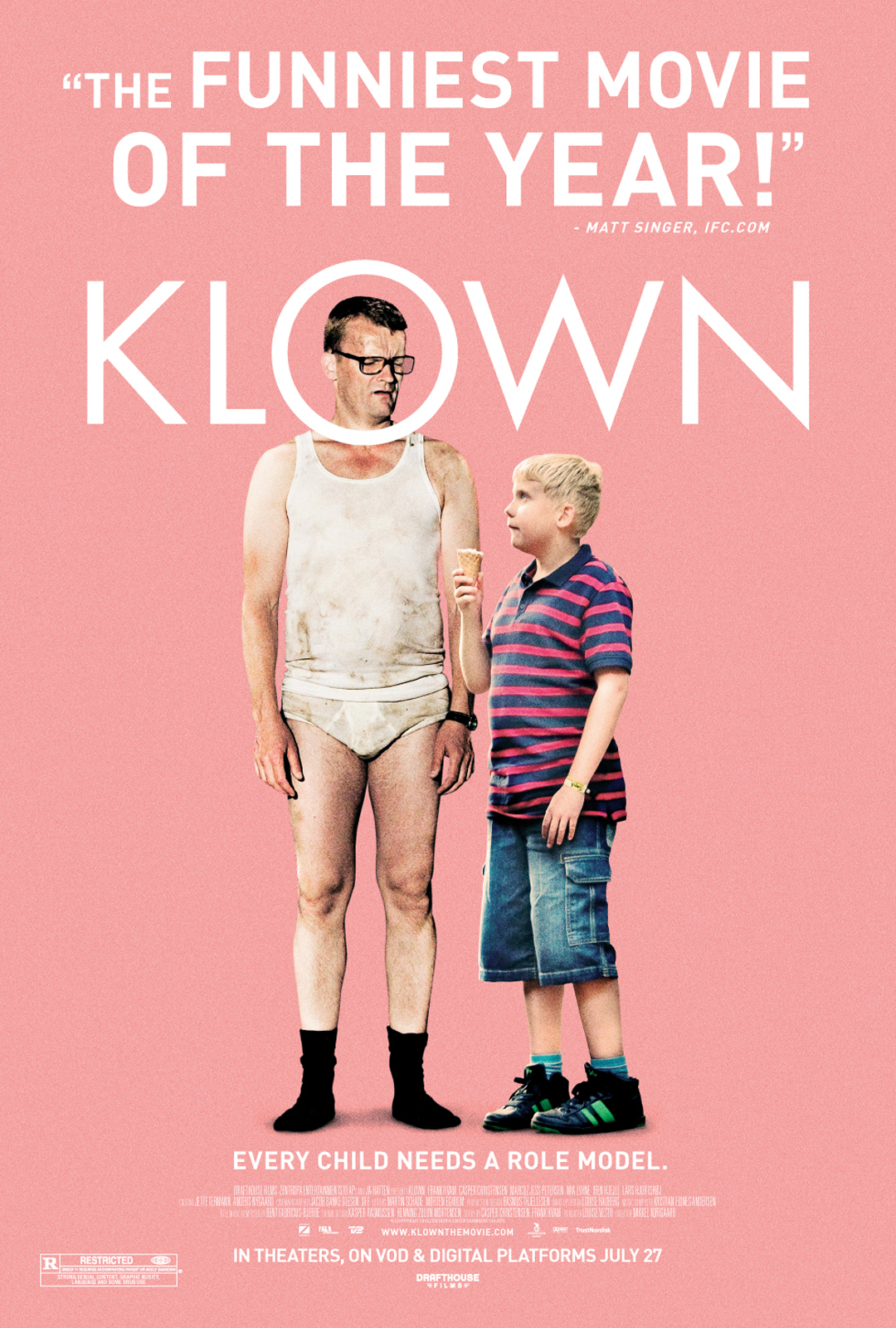 Early in "Klown," a Danish sex comedy released in the U.S. last week, the slow-witted, geeky, thirty-something Frank (Frank Hvam) confesses to his horny, always scheming pal Casper (Casper Christensen) that he hasn't read the assigned text for their all-male book club meeting. But neither has Casper. "I didn't join the book club to read," he snaps back. "I come here to hang out with the guys!" Not a typical venue for male-bonding councils, yet that is exactly what it turns out to be. The other men give Frank mischievous advice on how to court favor with his girlfriend: masturbate on her while she is asleep. (He later tries this in a boundary-pushing, outrageous scene.) When another member also confesses to not having read the book (the novella, "Heart of Darkness"), the club leader punishes him (Jørgen Leth, star of "The Five Obstructions") by giving him what he calls a "schnozzle"–the kind of nose crimpings Moe routinely dealt Curly and Larry.
The club is led by Bent, an octogenarian made rich and famous for writing one song ("Alley Cat") and who also runs a very exclusive brothel, one Casper hopes to visit during a canoeing vacation with Frank. (A funny bit lost for most non-Danish audiences is that Bent is played by Bent Fabric, the actual Dane who wrote the silly piano standard that won a Grammy in 1962 and which also appears on the film's soundtrack a couple of times.) For family man Casper, the trip down the river promises to be a wild, lecherous "Tour de Pussy," one almost ruined when Frank kidnaps a 12-year-old nephew, Bo, and brings him along to disprove his pregnant girlfriend's understandable doubts about his potential for fatherhood.
This 2010 film, a huge success in Denmark, and the "Curb Your Enthusiasm"-inspired sitcom it was based on, was produced by Lars Von Trier's production company Zentropa. Von Trier even directed an episode, which you can download for free via the film's web site. That other pioneer of threatened masculine identity, Danny McBride, has been assigned to write and star in an American remake of "Klown." It will be interesting to see if he plays Casper (the obvious choice) or Frank.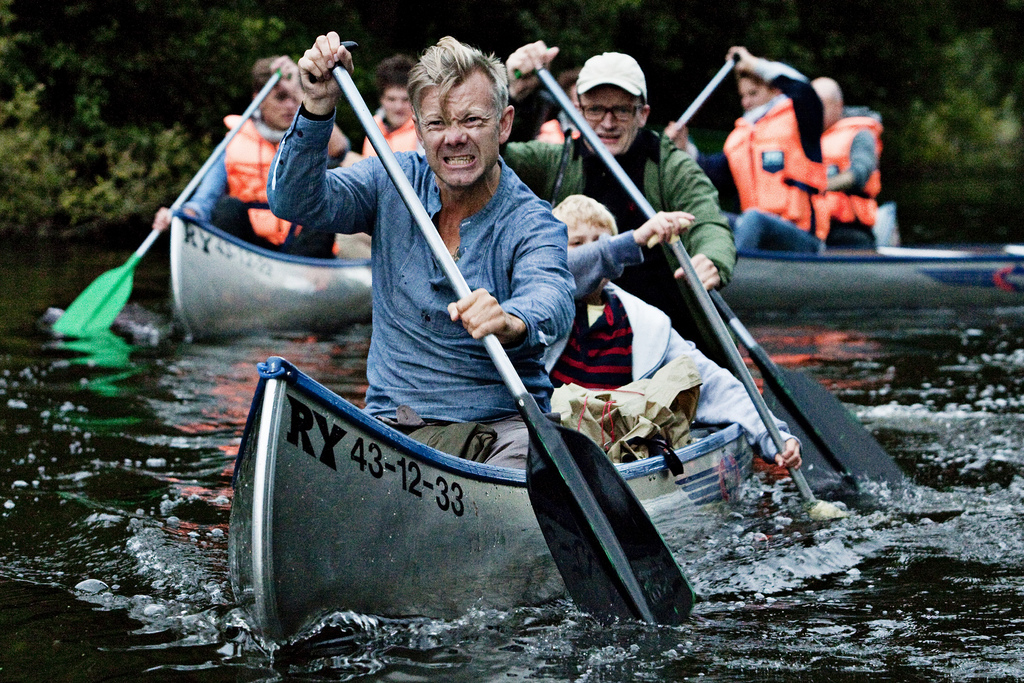 Once Frank, Casper and little Bo embark, we're in road movie mode (and not a bad commercial for the natural treasures of Denmark either.) The canoe-linked set pieces are showcases for both of the leads' genius for both physical and dialogue-driven comedy. Hvam's verbal defense when accused of pedophilia by the old coot running the "Papa Bear" campground and Christensen's reaction when he discovers he must abandon his campfire audience of high school hotties are priceless. They fare better (at first) with a friendly pancake lady. Frank bonds with Bo (who has been teased mercilessly about the size of his "weenie") and by they time they get to a rock festival, where Bo is photographed with Danish pop stars Medina and Sune Rose Wagner (of The Raveonettes), and huge reefers are smoked, they are all happy campers. But a trip to the brothel ("Four races, starting with Asian" one customer demands!) and further humiliations for all of them–man-children and child alike–lead to some furious consequences and comeuppances.
Comedies of this sort often lose steam in the last act as the hijinks give way to at least one of the characters redeeming himself. This one does only a little better and involves bulk consumption of Underberg, a digestif bitter popular in that country. (What product placement will the American version replace it with?) So, no breakthrough critique of masculinity this, but a smart, expert comedy with lots of earthy surprises. Like the song heard over the end credits: a Danish-language cover of Roger Miller's "Chug-a-lug." (Also available on VOD)
Herbert Gambill is a writer living in Brooklyn, NY. Originally from North Carolina, he has worked as a film projectionist for Dino de Laurentiis, a film critic for the late Spectator Magazine (Raleigh, NC) and most recently as a web developer for HBO for thirteen years. He's currently working on screenplays, a crime novel and rehabilitating two semi-feral cats.