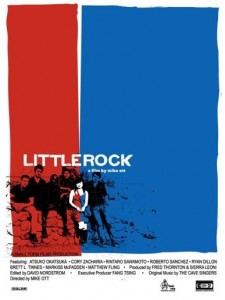 If not for actress (& co-screenwriter) Atsuko Okatsuka, "Littlerock" might have still been an average to above-average indie film.  However. Ms. Okatsuka's performance is so seemingly effortless, it's downright deceptive.  I can guarantee you you'll be thinking about her and the indelible character she creates in Mike Ott's second feature long after you finish watching.
The synopsis is pretty straightforward: a la "Mystery Train" —comparisons to the Jarmusch 1989 classic are inevitable—, Japanese siblings Atsuko and Rintaro (Rintaro Sawamoto) are playing tourists in the States.  They've ended up in the dusty So Cal hamlet of Littlerock (there is no reference to that other Little Rock).  Intending to stay in a motel just for a night or two before heading up to San Francisco and to the former Japanese interment camp and current National Historical Site, Manzanar, the two fall in with a group of local townies and it is Atsuko, at first reluctant, who decides to stay behind while Rintaro goes to northern California on his own for a couple of days.   In the time on her own and despite not knowing a word of English (Rintaro does all the translating), Atsuko becomes friendly with outcast and wanna-be model Corey (Corey Zacharia) and has a brief fling with the earnest Jordan (Brett L. Tinnes).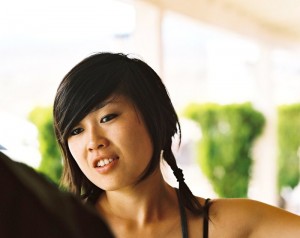 There's not much more to the story then that.  A few other local beer swilling doofuses that round out the rest of the cast are somewhat menacing as is Francisco (Roberto Sanchez), a Spanish speaking kitchen worker who works in Corey's father's restaurant.  Nothing mounts up to anything near violence though it's suggested that that's where things are heading.  That things don't necessarily go where you expect provides both the film's tension (and prevents it from being too lightweight) as well as its relief.  The film's tone is even and well paced thanks to editor David Nordstrom and looks great thanks to cinematographer Carl McLaughlin. Though I've not seen Mike Ott's first film, "Analog Days", it seems like he is yet another to watch for in what seems to be a new crop of remarkable low budget indie filmmakers.  In these dog days of summer amidst the usual banal line-up of comic book movies, "Little Rock" serves those looking for something subtle but more full-bodied.