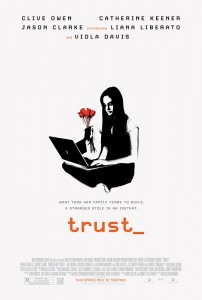 [Article originally appeared: http://ondemandweekly.com/blog/article/do_you_trust_david_schwimmer/]
What would you do if you found out your daughter had fallen prey to an online sex predator? "Trust" is David Schwimmer's second feature wearing the director's cap. His first, "Run, Fatboy, Run" (2007) was an amusing enough romantic comedy starring Simon Pegg and Thandie Newton.
Given his past work (mostly comedy) the thematic 180 degree turn with "Trust" may come as something of a surprise to Schwimmer's fans but it turns out that the film holds up pretty well. This might be in part due to its strong cast which includes A-list actors Clive Owns and Catherine Keener as Will and Lynne, the parents of pretty adolescent Annie (newcomer Liana Liberato).
Annie is 14 and develops a relationship with Charlie, someone she believes to be a high school boy, roughly her peer. At a stage considered to be at risk —her father works too many hours, her older brother is on the cusp of leaving home for college, she has trouble fitting in at school— Annie is largely left to herself. As much as her parents clearly love her, they don't seem terribly concerned with just how much time she is spending chatting on line and on her cell phone.
On the weekend that her parents take brother Peter (Spencer Curnutt) to college, Annie has made plans to meet her beau at a nearby mall. Initially in shock when a middle aged man shows up claiming to be Charlie, she slowly warms up to his repeated reminders that he is the Charlie she fell in love with. The work, in other words, had already been done.
"Trust" could have been far more bathetic but to its credit, keeps its head. Notable is Chris Henry Coffee's portrayal as the predator Graham Weston, aka 'Charlie'. In a performance absent of mustache twirling or shifty eyes, what makes Coffee's performance so convincing and ultimately disturbing is his cool matter-of-fact approach to Annie. Otherwise "Trust" doesn't stand out much, at times it's didactic like an old Lifetime movie. But what it might lack cinematically, it makes up for in its earnest and direct approach to a growing problem.
As more young people stare at more screens more of the time, there will be plenty of those will take advantage of whatever cyber opportunities present themselves. The other issue that the movie handles well is the exploitation of youth in the pop culture. Owens' Will works for an ad agency whose current campaign highlights barely-dressed teenagers. After he finds out about what has happened to his daughter and as Will's world caves in, he appears less and less comfortable playing the role of creative ad executive.
"Trust" is not going to win any Oscars, if that's a litmus at this point, but it deserves credit for taking on a serious issue while avoiding histrionics. Also, in a small role as a compassionate social worker, Viola Davis is another welcome presence.