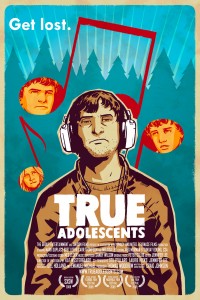 An indie film fan's wet dream, "True Adolescents" directed by Craig Johnson and which stars Mark Duplass in a role that might've once gone to Jack Black.  When his girlfriend (Laura Kai Chen) tosses him to the curb and after a very short career as a couch surfer, Sam Bryant winds up at the home of his divorced aunt Sharon (Melissa Leo in the role that normally goes to Patricia Clarkson).  Sharon is the single mom of adolescent Oliver (Bret Loehr) who, with best friend Jake (Carr Thompson), is scheduled to go on a camping weekend with Oliver's Dad in Washington's Cascade Mountains.  When Dad flakes out, it falls to Sam to take the boys on the weekend camping trip.  In that Sam is barely able to take care of himself, we can predict that not only will the trip be a potential disaster —albeit a funny one— but that his own worn-out sense of adolescence will be put to the test.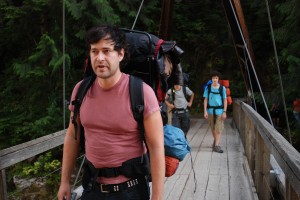 What's so entirely likeable about Duplass' Sam is that he is just a few pounds and a shave from being a really good looking guy.  Instead, he intentionally maintains the slacker persona in protest to growing up.  And unlike a few other guys that might fall under the same description —Seth Rogan and Jason Segel come to mind— Sam doesn't get the girl.  In fact, "True Adolescents" is not about 'getting the girl' and doesn't attempt to shoehorn in that subplot.  Rather than meeting a gorgeous blonde on the trail, the only people Sam meets is a blissed-out hippie couple (Linas Phillips and Davie-Blue, both of the marvelous "Bass Ackwards") who he meets while hunting for a lost Jake.  I won't give up too much more of the plot, unlike Stephen Holder of The New York Times who went a bit spoiler happy in his review last Friday.
It would be unfair not to also mention the terrific Melissa Leo who, by the way, never looked lovelier than she does in "True Adolescents".  The film was made just before her Oscar-winning performance in "Frozen River" came out and so filmmaker, Craig Johnson got lucky with his first feature.  He might not have gotten quite so lucky had he been casting a few months later.  That's not a reflection on his ability to snag a great character actress like Ms. Leo or suggesting that she wouldn't take a small role in an unknown like Mr. Johnson, it's just that it would have likely been a far more crowded playing field once "Frozen River" came out.  It should also be noted that the movie was produced by Thomas Woodrow, beautifully photographed by Kat Westergaard, with music composed by Peter Golub.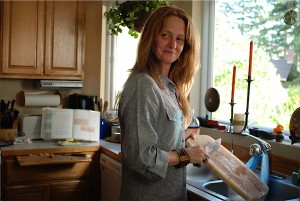 "True Adolescence" defies the Hollywood man-boy slob comedy by not delivering a pat ending (a la "Forgetting Sarah Marshall" or "Knocked Up") or going all saccharine sentimental which it so easily could have.
I was fortunate to be at reRun Gastropub for the movie's opening night.  In attendance were Mr. Roberts, Mr. Duplass and other assorted cast and crew.  The house was packed with a supportive and gregarious bunch of locals, thanks to the host of the evening, Aaron Hillis.  If that wasn't enough everyone got a copy of the DVD for their troubles.
"True Adolescents" will be at the reRun Gastropub, 147 Front Street in DUMBO through Thursday, August 4th.  Use this link to purchase advance tickets.  If not, call ahead as the movie has been getting strong word of mouth.