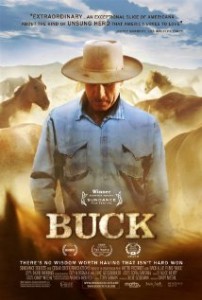 Directed by Cindy Meehl
Produced by Julie Goldman
Released by Sundance Selects
USA. 88 min. Not Rated
[Originally article appeared: http://www.film-forward.com/buck.html]
By the time Buck Brannaman's mother died at the age of 11, his already abusive father ramped up the level of physical and emotional abuse on Buck and his brother. Fortunately for the boys, they were placed with a foster family who gave them lots of love, and over time, young Buck was able to overcome his broken spirit and gain back his confidence.
From as far back as Buck can remember he had been a performer. His Dad, despite or as a direct result of his harsh ways, turned both of his sons into circus cowboys. Much like the Jackson 5 story, the overbearing father bullied his kin into becoming top-level talent. While Brannaman has long since left the world of performing, his relationship to horses has evolved into something many people liken to a Zen experience. Buck Brannaman is also the model on which Robert Redford based his performance on in his movie "The Horse Whisperer". Not so surprisingly, Mr. Redford makes an appearance in this documentary, a first-time feature directed by Cindy Meehl.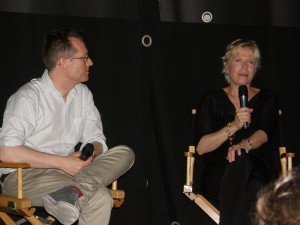 Wisely, Ms. Meehl chooses to just set the camera on her subject and let him do most of the talking. Buck, it turns out, has the charisma, humor, and intelligence to fill up the movie and probably one or two others. Part of his charm is his openness about his childhood abuse. While no longer shocking—not in the age of Oprah—it is still unusual to hear New Age wisdom spoken by someone in a Stetson and cowboy boots. But the confessional tone is also necessarily for him to successfully explain his approach to healing troubled horses. During one of his horse clinics, an enterprise he has been running for a few decades now, Brannaman describes the moment of clarity early on when he realized that disturbed horses just needed the same opportunity that he was given by his foster parents, to know that he was safe. As he also explains, "A lot of times, rather than helping people with horse problems, I'm helping horses with people problems." Coming from someone else that might sound highhanded.
Most of Ms. Meehl's film takes place either during these clinics or the never-ending road trips in between gigs. There we get to meet Buck's family, with whom he seems to be quite emotionally close to despite his being on the road for the majority of time. His wife, who has chosen to spend more time at home with their near-college-age kids, is getting closer to the point where she can join her husband, and his daughters seem about ready to inherit their Dad's business.
"Buck", which won the documentary Audience Award at Sundance this past season, will win you over as well—whether or not you have a thing for horses or cowboys. Its 88 minutes will gallop by in a flash.