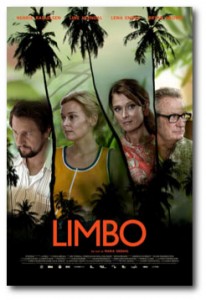 Written & directed by Maria Sødahl
Cinematography by Manuel Alberto Claro
Edited by Jens Christian Fodstad
Cast: Bryan Brown, Lena Endre & Line Verndal
[
Article originally appeared: http://ondemandweekly.com/blog/article/limbo_-_from_eurocinemas_on_demand_scandinavian_film_festival
]
"Limbo" tells the story of Sonia a Swedish wife and mother who joins her husband Jo, an oil engineer, stationed in 1970's Trinidad. When she arrives with their two kids in tow it's not long before Sonia discovers that Jo has stepped outside their marriage. Jo's transgression puts their marriage into a tailspin. That, plus the utter lack of anything productive to do, plunges Sonia into an ever-increasing sense of despair.
While it's plain that Jo loves her and is terrified of losing his family, he is ultimately an emotionally limited individual and doesn't know how to help his wife. When he suggests she join him on a business trip to Chicago, she declines and ends up taking the kids for a weekend away exploring the other side of the island with one of their servants.
"Limbo", one of the selections from Eurocinema's On Demand Scandinavian Film Festival, benefits from some strong casting. In addition to Line Verndal and Henrik Rafaelsen who play the less than happily married couple, there is also Jo's friend and business partner, Daniel, an aging Australian played by Bryan Brown and the Swedish Lena Endre ("The Girl With the Dragon Tattoo") who plays his wife Charlotte.
Ms. Endre, in particular, is a welcome presence. She plays Charlotte as a tragic Shakespearean character without the melodrama. Unlike the Lars Stieg Larsson adaptations, LIMBO gives the theatrically trained Endre a chance to really dig into a role far more substantial. Mr. Brown is also a welcome and familiar presence. He's obviously years beyond those roles he played in "F/X" or "Cocktail", but that may be a good thing. For those familiar with his work in "Breaker Morant", it's no surprise that he solidly delivers in "Limbo".
Like Jo, Daniel is mostly emotionally detached. A company cog, Daniel and Charlotte have spent most of their married years moving around from one international location to another because of the company's needs.
Charlotte is quite complacent to pass their remaining years living in Trinadad, drinking cocktails by the pool and attending parties with their other ex-patriot friends. That malaise begins to change once she becomes close friends with Sonia. Sonia's subsequent nervous breakdown sets off a chain of events that ends in tragedy.
"Limbo" is just one of the fine entrees in The First Annual Scandinavian On Demand Film Festival, a joint venture between Eurocinema on Demand, Nordisk Film &  TV Fond and Diva AG. For the full schedule of films, visit the Eurocinema website.