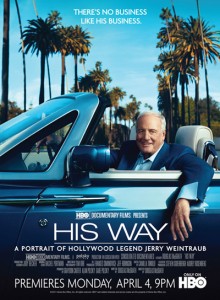 Director: Douglas McGrath
Cinematography by Tim Orr
With Jerry Weintraub, George Clooney, George Bush, Barbara Bush, James Caan, Matt Damon, et al.
Jerry Weintraub is on a blitz. First there's the HBO special, an HBO Documentary Films production called "His Way". In addition to the infamous producer/promoter Weintraub himself, also appearing is a stellar constellation of stars including Matt Damon, George Clooney, Brad Pitt, Julia Roberts, Bruce Willis, former White House denizens George & Barbara Bush among others… all gushing about their friend.
Directed by Douglas McGrath, "His Way" also includes interviews with the two loves of his life, wife and former singing sensation Jane Morgan, as well as his girlfriend, Susie Ekens. The two women, both of whom have accepted the unorthodox love triangle, also spend significant screen time gushing about their man Jerry. In fact, nobody has anything bad to say about Jerry Weintraub.
There is also the book, When I Stop Talking, You'll Know I'm Dead, a memoir written with Rich Cohen, and for all intents and purposes follows the same exact formula as the HBO documentary. Both entities include a series of funny, easily digestible anecdotes about Jerry's rise to the top.
At the end of the day though, while he may be a millionaire many times over with a house in Beverly Hills, he has never forgotten his roots. A healthy stash of "dese", "dems" and "dose" (these, them and those) illustrates that he is still salt of the earth.
And why not? Aren't there hundreds of documentaries every year that uncover all the pain and tragedy around the globe; and in many cases with the globe?
A Bronx son, Jerry was one of two sons of Jewish parents, Sam and Rose, survivors of the Depression and World War II. Jerry still clearly idolizes his parents. Both he and his brother, Melvyn, grew up not wanting for much; Sam ended up doing very well in the jewelry business as a salesman.
One anecdote describes a lesson learned where his father successfully promoted a cheap star sapphire, an generally worthless gem, which his father named The Star of Ardaban. He would carry it around in an expensive suitcase handcuffed to his wrist and hire security to chaperone him from the airport. It was lessons like this which would lead him to understand how sales was just a matter of performance.
So what will you learn about Jerry Weintraub?
A lot of the film is about how as a young man he learned to hustle and has never really stopped. His expertise is not that different from a carnival barker or salesman; actually he describes himself as a combination of the two. He cites many examples including how he talked himself into a TV exec job at MCA while was still working in the mailroom at William Morris.
He recounts how he talked Colonel Tom Parker into letting him take Elvis on a tour when no one else could do it. He talks about how he talked Frank Sinatra into doing the same thus reviving the careers of the two biggest stars in the world.
Weintraub was also single-handedly was able to get George Clooney, Matt Damon, Julia Roberts and Brad Pitt to come together and make the Ocean movies, all of which he produced. His biggest feat of all though, already mentioned above is maintaining a fifty plus year marriage to Ms. Morgan while sharing his life with Ms. Ekens.
All of this sounds like a lot of posturing but, for some reason, Weintraub never comes off as arrogant or self-aggrandizing. Is it possible that he has never actually forgotten where he came from and that he is still just a regular Joe? Not a chance, but "His Way" is a thoroughly entertaining way to pass 83 minutes.
---
Artical originally appeared: http://ondemandweekly.com/blog/article/jerry_weintraub_tell_it_his_way_-_hbo_on_demand/