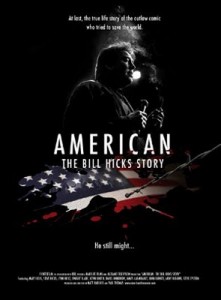 Produced & directed by Matt Harlock & Paul Thomas
Released by Variance Films
UK. 101 min. Not Rated
In January 2009, nearly 15 years after the death of comedian Bill Hicks, David Letterman invited his mom, Mary Hicks, on his show Late Night. A year before his 1994 death, Hicks made an appearance on the talk show and performed his routine to an appreciative audience, like he had in at least a dozen or more prior appearances, so it was very unusual what ensued. Letterman judged the segment substandard and cut it from the show. What few knew, including Letterman, was that Hicks was dying from pancreatic cancer at the time. Looking back at the segment with the late comedian's aging mother, Letterman, unable to recall what he had found so objectionable, admitted that he couldn't justify that decision. In fact, he added that the segment showed a comedian at the top of his game and well ahead of his time. And, indeed, perhaps that was the point. Unlike Letterman, Hicks's style was brash and confident but also absolutely authentic, free of show biz phoniness. Perhaps this had occurred when the talk show host was feeling especially insecure.
That anecdote is one of many recalled by friends and family of Bill Hicks in the new documentary, "American: The Bill Hicks Story". Rather than just point a camera at people—the majority of whom had decades-long relationships with Hicks—voice-overs are cleverly used in conjunction with photographic animation. What might have been a typical bio-doc with a straight chronology is, instead, brought to life. You might feel as though you're watching a lot of archival footage, and while the film certainly makes good use of his major appearances, there is less of it than you might think. Rather, the filmmakers seem more interested in Bill Hicks the man, flaws and all, and not just the performer.
Young Bill Hicks grew up in Houston, Texas. He and his best friend, Dwight Slade, decided to go into stand-up comedy while still in high school. Fortunately for them a comedy club had just opened up, and, more so, it was the '70s. Comedy clubs were still in their infancy, not the huge industry they would become, and so these high school kids were hired, and they were able to work on their performances until they became seasoned professionals. Shortly thereafter, Slade's family left Houston, leaving Bill to start a solo career. He had confidence from the start and a career was born, but it didn't take long for his success and life on the road to lead to excess. It seems like in a short time he was a full-fledged alcoholic with a significant drug problem. His brand of humor was always politically and socially confrontational—never politically correct, always smart, never apologetic, and always funny. Hicks had many fans in the U.S., but he also found a loyal following in the U.K., where he felt more appreciated.
His family members express their combination of concern and admiration for his ambition and talent. What's also clear is the pain they live with for not knowing how to help him more during his rough patches. The excesses had taken a toll on his career, and so he cleaned up and it picked up again. Sadly, it was not too long after that when he learned he was terminally ill.
"American: The Bill Hicks Story" makes for solid entertainment, even for those unfamiliar with its subject. He may have died far too young, at 32, but thanks to this documentary and YouTube, where you can see that previously unaired Letterman segment, Hicks's comedy lives on.