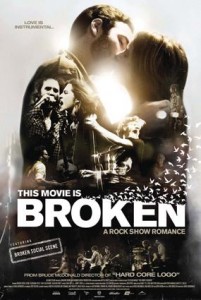 Directed by Bruce McDonald
Written by Don McKellar
Cinematography by John Price
Edited by Matthew Hannam & Gareth C. Scales
Cast: Greg Calderone, Georgina Reilly & Kerr Hewitt
A hybrid of concert film and narrative film, Bruce McDonald's "This Movie is Broken" does suffer a bit from that bifurcation but ultimately succeeds through sheer youthful enthusiasm.
The band Broken Social Scene (aka BSS), a Toronto-native musician collective, is the perfect choice for a concert film. Like their Montreal neighbors, Arcade Fire, BSS's music is big and lush with somewhere between 15 and 20 band members.
That there are so many instruments being played at once can obscure the underlying simple melodies, something that makes the music ultimately accessible. While you may not necessarily remember all of the hooks, you'll leave wanting to see them in a setting as inviting as Toronto's Harbourfront Amphitheater.
The film's narrative strain involves a handsome young man named Bruno (Greg Calderone) who, when the film begins, has finally consummated his long lasting crush on Caroline (Georgina Reilly). After a night of lovemaking on his rooftop, Bruno realizes that he is in love with Caroline. Caroline is steely determined to see through her plans to leave for Paris the following day despite Bruno's earnest appeal for her heart.
That leaves them roughly 24 hours of time together. When the two venture out for breakfast, they run into Bruno's pal Blake who mentions that BSS has a concert that very evening. After some bragging goes wrong, Bruno and Blake must now come up with back stage passes. A plan is set in motion to go the concert that night after the guys get off from work.
Somewhat similar to Michael Winterbottom's "9 Songs" in tone but not in its explicitness, "This Movie is Broken" has a sweetness that will win over audiences. The only frustrating aspect to the film is that the band, Broken Social Scene, remains so enigmatic. The camera gets right into the action of the performances able to observe in close detail the various singers and instrumentalists, too many to mention here.
Observing is unfortunately only as close as we get and are left wondering about how this amazing band came to be, how the songs get written, etc. Also, unlike, say, "Stop Making Sense", Jonathan Demme's seminal 1984 Talking Heads concert film, the concert sections in this film has no underlying dramatic arc. What can be sensed is the disparity between the unspoken intimacies among the musicians, an intimacy that Bruno is unable to ultimately breach beyond one night of sex on the rooftop.
There's an unexpected twist of events towards the end of "This Movie is Broken", one that ultimately does end in the emotional bonding of the film's young Canadians but not the way you might expect. It's a somewhat shocking turn, but is satisfying.
Even more satisfying, though, is that which can only be achieved through the aid of beautiful music, balmy summer evenings, stimulants smoked and the euphoria that comes through physical connection.
---
Article originally appeared: http://ondemandweekly.com/blog/article/this_movie_is_broken_is_a_great_fix_on_demand