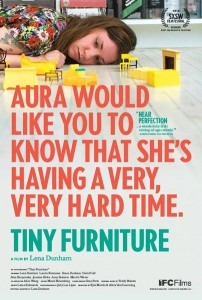 Written & directed by Lena Dunham
Produced by Kyle Martin, Alicia Van Couvering & Alice Wang
Edited by Lance Edmands
Cinemtography by Jody Lee Lipes
Starring Lena Dunham, Laurie Simmons, Grace Dunham, Jemima Kirke, Alex Karpovsky, David Call, Merrit Wever & Amy Seimetz
With "Tiny Furniture", Lena Dunham makes a most memorable directorial and acting debut. It's one of those quirky personal independent films that seem to come out on a near monthly basis ("Douchebag", "The Freebie", "Daddy Long Legs", to name a few). But "Tiny Furniture", with its deeply nuanced performance by Dunham playing a variation of herself, is a true stand out.
There are no false notes. Perhaps as an unintentional nod to John Cassavettes, she chose to cast her real life friends and families in some of the film's central roles, and unlike many other films, it is a brilliant touch. The mix of professional and non-professional actors can sometimes spell disaster for a low-budget film but that's not the case with "Tiny Furniture". It's raw and artful, funny and shocking, and always fresh.
Just having graduated from an Ohio college that sounds vaguely like Oberlin, Aura returns home to her Mom's Tribeca loft with much trepidation. Mom, Siri (artist Laurie Simmons), is a highly successful photographic artist whose niche is shooting miniature furniture. Also still living at home is Aura's over-achieving younger sister, Nadine (Grace Dunham), still in high school.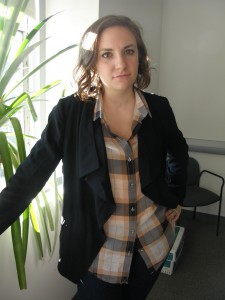 The sisters have a complicated relationship mostly concerned with vying for Mom's attention; Nadine is ahead in that department. She is de facto assistant to her mother. Aura, who was a film major, but now seems utterly bewildered by what to do with herself, re-connects with a childhood friend, Charlotte (real-life pal Jemima Kirke). Charlotte, a narcissist but loyal friend, is instrumental in getting Aura a low paying job as day hostess for a local restaurant where she becomes attracted to the emotionally unavailable cook, Keith (David Call). Another potential love interest comes in the form of Jed (Alex Karpovsky who was excellent in last year's "Beeswax"). Jed is in New York for pitch meetings and needs a place to crash.
When Siri and Nadine go away to look at colleges for a week, Aura invites Jed to stay at the loft. Jed keeps migrating closer and closer to Aura's bedsheets but ultimately, too seems unavailable. One wonders, contemplating Aura's romantic choices, whether the missing Dad character has anything to do with it. Nevertheless, Aura can be just as surprisingly confident as she can be confused. She thinks nothing of making the first move.
I can't imagine anyone pulling off this complex performance better than Dunham. She's fetching but in a completely unconventional way. Often walking around her Mom's loft in various stages of undress, you find yourself becoming increasingly smitten with her, regardless of her very un-Hollywood figure. Some have criticized the character for being annoying and abrasive. If anyone has lived with a post-college aged person before, they would recognize the mixture of possibility and terror.
There are two scenes that stand out: one where Aura finally allows herself a full-on tantrum during an argument with her Mom; the other is also a fight but with Nadine who has thrown a party at the loft while Siri is out for the night. Both scenes are shocking and hysterical for their ability to be simultaneously absurd and dead-on emotionally honest. "Tiny Furniture" is also guaranteed to be the only movie where you will see a couple having sex doggie-style in a pipe.
Shot with the now ubiquitous Canon 7D in spectacular HD, the film looks terrific. The film has a director's confidence lacking in many veterans' bigger budgeted films. With any luck, the pilot Ms. Dunham recently shot for HBO [(executive prodcued by Judd Apatow) will be picked up and this reviewer will have more opportunities to tout this terrific new talent.