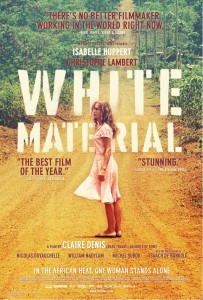 Directed by Claire Denis
Written by Claire Denis & Marie N'Diaye
Produced by Pascal Caucheteux
Cinematography by Yves Cape
Edited by Guy Lecorne
With Isabelle Huppert, Christopher Lambert, Nicolas Duvauchelle, & Isaach de Bankolé
100 minutes. French with English subtitles. IFC Films.
With "White Material", Claire Denis has made a brilliant follow-up to her acclaimed 35 Shots of Rum (2008).  In fact, it may be her best film yet.  This is, in great part, due to her casting Isabelle Huppert in the role of Madame Vial.  The director and star have never worked together before, though they have been friends for years.  "White Material" is the result of their looking for the right project and finding one.  Luckily for us.
Madame Vial runs her former father-in-law's coffee plantation in an unnamed West African country on the verge of civil bloodshed.  While all the French expatriates flee for European shores, Vial is determined to finish harvesting the season's coffee.  With fury and single-mindedness, she refuses to see things as they truly are.  First, her formerly friendly neighbors—a number of whom she must wrangle into helping her replace abandoned labor—are now the same people that want her out.  And at any cost.  She is now considered lowly "white material," a term we first hear from a formidable DJ's broadcasting over the reggae station that plays throughout.  This voice is used the same way Wolfman Jack's voice was used in the film, American Graffiti back in 1973.  Only instead of encouraging young people to neck in the back of parked cars (as did the Wolfman), this DJ inspires young people to kill with machetes.
"White Material" was filmed in Cameroon, which also served as the location of Denis' 1988 debut film, "Chocolat", and which was also her home when she was a young girl.  That period must have left quite an impression on the young Denis.  She was drawn back, to a different ending, but this time a far more violent one.
Also returning to work with Denis is the fine actor Isaach De Bankolé, who was in "Chocolat" as well.  This time, he plays a character called The Boxer, an enigmatic leader of the rebel faction.  We are introduced to him at the beginning when he has already bled to death while hiding out at the plantation.  The film then moves back in time to the days leading up to that point.  The story's chronological shifts, along with its unidentified location and time period, only add to the overall sense of dread.  With Christopher Lambert playing Vial's ex-husband and the father of their grown son (Nicolas Duvauchelle), "White Material" stands as one of this year's best European films.
As of this date, "White Material" is playing an open run at the IFC Center on 323 Avenue of the Americas at W. 3rd Street.  Check your local listings.