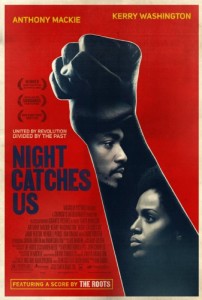 Written & directed by Tanya Hamilton
Cinematography by David Tumblety
Edited by John Chimples & Affonso Gonçalves
With Kerry Washington, Anthony Mackie, Jamie Hector, Wendell Pierce, Novella Nelson, Tariq Trotter & Ron Simons
USA. Rated R.
"Night Catches Us" is one of those nostalgic set pieces that ride piggy back to a significant political event or era in the U.S. (the poster's tag-line says it all: United by Revolution, Divided by The Past). In this case, the era is the post-radical mid-70's.
Anthony Mackie plays Marcus Washington, a former Black Panther who returns home to Philadelphia after a prolonged absence. Years earlier he had been ousted by the Panthers when they believed that he was responsible for turning in one of their own to the police. Of course, the truth is more complicated than that and unravels during the course of Tanya Hamilton's debut film, "Night Catches Us".
Jimmy Carter, a southern democrat, is in the White House and things have normalized in the country, to some degree anyway. People of color have something roughly resembling a foot hold in the American middle-class.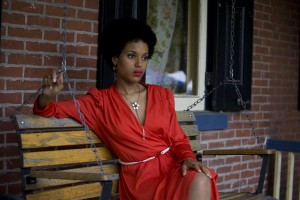 One of those people who have found a foot hold is Patricia Wilson (Kerry Washington), an attorney and the widow of the man Marcus is supposedly to have betrayed. Patricia, or Patty as Marcus knows her, is bringing up her daughter Iris, a quiet thoughtful teenager who has reached the point in her young life where she wants answers about her Dad. Patricia is reluctant to reveal that story though Marcus' return, and her obvious attraction to him, opens up unresolved emotional issues for both mother and daughter. Never for a moment are we too concerned that things won't work out the way they should.
The movie's soundtrack is comprised of original material contributed by The Roots. It's ersatz 70s soul, and one wonders why Hamilton didn't just dig through the Stax/Volt vault.
The film looks authentic too, shot by David Tumblety and art direction by Michael Ahem ("It's Kind Of A Funny Story"). Also, welcome in minor roles are Wendell Pierce and Jamie Hector (both from "The Wire").
"Night Catches Us" may not sweep the Oscars this coming February but it is earnest, never exploitative. It sets to capture a time in our country that has been seldom scrutinized; when the band-aid had been torn off but the scars were long from healed.